There is talk of gallows and "red mist" from independent candidates and MP's in Victoria. Now an independent journalist has been firebombed.
It's basically a terrorist attack. Politics in Australia is radicalising:
Police are investigating a "suspicious" fire at the Sydney home of YouTube political commentator and comedian friendlyjordies on Wednesday morning.
Jordan Shanks-Markovina, better known by his online moniker, was not home at the time of the incident.
Police have revealed it was the second fire reported at the Bondi property in seven days.
Law firm Xenophon Davis, which represents Mr Shanks-Markovina, claimed his home was "firebombed".
In a statement, they said their client was "safe" and hoped police dedicate "every resource possible" to finding the culprit.
It is telling that the Lying Press didn't quote the full tweet:
We confirm that Jordan Shank's home was firebombed last night.He is safe. We hope that every possible police resource is dedicated today to securing evidence and intel. It might even warrant a Strike Force focused upon terrorism and attempted homicide rather than dangerous jokes. pic.twitter.com/lA0nuKNHFr

— Xenophon Davis (@xenophondavis) November 23, 2022
Mr Shanks-Markovina came to the scene at Wilga Street this afternoon where he chatted with police before briefly addressing the media.
He said his mind was "racing" over who was responsible, but claimed to have a "list" of suspects.
The comedian also raised grievances with his portrayal in the media.
Emergency crews arrived at the scene about 1:20am this morning, and found a verandah engulfed in flames.
Firefighters extinguished the blaze but the house and a neighbouring property suffered "significant damage".
"The house, while occupied, was vacant at the time of the fire," a NSW Police spokesperson said.
"Adjoining houses were cleared by police as a precaution and there were no reports of injuries.
"Police have established a crime scene and the fire area will be subject of an examination by specialist officers."
NSW Police say officers are investigating links to another fire at the same home last week, on November 17. 
Last year an employee of Friendly Jodies was violently raided by so-called "counter terrorism" police during an ongoing dispute with NSW Liberal MP John Barilaro.
Note that of all the journalists in Australia who have shilled for Globohomo, it is a nominally independent lefty journalist who has called out corruption in state politics and the NSW Police whose house gets firebombed.
Leftists on social media have been quick blame the right, noting the gallows and red mist comments: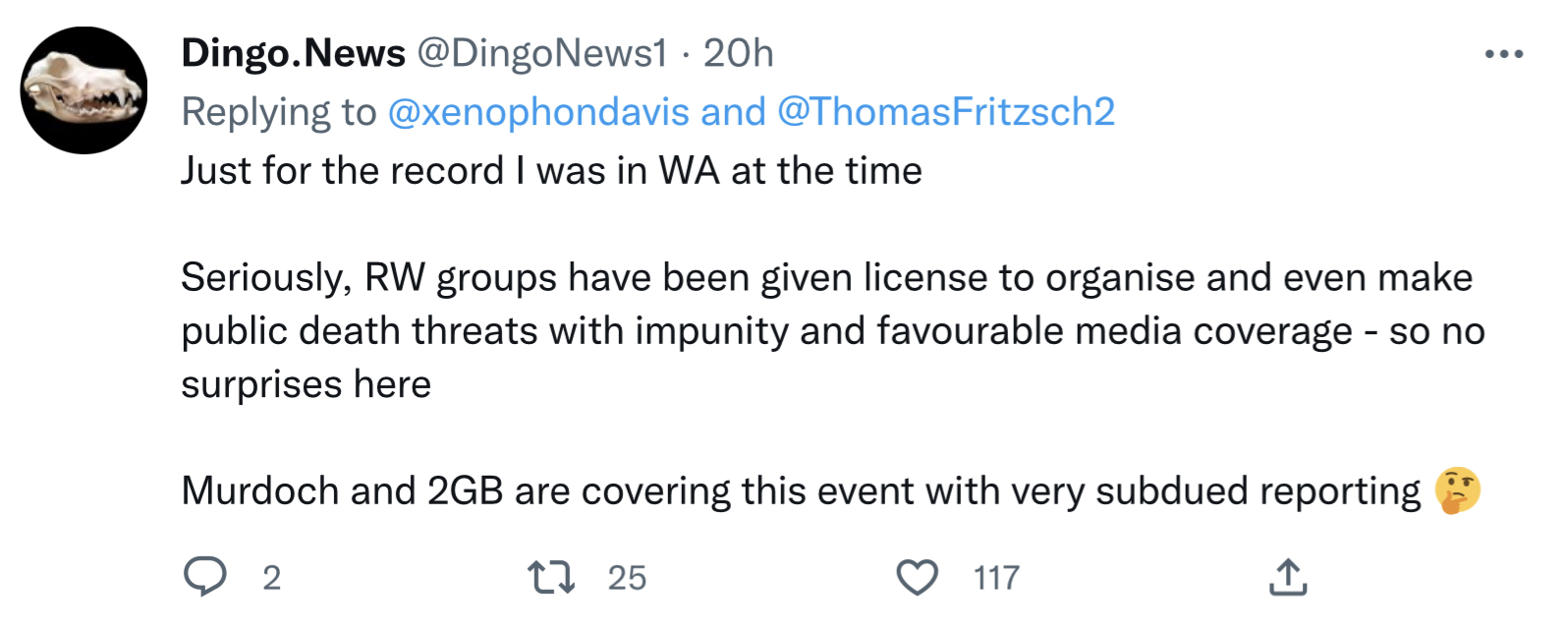 Naturally though, this completely misses the ethnic component. I am constantly amazed at how few Anglo names appear in the higher echelons of the NSW Liberal Party.

This is why we have to talk about race.
Politics in Australia is radicalising and escalating. In the lead up to the poo marriage postal vote, an office of the Australian Christian Lobby was firebombed by homosexual terrorists. Last year during lockdown police regularly used excessive force against the general public for no reason.
⚠️WARNING ⚠️
GRAPHIC CONTENT
at Flinders St Station

When Shane Patton said they won't hesitate to use force

I think this was his vision pic.twitter.com/zpdLDa5ttL

— Dee ❤️ (@_Dee_1982) September 22, 2021
Rubber bullets were repeatedly fired at unarmed protesters.
Protester says "You wouldn't do that" moments before Victoria police fire on peaceful protesters. #Melbourne pic.twitter.com/gpijjsUoJy

— XYZ (@itsyourxyz) August 21, 2021
An experimental, military grade sound/radiation weapon was deployed against peaceful protesters in Canberra.
LRAD: Speaker of the House ADMITS police used LRAD on Peaceful Protesters
Australian politicians are regularly heckled and harassed in public, they require around the clock protection and have even had to leave their homes for protection.
Prime Minister Scott Morrison didn't quite get the welcome he was hoping for at the Edgeworth Tavern in Newcastle. A pretty messy confrontation with a local punter. "You better f——g do something. I'm sick of your b——t." ️courtesy Blake Doyle #auspol @abcnews pic.twitter.com/IttnYK1lcJ

— Jess Davis (@jesskatedavis) April 6, 2022
Michael Gunner NT Minister Cowering behinds his wife #vaccineinjuries pic.twitter.com/pLciJD0YwY

— AustralianFreedomFighter (@Terry834840881) June 14, 2022
How many police can you count? @DanielAndrewsMP your campaign should be interesting! A man of the people, inaccessible by the people and unaccountable to the people! What would this person know about ordinary Victorians? Zero! #sackdanandrews pic.twitter.com/LlYcgeApP9

— Sack Dan Andrews (@sackdanandrews) April 25, 2022
Andrew Bolt had to do likewise several years ago when he pointed out the truth regarding the religion of peace, and he was attacked in the street by Antifa terrorists.
While establishment politicians are merely heckled, genuinely populist politicians are brazenly assaulted by extreme left terrorists.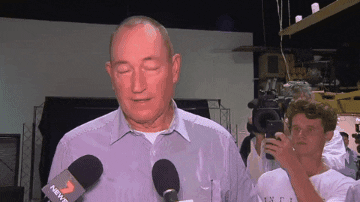 You'll always lose in Melbourne. Neo nazis sympathisers, misogynists and anti-semites are not welcome here. Pack up your cooker show #CraigKelly

A timely reminder a vote for the UAP is a vote for the Liberal Party. Disrupt the bastards wherever they go! #auspol #EveryEggCounts pic.twitter.com/PWLgWBOwzy

— WACA (@akaWACA) April 8, 2022
Nationalist activists are frequently and explicitly jailed for their political beliefs, and Antifa terrorists are given licence to bash right wing activists with impunity.
It feels like I am watching a montage of the prelude to revolution.
Subscribe to XYZ on Telegram, Bitchute, Twitter and Gab.