Screw your optics, I'm going in:
How many police can you count? @DanielAndrewsMP your campaign should be interesting! A man of the people, inaccessible by the people and unaccountable to the people! What would this person know about ordinary Victorians? Zero! #sackdanandrews pic.twitter.com/LlYcgeApP9

— Sack Dan Andrews (@sackdanandrews) April 25, 2022
The short clip above is from yesterday's Anzac Day Dawn Service at Melbourne's Shrine of Remembrance. It really is something.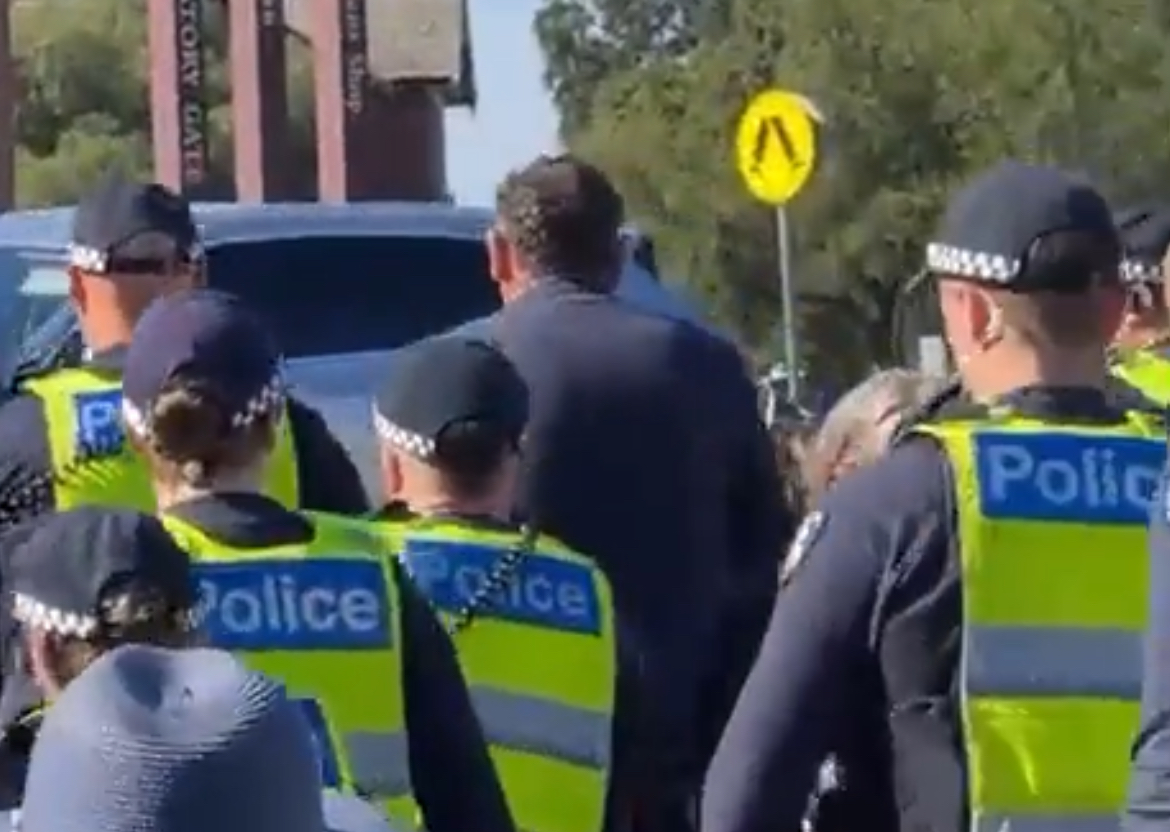 That is the unmistakeable hunched back of Victorian Premier Daniel Andrews, who required a massive police escort. In some respects it is understandable. Last year in Bendigo he had to run away with his tail between his legs from ordinary people who just wanted their lives back:
Bendigo Dan Andrews Gets a Full Serve Roasting After leaving a Press Conference he gets absolutely mauled… Remember, Always keep it peaceful. Long Live The People pic.twitter.com/llfAses0eK

— (@risemelbourne) November 10, 2021
Back then, the lockdowns had only just ended and hundreds of thousands of people were marching through Melbourne every weekend against the vaccine mandates. It was a hell of a time. Even the PM was copping it:
You can run but you can't hide forever!!!!! pic.twitter.com/57O4O4E2WF

— Amara Lee ❤️pure blood ❤️ (@Amaralee23) February 1, 2022
But this is Anzac Day. Of all the days when you can expect respect, decorum, a truce, Anzac Day is it. Yet Andrews still did not feel safe without a massive bodyguard.
It is rather fitting. He understands the nature of his dictatorship. If he is not bound by the rule of law, neither will his opponents. His thugs brutalised Victorians for two years, going so far as to desecrate the Shrine of Remembrance by shooting rubber bullets at unarmed protesters who had taken refuge at the Shrine.
Thus the massive bodyguard indicates he understands the level of anger directed at him. For all the empty talk about how 'most Covid restrictions have now been lifted', hundreds of thousands of Australians, if not millions given the unreliability of the figures, are still locked out the job market because of the vaccine mandates.
Similarly, for all the pretence in the federal election campaign that we have moved on from Covid and the focus should be on the economy, national security and trust, the vaccine mandate is still the number one issue for millions of Australians. Again, that massive bodyguard tells us that although they're not talking about it, politicians know the vaccine mandate is the number one issue.
Andrews will continue to require a heavy police escort when campaigning starts for the Victorian election later last year. Every public step he takes will be a visceral reminder that he is utterly hated.
One last point. As we noted last year, the ethnic make-up of the Freedom rallies matched the demographics of Anzac Day Dawn Services – 99.9% White. What does it tell you about a leader in a purportedly "inclusive", "multicultural" "democracy" that he does not feel safe around his country's native inhabitants?
Subscribe to XYZ on Telegram, Bitchute, Patreon, Twitter and Gab.