Federal UAP MP Craig Kelly yesterday shared an admission by the Speaker of the House of Representatives, Andrew Wallace, that a Long Range Acoustic Device (LRAD) was deployed by Australian Police during the recent protests against vaccine mandates in Canberra.
My colleagues & Mainstream Media laughed & ridiculed me when I asked if LRADs had been used at Parliament House

Now The Speaker has CONFIRMED that Long Range Acoustic Devices (LRADs) were deployed & used during the recent anti-mandate protests in Canberra

Well, well I was RIGHT pic.twitter.com/OV4h05kW5M

— Craig Kelly MP (@CraigKellyMP) March 1, 2022
PHON Senator Malcolm Roberts had queried AFP head Reece Kershaw shortly after the protests during a Senate Legal and Constitutional Affairs Committee meeting about his officers' use of an LRAD against peaceful protesters.
There has been many attempts to paint anti-mandate protesters as extremists. It's not true. At the protest some people were concerned about the appearance of possible Long Range Acoustic Devices (LRAD) and whether they were used or not.

Transcript: https://t.co/SolZBWjCEr pic.twitter.com/YeVgYgi7PT

— Malcolm Roberts 🇦🇺 (@MRobertsQLD) February 15, 2022
Mr Kershaw deflected the answer, promised to get back to him, and looked rather awkward: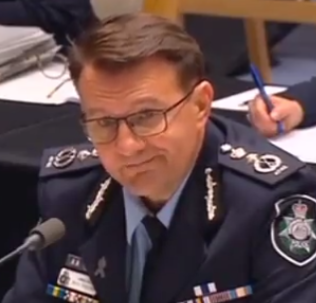 Craig Kelly then queried the Speaker of the House on Thursday, 17 February about use of the LRAD against peaceful protesters, but many parliamentarians scoffed at the suggestion.
However, barely days later the Lying Press was forced to publish an admission by ACT Policing that an LRAD was indeed used:
As thousands of anti-vax protesters descended on Canberra last weekend, police were out in force in the nation's capital, with Australian Federal Police Commissioner Reece Kershaw noting that the lack of coordination among demonstrators provided a "challenge" for law enforcement.
The police, however, had an advantage: long-range acoustic devices (LRADs), which are used to transmit messages or alarms at high volumes and frequencies.
Photos and videos shared by protesters show the devices atop a police vehicle and in front of Parliament House. A spokesman for ACT Policing confirmed to Fact Check via email that LRADs were deployed during the protests.
But while the devices are known to cause harm (they are often referred to as non-lethal weapons), claims made by Canberra protesters that the use of the devices caused them to feel ill are likely incorrect.
In one video posted to YouTube, a high-profile anti-vaccine activist claims that police deployed "sonic low frequency weapons against peaceful protesters", and that demonstrators were "copping the effects" of such devices.
"They're deploying supersonic weapons," the activist was filmed declaring to a crowd gathered outside Parliament House.
"That's why you're feeling a bit nauseous and sick. It's a disgusting thing that the government is doing."
The video implies that the ill effects caused by the LRADs were being felt by the crowd despite the devices being inaudible.
But James Parker, an associate professor at Melbourne University who is the director of a research program titled "Law, Sound and the International", told Fact Check that's not how LRADs work.
Dr Parker explained that the devices could be used in two ways: to issue voice commands or to emit "an incredibly high pitched and painful" alert tone capable of causing ear damage.
Asked whether the devices could be used to "attack" the protesters without being audible, Dr Parker replied: "I don't think there's any evidence whatsoever of the LRAD being used for secret, stealth, sub-audible attacks."
He added that the most effective way to cause harm using sound was through high-pitched frequencies broadcast extremely loudly.
Curiously, this admission on 18 February essentially uses the same excuse as Mr Wallace's letter on March 1:
"It is understood that these devices are used as speaker systems to communicate to large crowds but can also be used to issue loud alert sounds, to assist in the management of large crowds. ACT Policing has publicly stated that the Long Range Acoustic Devices (LRADs) in question were only used to convey spoken word messages. Any other function on these devices was not used."
It sounds like baloney. If all they wanted was a simple P.A. system, why did they need officers wearing what looks like specialist ear and head gear directly behind it?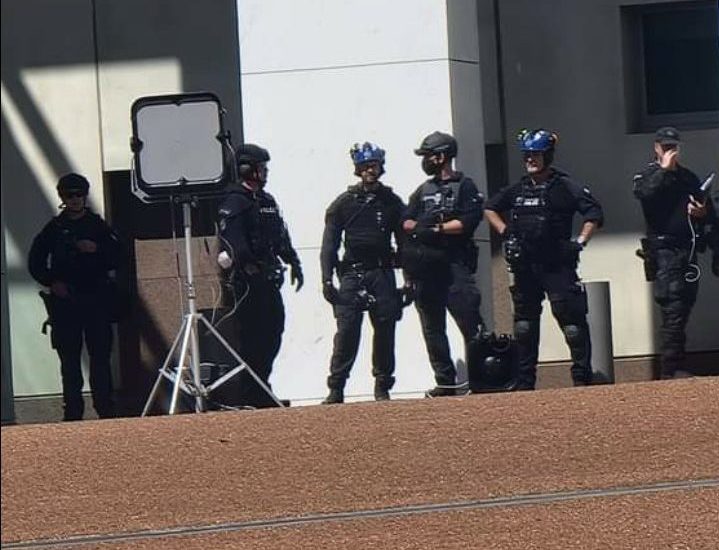 Why were the AFP officers closer to the crowd all wearing earplugs?
Furthermore if Mr Wallace had this information on February 18, it is curious that he would wait until March 1 to write the letter to Craig Kelly. I am sure he is very busy. Perhaps his lawyers were busy too. Perhaps he was told to wait a couple of weeks until the war started.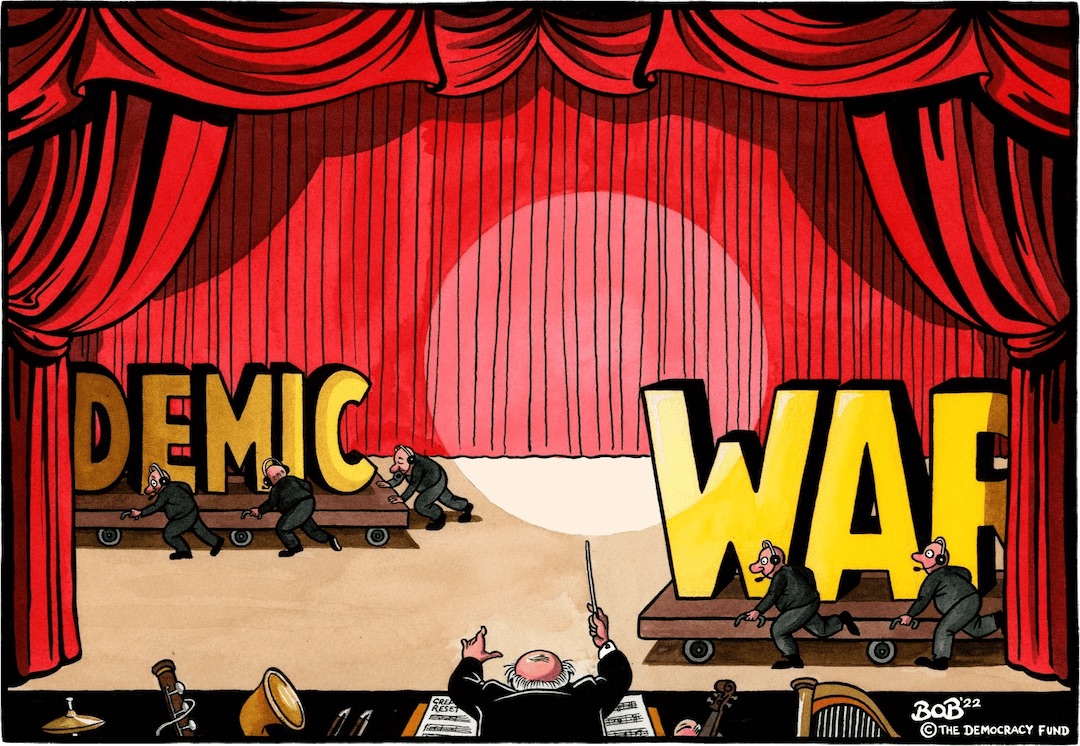 The fact is, too many witnesses have claimed they received severe, mysterious burns (despite using plenty of sunscreen and wearing hats on a hot day, like all Aussies know how to do) as well as other bizarre ailments, for the official excuse to be believable.
This is a photo of a lady burnt by the weapon used in Canberra she had a hat on and 50+ sunscreen pic.twitter.com/xJRdsFcXsg

— truth seeker 🗣 (@audreyc98788896) February 16, 2022
Anyone with similar that was in Canberra on Saturday? pic.twitter.com/OXzqqgRzT8

— President Lisa Trump (@Carmilla5) February 16, 2022
Was this a test run to see what damage LRAD could do? pic.twitter.com/XCnqtYmPSb

— Moondani (@Moondani17) February 16, 2022
An LRAD creates a "focused beam of millimeter waves at a frequency of 95 gigahertz". The beam is "only physically capable of reaching a skin depth of about 1/64 of an inch" and can cause burns! Lawyer up & sue the shit out of them. You were only exercising your rights! https://t.co/VJWST4i2gg

— Backyardjob – 100% Organic Aussie (@Backyardjob) February 16, 2022
Something was used on these people, whether it was an LRAD or something else. Also from the week before.
— PoliBard (@PoliBard) February 17, 2022
The approach of both the government and Lying Press is to ignore any story which goes against The Narrative. If too many people become aware of the story, the standard operational procedure is to put out a cover story.
The establishment has thus been forced to retreat from the first line of defence to the second line of defence. The challenge will be to maintain pressure on this story in order to hold the perpetrators to account.
Subscribe to XYZ on Telegram, Bitchute, Patreon, Twitter and Gab.