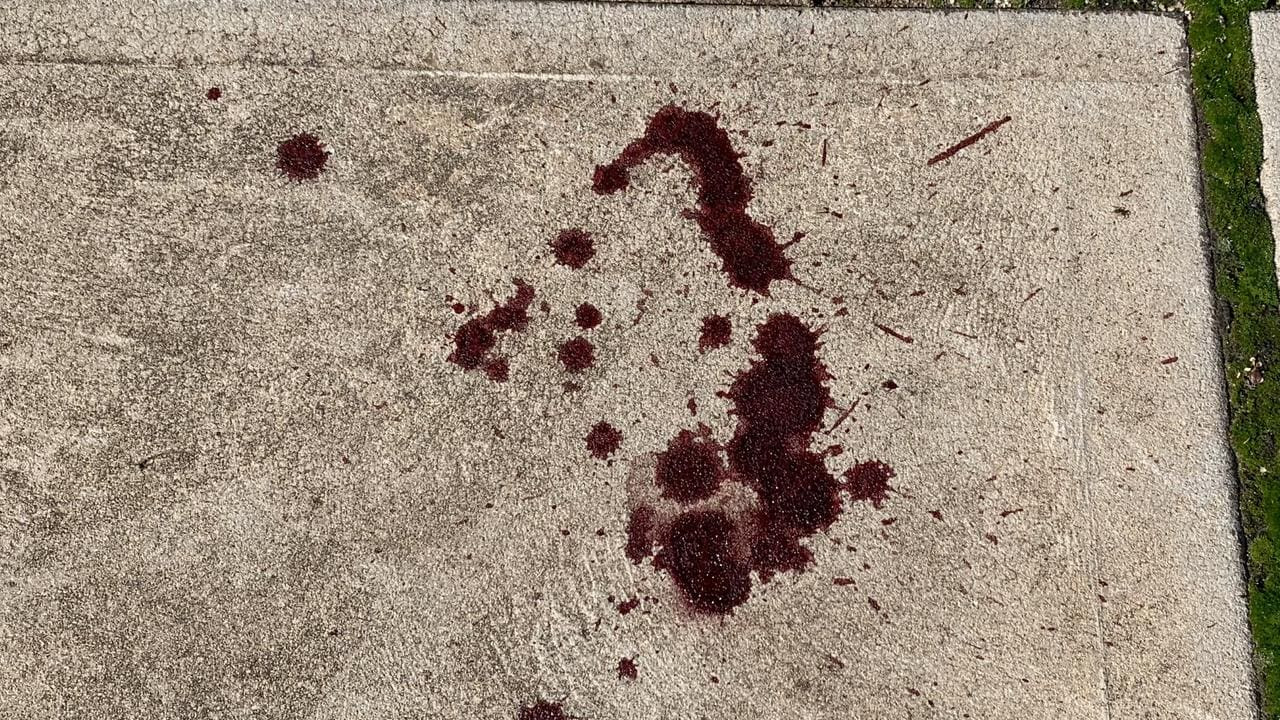 The XYZ's official policy toward the Lying Press is to ignore them. Occasionally we will rip their material off without attribution. Both measures are designed to avoid amplifying dangerous conspiracy theories and baseless accusations found regularly on their bigoted pages.
Occasionally we deem it in the public interest to break with this policy. Thus we present you a tale of two news reports.
From the ABC:
A 16-year-old Adelaide boy is in hospital after being stabbed in the city's north-west last night.
Emergency services were called to Bower Road in Semaphore South at 7:00pm, after the teenager and two friends were assaulted by a group of males near the Semaphore jetty.
His friends had tried to drive him to hospital, but stopped on Bower Road and called an ambulance.
The boy, from Salisbury East, had a single stab wound to his upper leg and was taken to the Royal Adelaide Hospital with non-life threatening injuries.
Police said the suspects were a group of men who had left the area before officers arrived.
Just a group of men with no defining features. Who knows, maybe they were even White Supremacists.
From the Australian:
A teenage boy has been rushed to hospital with a stab wound after he was attacked by a group of strangers in Adelaide's northwest.
The 16-year-old was with two other friends near the Semaphore Jetty on Monday night when the group of males assaulted the teen.
His friends then tried to drive the injured victim to the hospital but stopped along Bower Rd in Semaphore South and called an ambulance.
Emergency services responded to the triple-0 call at about 7pm where police found the Salisbury East boy with the single stab wound in his upper leg.
He was taken to the Royal Adelaide Hospital with non-life threatening injuries.
SA Police said the suspects, who were described as being of African appearance, fled the scene before officers arrived.
Police said the investigation was ongoing.
Anyone with information or CCTV footage has been urged to contact Crime Stoppers on 1800 333 000 or go online.
That's what you call getting caught red handed.
The ABC has displayed racial bias in deliberately omitting the race of the attackers in this incident. They used to try to bury the "of African appearance" in paragraph 15 but now they are just dropping it completely.
(It must also be noted that the Australian is in complete fealty to its Zionist masters and shills exclusively for mass immigration, and cannot be let off the hook.)
Although what official statistics loosely define as "Australians" commit the majority of crime in Victoria, we do so at a rate only a little higher than the proportion of our population, 71.25:61.61.
Also note that in 2018 "Australians" were officially only 61% of the population in Victoria. Given that "Australian" is defined as "country of birth", it is likely that Real Australians are already a minority in Victoria.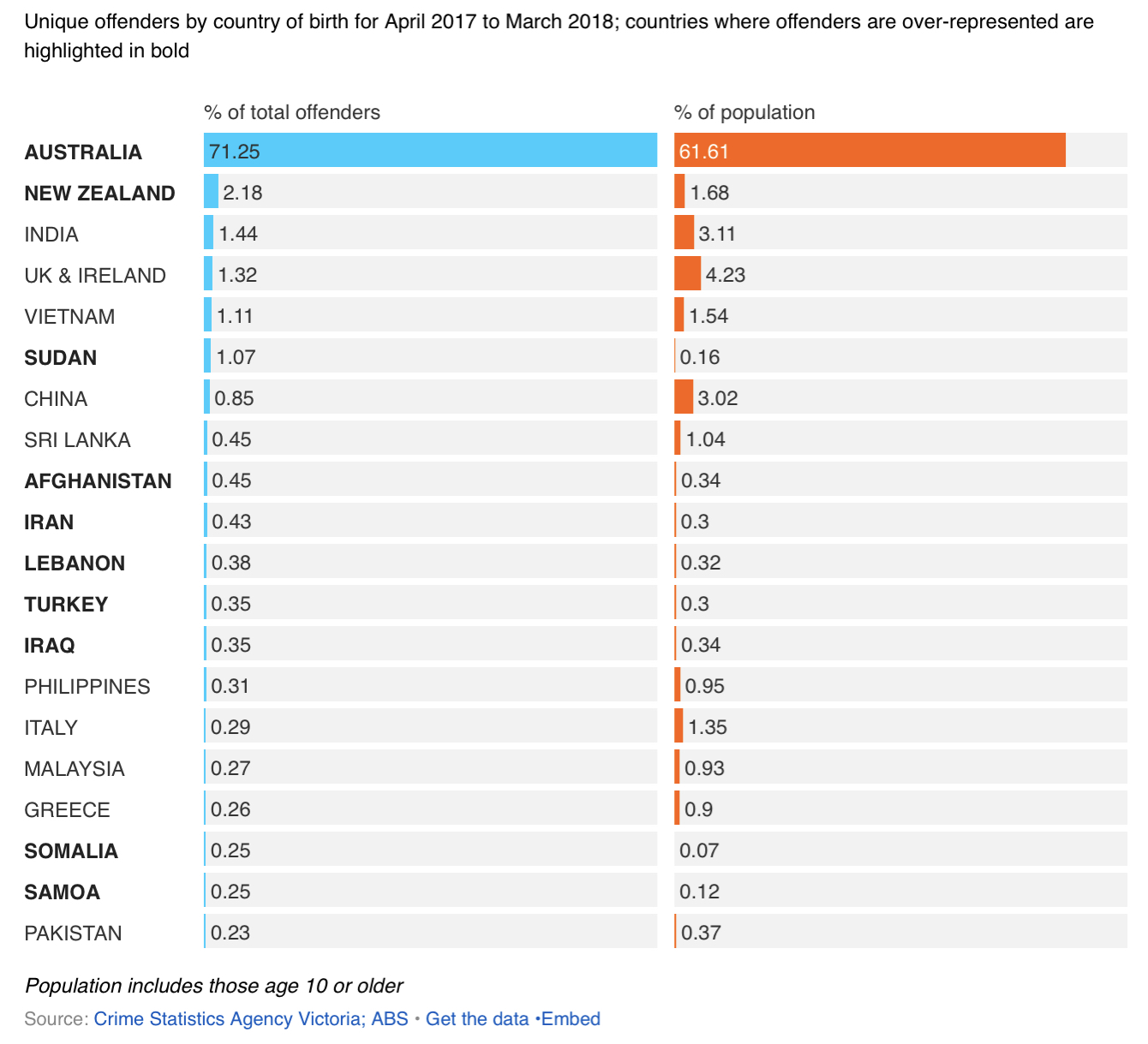 Sudanese people living in Victoria commit crime at a rate nearly 7 times the size of their population, 1.07:0.16. For violent crime this is even higher.
From The XYZ, 11 January, 2019:
Well, the Herald Sun reports:
The Australian Financial Review reports:
But it's also true Sudanese immigrants, at only 0.1 per cent of Victoria's population, are well over-represented in crime statistics. That includes being responsible for around 8 per cent of "aggravated burglaries".
African gangs have been responsible for some of the most vicious, and public displays of violence in recent memory in Australia.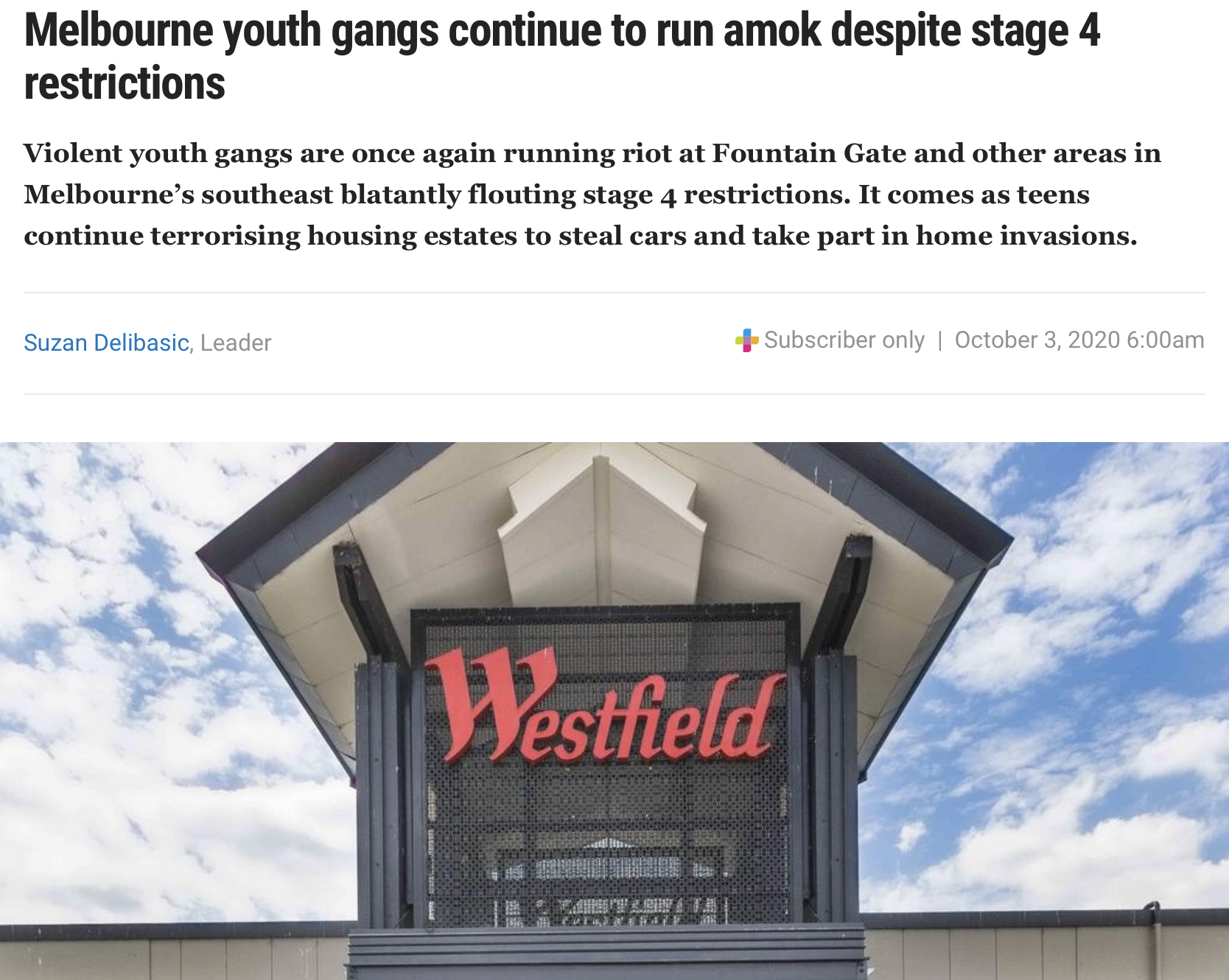 Meanwhile, in Melbourne.

If this attack doesn't make your blood boil because of victims skin colour, YOU are the racist.

Eight on one.

The attacker's skin colour shouldn't matter either.

Heartbreaking, watching the gang set upon the defenceless child.

Infuriating. pic.twitter.com/uaZwbi1g8s

— Avi Yemini 🇦🇺🇮🇱 (@OzraeliAvi) June 15, 2020
There are fears gang attacks in Melbourne's west are escalating. https://t.co/5zYfOfohG3 @tdolling #7NEWS pic.twitter.com/nwrqTKXyKq

— 7NEWS Melbourne (@7NewsMelbourne) October 11, 2020
Instead, the Government-Media-Police Industrial Complex focuses hysteria on non-existent White Supremacist "violence" while pretending that African Gang violence does not even exist.
The solution to African gangs terrorising Melbourne is to crack down on far-right racial hatred
This White Scare has climaxed in 2021:
So-called "counter-terrorism" police constantly harass Australian nationalists, going so far as to claim ground up sparklers are an IED and a Star Wars toy gun is a "gel plaster" (sic).
Thomas Sewell has been imprisoned without trial for what is likely an act of self defence but has been labelled by police and media as "armed robbery", and they have characterised his legal use of force to defend his cameraman against an assault by a Channel 9 security guard as an unprovoked assault.
The Federal government is attempting to criminalise peaceful, legal nationalist activism.
The priority of the government is clear. The Regime does not care one iota about Real Australians, the Anglo-Saxon-Celtic progeny of our founders. The Regime intends to replace us, and it probably enjoys the fact that those brought in replace us are brutalising us along the way.
There are no safe cities left.
Adelaide is now suffering the problems of bigger cities. Adelaide has a very small African population. But this is happening regularly and is not being reported by the ABC or much of the media.
The Lying Press and our rulers are scum. Utter scum.