The walking back of the Covid Narrative by the mainstream Lying Press gets curiouser and curiouser. One outlet has published a piece which not only repeats XYZ News talking points verbatim, but even uses faaaaaar right terminology: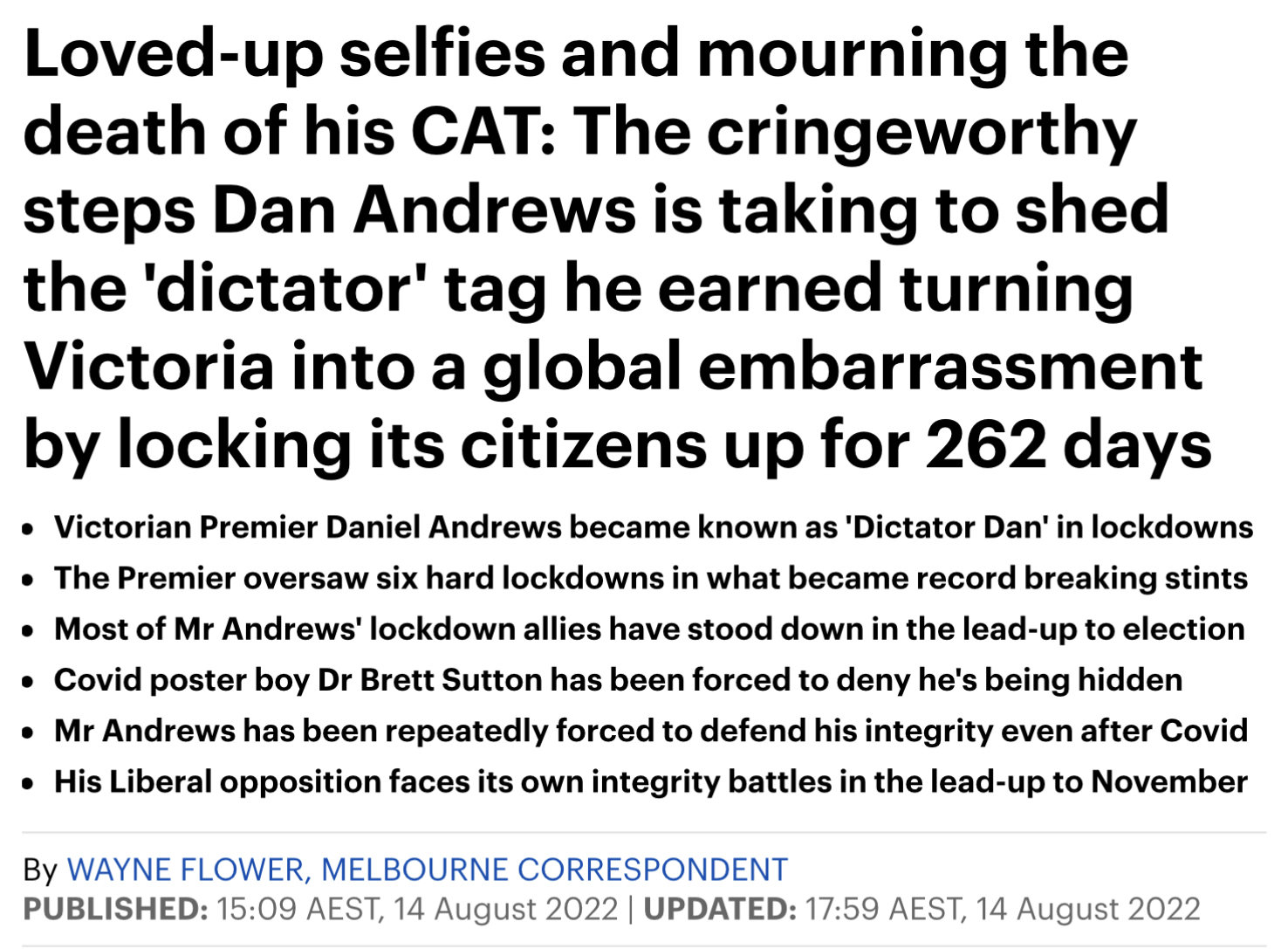 Cringe:
Victorian Premier Daniel Andrews is working hard to bury his 'Dictator Dan' tag and reinvent himself in the lead-up to November's election.
The tag had dogged Mr Andrews throughout Victoria's repeated Covid-19 lockdowns, which stretched on and off for almost two years.
In November, Victorians will head to the polls to cast their vote in the first election since they spent a world record breaking period locked in their homes under order of the Premier.
By then, the bleak misery of winter and the state's world record breaking lockdown tally will be a distant memory for most.
No it won't:
This year Mr Andrews has attempted to portray a softer side to his personality, taking jibes at WAG Bec Judd when she expressed crime fears in her leafy suburb, and appearing almost human in a tweet celebrating his 50th birthday.
Apparently, minimising the impact of diversity crime on ordinary people, including home invasions and rapes, portrays one's softer side.
When he returned to work after a nasty fall he comically wore his The North Face jacket – a jacket Victorians had come to loathe during repeated lockdowns.
Everybody knows it wasn't a "fall".
In March, a smiling Mr Andrews appeared on the red carpet alongside his family at the premiere of Hamilton at Her Majesty's Theatre.
Musicals are awful and should not be watched by anyone. Furthermore, Hamilton idolises a man who plotted on behalf of the central bankers against ordinary Americans in the century-long battle to establish the "Federal" "Reserve".
In April he announced the death of his beloved cat Felix.
Knowing Dictator Dan, he probably thought drowning it could get him sympathy.
Melburnians were released from their sixth lockdown on October 21 last year.
Since then, most of the familiar faces of their political lockdown captors have been forgotten – or repressed.
Four of Victoria's most senior government ministers have since stepped down from their portfolios leading up to the next election on November 26.
Those ministers are former Deputy Premier and Education Minister James Merlino, Health Minister Martin Foley, Police Minister Lisa Neville and Sports Minister Martin Pakula.
Each of whom played important roles in enforcing the closure of Victoria for 262 long days.
They're practically ripping us off now. Should send them an invoice.
Just last month it was revealed the  Andrews' government faced fresh corruption investigations being exposed and pending court convictions connected to Victorian Labor and his own socialist left faction.
The head of the Independent Broad-based Anti-Corruption Commission, Robert Redlich, told AFR he was 'highly frustrated' that he could not reveal further investigations underway.
'There are other investigations which I regrettably am still not able to talk about which also shine light on these issues,' Mr Redlich said.
These included prosecutions underway and sentencing cases for 'a number of electoral offices'.
It comes hot on the heels of public IBAC hearings into allegations of branch stacking within the Andrews Government.
The AFR reported Mr Andrews was involved in multiple corruption investigations in addition to a WorkSafe investigation into his private office over allegations of bullying.
The litany of corruption allegations against Dictator Dan are astounding. The fact that he is not already in prison is an indictment upon the entire Victorian justice system.
The Lying Press article also notes the steep debt Dictator Dan has incurred and the utter incompetence of the Victorian opposition, which has been well covered in XYZ Live with myself and Fenian and Nolzy from The Racer's War on Everything. (We stream each Wednesday evening at 9:00 pm AEST. You can find us on Odysee.)
Ultimately, none of this will matter to Victorian voters, as reported by XYZ News last November:
Premier Dan Andrews is not worried. He knows that he will again be reelected no matter the heinous nature of his offenses under both the laws of man and the eyes of God. Because they have spent thirty years mass importing these invaders so as to stack the books in their favor. Yes, the Victorian Labor government is having some internal crises. So what? It's probably just Andrews getting rid of his light weights who are balking at his future plans for the state.
It is stirring that Melbourne is the heart of Australian resistance against both Covid Tyranny and our racial replacement. However, even without the mass importation of voters, Victoria has become the most fanatically left wing state in the country. Despite the unprecedented unrest, Dictator Dan has become a dictator because he knows he can get away with it.
Finally, if Dictator Dan does lose the election, he retains the power to declare a state of emergency at any time. Don't say he won't do it.
Subscribe to XYZ on Telegram, Bitchute, Patreon, Twitter and Gab.