A planned satanic groomer drag show to be viewed by children in St Kilda, Melbourne was cancelled yesterday. Ordinary people made plans to mobilise in opposition to the event designed to sexualise and indoctrinate children.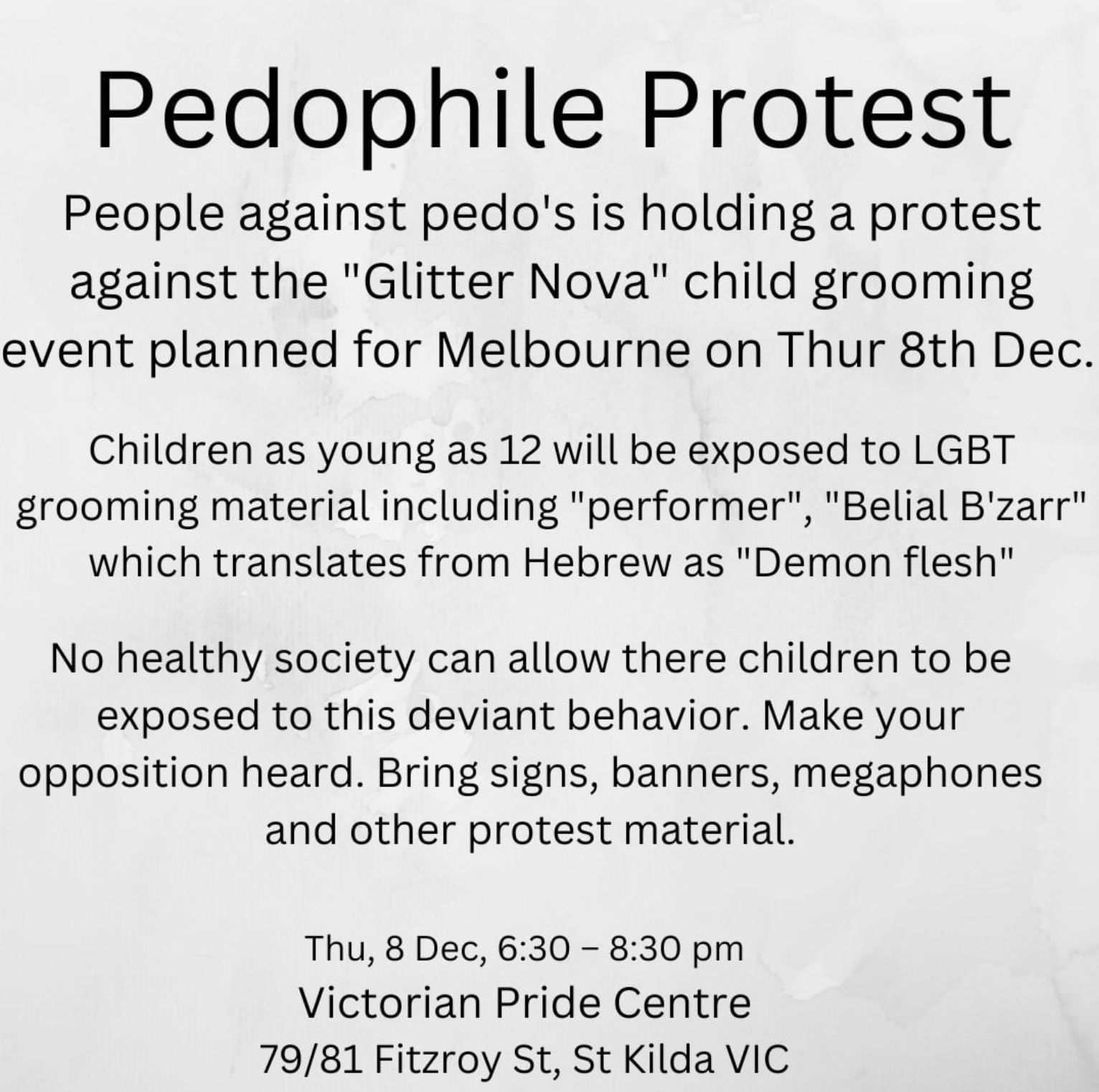 The mere rumour of public opposition was enough for the organisers to cancel the event.
View this post on Instagram
The resultant seething has been beautiful.
From Star Observer:
A drag event scheduled to be held at the Victorian Pride Centre on Thursday was postponed following threats of protest from suspected Neo-Nazi and Proud Boys members.
Note the use of the word "threats" with regard to rumours of a perfectly legal exercise of ordinary people's democratic right to express their political opinion in public. To the left, our words are violence.
Furthermore, the presence of extreme far left terrorist group Antifa at the event was very real grounds for concern that violence would occur due to their long history of violence worldwide.
"In accordance with advice received from Victorian Police, Council, Minus 18 and The Victorian Pride Centre have made the difficult decision to postpone tonight's Glitter Nova event at the Victorian Pride Centre. We apologise for any inconvenience caused and confirm that the event will be postponed to a later date which we will advise shortly," Stonnington Youth Services, the organiser of the event, said in a post on social media.
A Victoria Police spokesperson confirmed that the event had been postponed. "Victoria Police are aware a planned community event on Fitzroy Street, St Kilda has today been postponed," the spokesperson told Star Observer in a statement."Police will continue to run proactive patrols of the area to deter any anti-social behaviour and work with partner agencies to ensure the safety of all community members for future events."
XYZ News is proud to have played its part:
A day before the event, messages surfaced on Telegram channels XYZ News, Turning Point Australia and Australian Meditations Nationalist Yarn chat, run by suspected National Socialist Network members. The posts spoke about a protest being planned at the event by a group calling itself 'People Against Pedos'.
We also discussed the event toward the end of XYZ Live on Wednesday evening, although we were mostly triggered by the poor spelling and grammar of the protest flyer.
Let's be very clear here, this was an event designed to sexualise children:
City of Stonnington's Youth Services had organised Glitter Nova, at the Victorian Pride Centre in St Kilda, Australia's first LGBTQI community hub. The event for young people aged 12 to 25, was to feature drag workshops and performances by drag performers including Alexander McKween, Belial B'Zarr and Randy Roy.
Belial B'Zarr is a disgusting performer whose name literally means 'devil' in Hebrew and who performs sexual fetish shows, if you can call "stapling" a sexual fetish.
This is the second time this year these people have attempted to normalise their degeneracy and the second time a protest or rumours of protest by ordinary Australians has protected children from this harmful content.
White Australians Shut Down Satanic Groomer Event in Melbourne
This a total victory for ordinary people who oppose the normalisation of groomer propaganda to our children. Slackbastard even admitted total defeat:
Anti-fascist researcher Andy Fleming told ABC Radio Melbourne cancelling the event could "embolden" the groups targeting these events.
"If the aim was to prevent an event from taking place, they appear to have done that," he said.
I have talked a lot in recent years about ownership of the public space,. This cancellation of a groomer drag show is a watershed moment because it has reclaimed the public space for ordinary people to openly oppose globohomo.
For at least a decade, extreme left wing extremists have threatened the safety of ordinary Australians who meet or protest public against globohomo. In some of the more egregious incidents, Andrew Bolt was attacked in broad daylight in Lygon Street, grandmothers were bashed by far left thugs at Reclaim Australia rallies, Antifa terrorists attempted to overturn a bus full of patrons at a Stefan Molyneux talk, and Ryan Fletcher was struck on the head with an iron bar for protesting outside a halal expo. In Victoria, Antifa have done so with impunity from and in collusion with Victoria Police.
Over the summer of 2021-22 ordinary Victorians reclaimed Melbourne's streets through sheer weight of numbers. The astroturfed university fringe dwellers had no answer to hundreds of thousands of ordinary people marching against Covid Tyranny.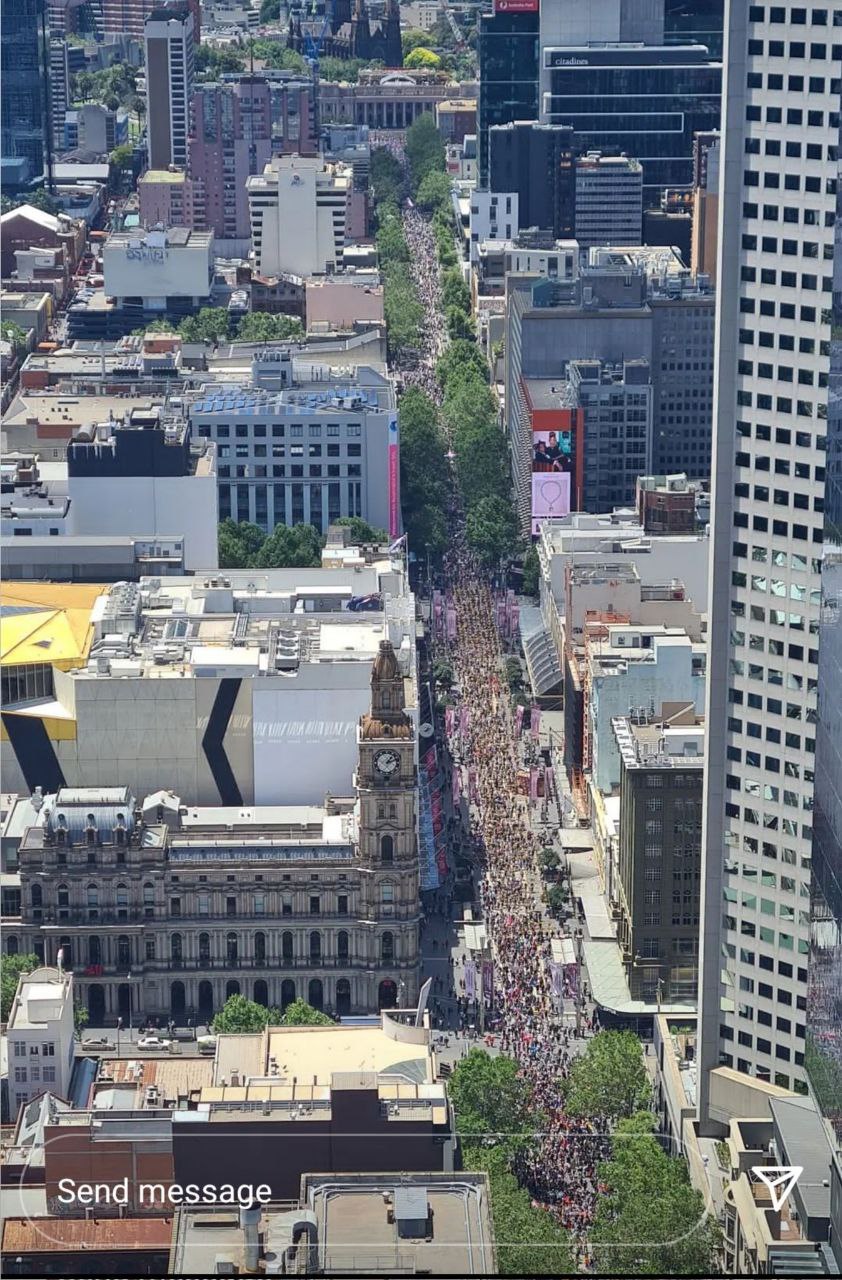 This is different. This demonstrates that a determined core of people opposed to globohomo can, by mere rumours of their presence in public shut down far left events. A few shares on social media was all it took to have a real world impact.
The Regime has no answer to ordinary people who value a higher calling above themselves, who fear no man, only God.
As a result, we now own the streets.
Subscribe to XYZ on Telegram, Bitchute, Twitter and Gab.