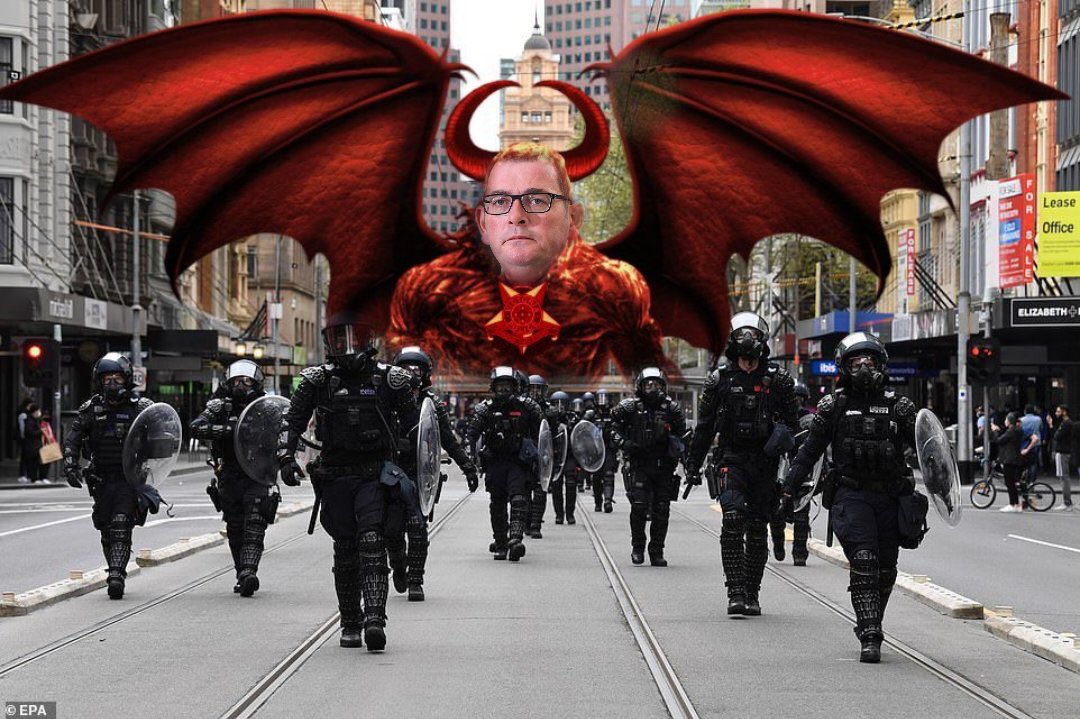 Democracy does not work:
Daniel Andrews is on track to become Victoria's longest serving Labor premier, with the latest Newspoll showing his government is heading towards a third election victory.
The Newspoll, published in The Australian, shows Labor holds a two-party preferred lead over the Coalition of 56 to 44 less than three months out from polling day.
However, Labor's victory is set to be not as comprehensive as its November 2018 "Danslide", when the two-party preferred percentage was 57.3 to 42.7 in its favour.
Labor's primary vote has dropped from 42.9 at the 2018 election to 41, while the Coalition's has risen from 35.2 to 36 – but the Greens have seen the biggest change in support, increasing from 10.7 to 18.
So this is fine.
⚠️WARNING ⚠️
GRAPHIC CONTENT
at Flinders St Station

When Shane Patton said they won't hesitate to use force

I think this was his vision pic.twitter.com/zpdLDa5ttL

— Dee ❤️ (@_Dee_1982) September 22, 2021
Govern me harder daddy.
Protester says "You wouldn't do that" moments before Victoria police fire on peaceful protesters. #Melbourne pic.twitter.com/gpijjsUoJy

— XYZ (@itsyourxyz) August 21, 2021
Meh.
This is normal.
Passing legislation allowing you to remain dictator for life is perfectly acceptable, as is drafting legislation allowing your goons to destroy people's homegrown food under the pretext of "biosecurity".
Of those polled, 54 per cent said they were satisfied with Mr Andrews' performance – down from 56 at the November 11 to 17, 2021 Newspoll – while 41 per cent were dissatisfied, a decrease of one. Five per cent were uncommitted.
Mr Guy has seen his satisfaction rating fall from 34 to 32, with those dissatisfied rising from 42 to 49. Nineteen per cent were uncommitted.
On the question of who would make a better premier for Victoria, 51 per cent said Mr Andrews, while 34 per cent nominated Mr Guy.
There are several factors which have led to such a horrific forecast. First, there's the opposition leader.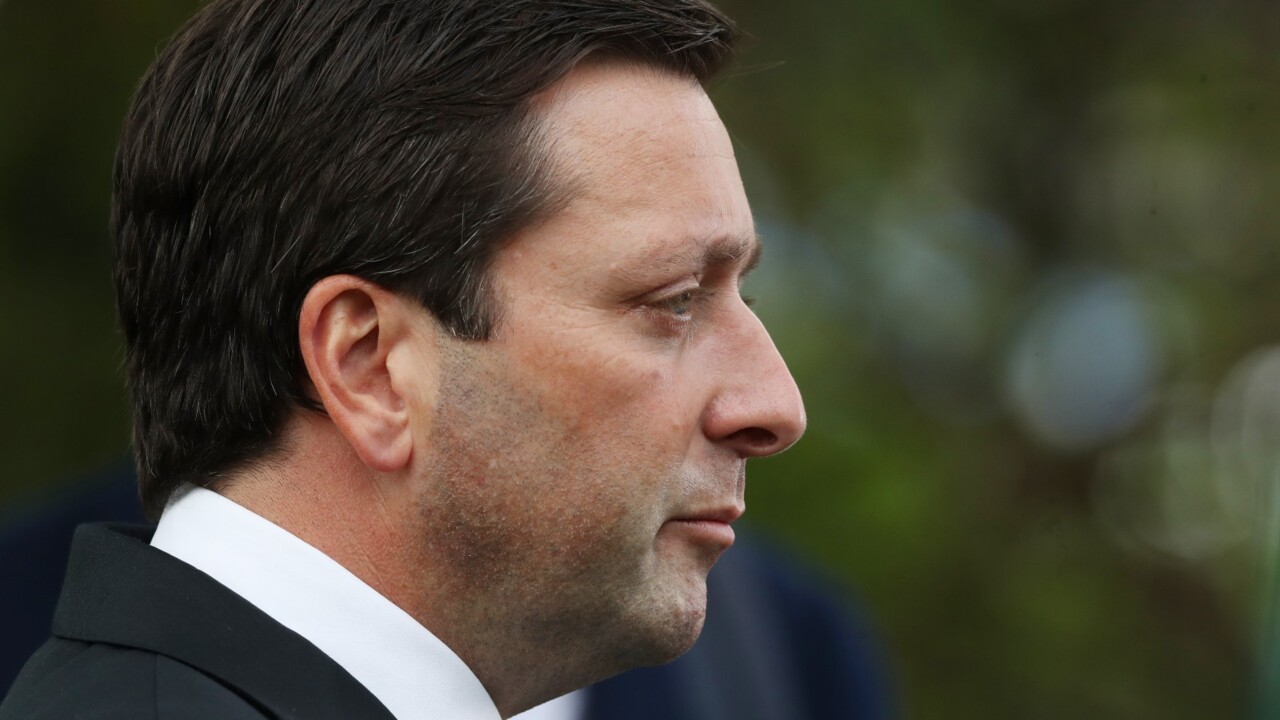 He's Eastern European, if you know what I mean, and weak as piss. The Victorian Liberal Party is pathetic. They had one guy, one guy in the whole party who was prepared to speak out against Covid Tyranny and the moral degeneracy imposed by the Andrews government, but they kicked him out.
We should consider the nature of polls themselves. In America, the Democrats tried very hard to rig the 2016 Presidential Election, they just didn't do it well enough. The purpose of modern political polls is to prepare the minds of the electorate for the result the elite intend to rig. It's entirely possible that these polls are a mere pre-fortification of the Victorian election.
The demographics of Victoria, and Melbourne in particular have been turned upside down by mass immigration. Last year's Australian census showed that Real Australians are now a minority in our own homeland, and Melbourne is one of the primary destination for new migrants.
Melbourne hosted the biggest of the massive protests which swept Australia in the summer of 2021-22.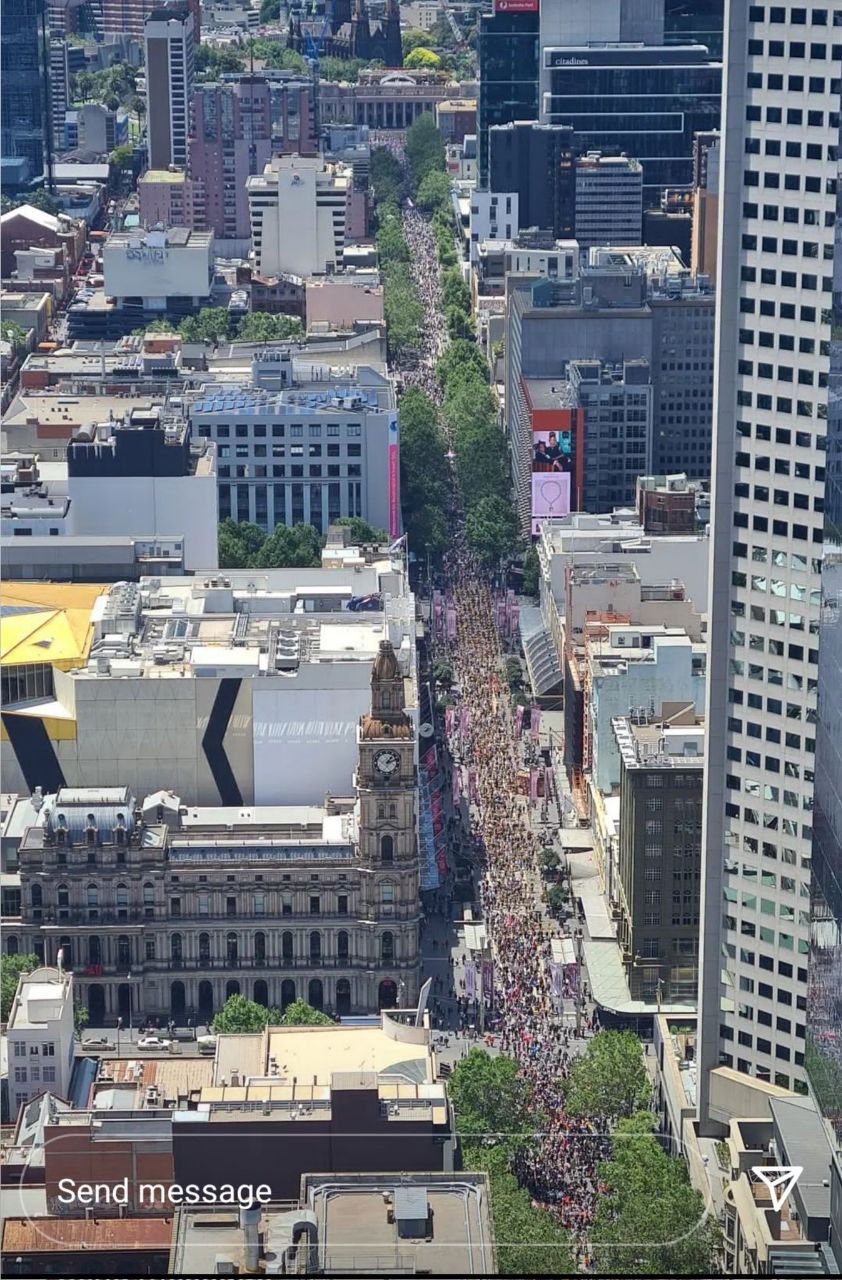 However, the protests were 99% White, indicating that foreigners are fine with Covid Tyranny because no matter how bad it gets here, it is never going to be as bad as it was for them back home. At least, not yet, and by the time it is, it will be too late. Thus a huge chunk of Victorian voters are unmoved by Daniel Andrews' desecration of the Shrine of Remembrance, both from a cultural and political perspective.
The Shrine means nothing to them, they got their meal ticket when they were allowed into Australia and they're not prepared to rock the boat.
Then there are real Victorians themselves, or what's left of us. Melbourne has been a hive of leftist scum and villainy for several decades. Marxist infiltration of the education system and public institutions is well entrenched and it is paying off in spades. This isn't simply about union and government collusion or the immunity of the safe schools architects from public ire.
Victorians themselves have become despicable. It's nearly September 2022 and people aren't simply still wearing masks, they're still giving you funny looks if you're not wearing one. A large portion of Victorians are little more than brainwashed, subhuman idiots.
Subscribe to XYZ on Telegram, Bitchute, Twitter and Gab.