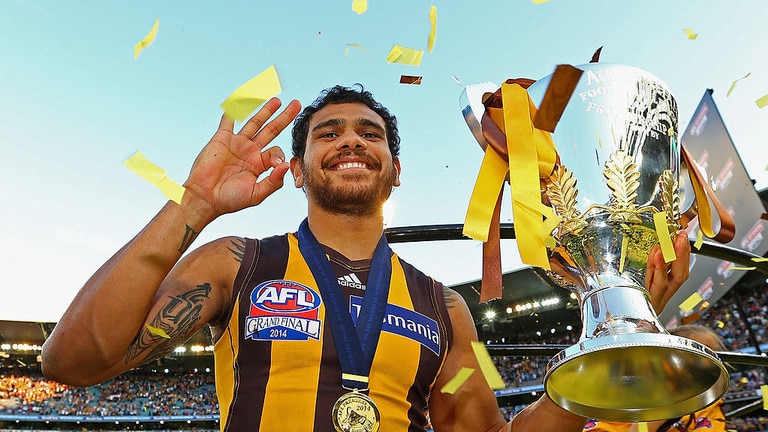 Every Gen-Xer, myself included, has been put in his or her place by a boomer telling us that our ripped jeans make us look like a hobo. It is one of the few thing about which boomers are right:
From Fox Sports:
Hawthorn champion Cyril Rioli and his wife, Shannyn Ah Sam-Rioli, have publicly broken their silence on the tumultuous events that led to the four-time premiership star's premature AFL retirement in 2018.
The Age reports it stemmed from an incident at Launceston Airport during Indigenous round of that year, in what Cyril described as the "final straw" of a series of other events with regards to the Hawks' relationship with their Indigenous players.
It's believed Hawthorn president Jeff Kennett commented on Shannyn's designer ripped jeans at the airport, offering loose change to help sew them up — comments he claims was a joke.
"I felt belittled and humiliated," Shannyn told The Age. "The club kept saying I was overreacting, but they were portraying me as the angry black woman. They said later I had wanted to go home to Darwin for a while. That's not right."
In the fallout Cyril missed training and it led to crisis meetings at Hawthorn involving the likes of Kennett, football boss Graham Wright, coach Alastair Clarkson, Cyril's manager Adam Ramanauskas and teammate Shaun Burgoyne.
Kennett sent text messages to Cyril and even wrote a letter to the couple in a bid to make peace, insisting he was joking about the jeans.
But the damage had already been done, with Cyril telling The Age the incident was 'eye opening.'
"I've never really spoken about what happened in Tassie, but I think there was a lot of gaslighting at the end of my career by the club," he said.
"It was the final straw," Rioli added. "It opened my eyes … seeing how they were to us."
The ripped jeans incident is the one which has gotten the attention. The claim is that it was the last straw and should be seen in the context of other so-called "racist" incidents. Kennett is now under pressure to resign as President of the Hawthorn Football Club. He even conveniently had a bout of Covid on the weekend so he could stay home.
It is stupid, because everybody gets bullied, some more than others. A lot of straight White Christian males got bullied when we were kids. When we grew up we were told that all the world's problems are our fault, we should feel guilty for it, we should pay for it, the bullying we received doesn't count as bullying, and we can't just mind our own business, we have to actively harass anybody who transgresses the ever changing definition of "racism".
That tends to make a lot of White guys very angry, but when we point out this double standard we are labelled "extremists".
The fact is, aboriginal activists and their sycophant enablers in the Lying Press, the corporate world and government are the bullies. In addition to gay/pedo identity politics, Aboriginal identity politics is now shoved down the throats of the still predominantly White AFL fanbase every weekend.
It used to just be something Aussies did for fun on the weekend but now this corporatisation and politicisation is driving fans away.
AFL is taking on the trappings of a new demonic religion. Along with the regular religious ceremonies celebrating aboriginal superstition, slightly aboriginal footballers such as Adam Goodes are revered as saints. Conversely, White men such as Sammy Newman, Eddie McGuire and Jeff Kennett who have brought success to their clubs are vilified as demons who are caste into hell.
With the mandating of Covid vaccines, the AFL is now effectively engaging in ritual sacrifice. Another young footballer died last week:
From Fox Sports:
North Melbourne is mourning the shock, sudden passing of former Kangaroo Red Og Murphy in Ireland.
Murphy, who died aged just 21, was on the Roos' list in 2019 after being taken as a Category B rookie from his home club in county Sligo.
He played 12 VFL games but never made his senior debut.
Family and the authorities in Ireland are yet to confirm the cause of death.
Yet another "sudden passing". Naturally, this demonic religion comes with a good dose of 1984:
Eddie gives his thoughts on the Jeff Kennett allegations from Cyril Rioli. pic.twitter.com/9saPqAqk6N

— Fox Footy (@FOXFOOTY) April 3, 2022
"We have fought for 20 years to get Indigenous welfare officers to every club to make it safe to come into the game and we only just achieved it this year.
"The AFL is (moving) with the right steps but we have still got a long way to go and whenever racism comes up I am happy to stand up and talk about it because I am here to stamp it out."
They're called "commissars", Eddie.
Subscribe to XYZ on Telegram, Bitchute, Patreon, Twitter and Gab.