Never saw it coming:
🚨🚨🚨Booster mandates incoming…anyone surprised? pic.twitter.com/R8uKJ4WsDo

— ValGlass2.0 (@AussieVal10) January 19, 2022
Changes to the national vaccination policy are imminent, Victorian Premier Daniel Andrews has indicated, with a third coronavirus jab likely to be upgraded from an optional booster to an essential requirement of being fully immunised.
State and territory leaders and health experts have already stressed the importance of eligible adults receiving their third dose, with Victorian authorities saying it reduces hospital admissions by up to 90 per cent.
Victoria, NSW, South Australia and the ACT accelerated the COVID-19 vaccination timetable for booster shots on Wednesday, and will allow adults who received a second dose of a coronavirus vaccine at least three months ago to receive their booster in coming days at state-run vaccination hubs. The change takes effect in Victoria, SA and the ACT immediately, but will start from Friday in NSW.
They're going about the standard operational procedure of normalising the idea of the next mandate before they put it into law. Get used to four mandatory shots a year. Then five. Then six. Rinse and repeat.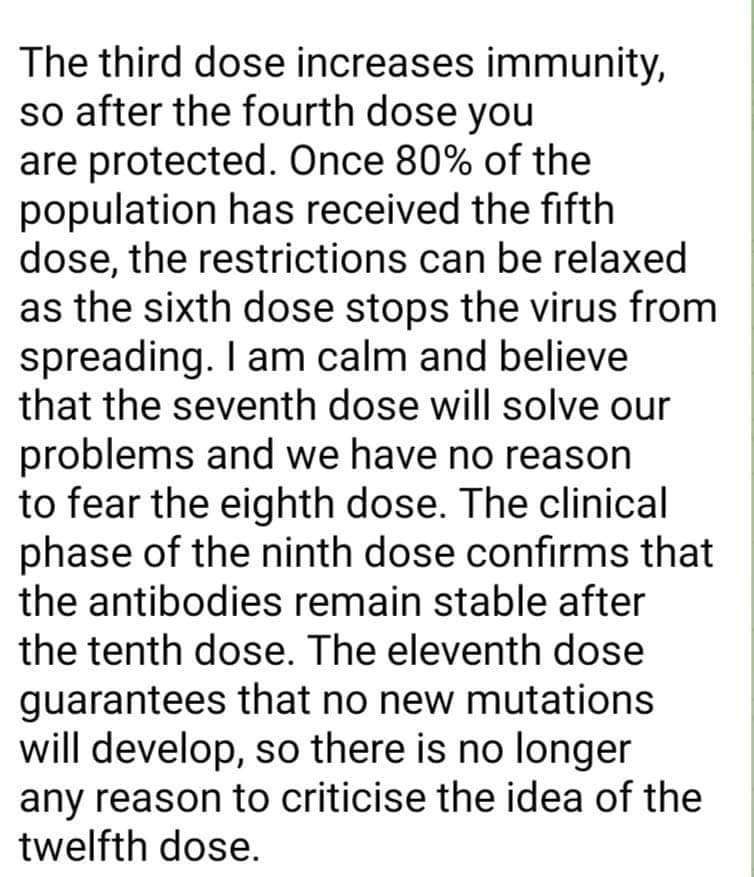 Mr Andrews said his government had "mandated a number of people, many people across many different sectors, [receive] a first and second dose".
I think you'll see very soon, out of national processes, you'll see the terminology and the recognition of the third dose be crystal clear," he said.
"This is not an option, not an add-on, not a 'good thing to have.' I think we're close to a change in policy that will simply reflect the fact that in order to be fully protected, you need three doses, not two doses plus an optional extra."
Australian governments are digging in for the long biological war against the Australian people.
As XYZ News has reported this week, most deaths with Covid in Queensland and NSW are of people who have had one or two doses of the vaccine. Rather than using this data to ask serious questions about the efficacy and safety of the vaccines, officials are inverting the meaning, using the data to push for "boosters", ie more vaccines.
This is going to be the logic they use from now on, and it is what we have been predicting since 2020. Force people to take "vaccines". When people get sick and die from the vaccines, blame it on Covid and force them to take more vaccines.
Data shows that you are more likely to get sick or die from adverse reactions to the vaccines than you are to catch or die with Covid if you are unvaccinated. Nurses testify that hospitals are being overwhelmed with adverse reactions to the vaccines which are being labelled as Covid cases.
Basically, the government is killing people with the vaccines. It's straight up murder.
Subscribe to XYZ on Telegram, Bitchute, Patreon, Twitter and Gab.