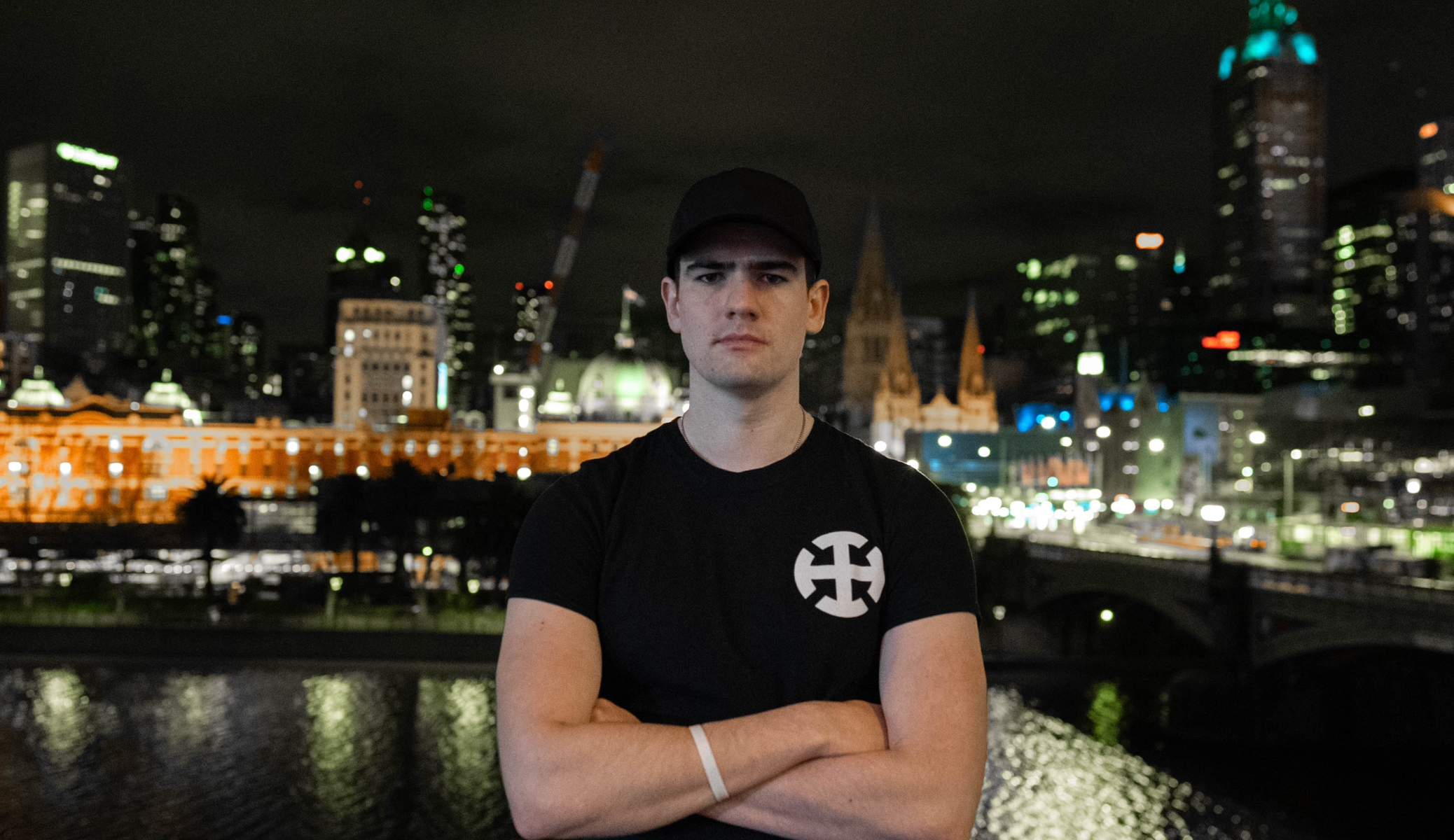 On Friday 13 August Jacob Hersant, the leader of NSN was arrested by Victoria's political police.
From Jaz Searby, August 13:
Jacob Hersant has been charged with the same fabricated charges Tom Sewell is currently imprisoned for.
He has been remanded pending a bail application.
There is only so much deceit our government can conceal.
When the truth is revealed our government will have much to answer for.
An update was provided later on Friday from Brad Ingram, Truth Viking:
Update on Jacob.
He is currently being held at the Custody Centre under the Melbourne Magistrates Court. He has a Bail Application today, and hopefully we'll get an update as to how that goes by the end of today. 
I was arrested, interviewed and released myself yesterday, and will provide a video update later on today. 
The system is going hard, trying to silence and intimidate us. Stay strong, stay true, stay honest. 
Blood & Honour.
Hersant was released on bail conditions which are becoming the norm for dissidents against the anti-White Regime. Again from Brad Ingram, Truth Viking, Saturday 14 August:
Jacob's Bail Application was successful today, and he has been released with strict conditions.
These include:
A curfew from 9pm – 6am
He may not leave the State of Victoria or go to a Port or Airport.
He may not associate or communicate with EAM or NSN members.
They have also prohibited him from posting or communicating online.
We view this as a temporary setback. Once Tom and Jacob get their day in court we are confident they will be vindicated. Until that time, our mission continues and our goals remain the same. We fight on.
Blood & Honour!
In May Thomas Sewell was arrested regarding an incident which is believed to have involved Antifa terrorists at the Cathedral Ranges in Victoria. Despite extremely poor evidence against him he was denied bail and effectively jailed for several years for his political views. Similar to the jailing of Neil Erikson, it appears that the Victorian Regime is attempting to either break him or assassinate him by sending him to Port Phillip Prison, the most dangerous and corrupt prison in the state.
The timing of Hersant's arrest is intriguing.
During the bail hearing, Hersant's defence questioned the police representative why there had been a gap of 18 days between the claimed identification of Hersant by photo ID by an alleged witness and his arrest on Friday. The police representative claimed that "operational" requirements – specifically the policing of state borders due to the coronavirus lockdown – had delayed the allocation of sufficient police resources to be devoted to the arrest until Friday.
One could also question the reliability of a positive photo ID conducted over two months after the incident is alleged to have occurred.
This explanation becomes weaker still given the promotion of an upcoming 60 Minutes episode by Channel 9, expected to air this evening, Sunday 15 August. Not sure if this is the real promo for it though:
The "spine-tingling", so-called "special investigation" to air this evening will "outrage Australia", apparently. The terrorist anarchist organisation Slackbastard has taken an interest in this special investigation, even going so far to wink at its small handful of illiterate Facebook followers: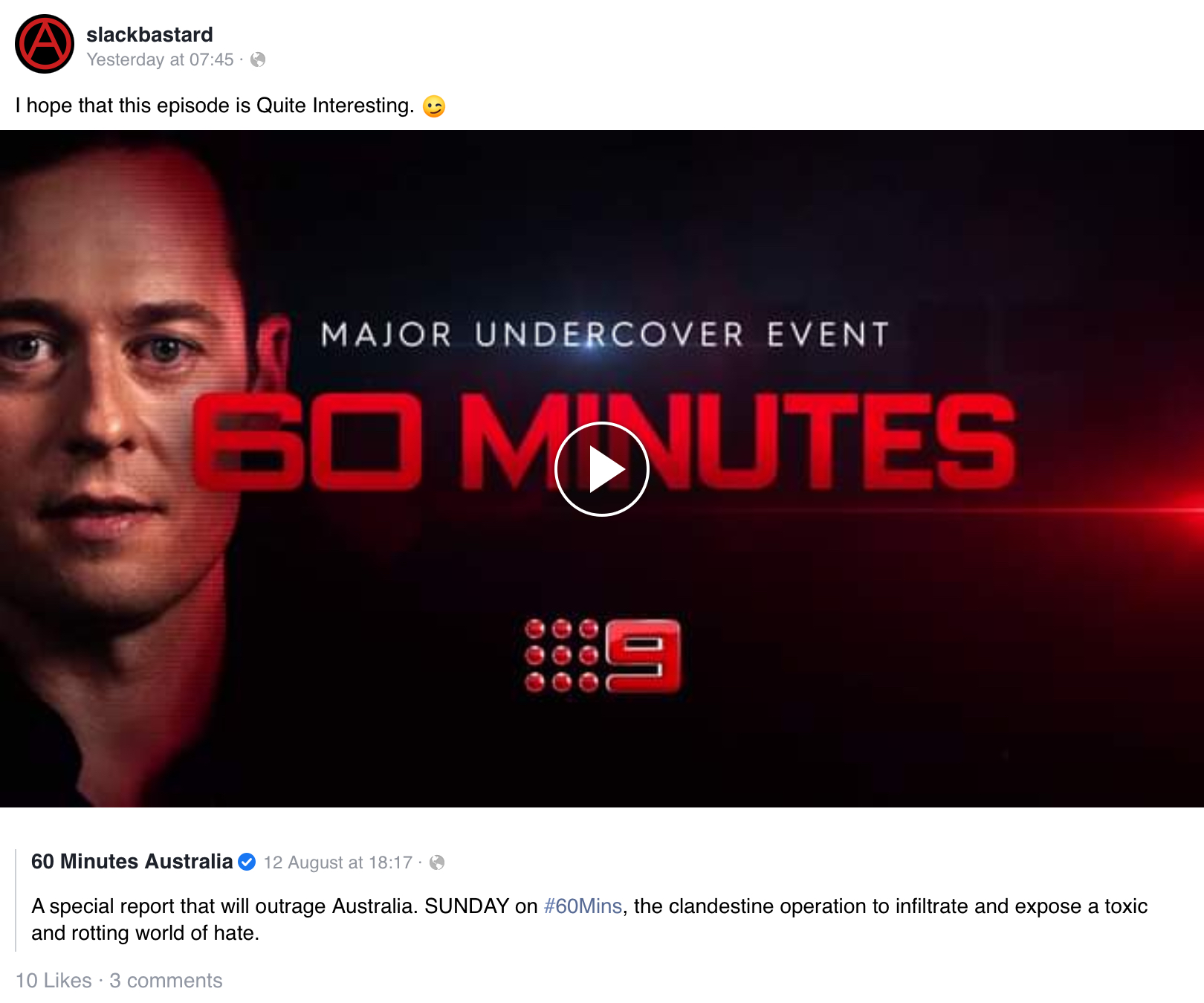 Hilariously, ordinary Aussies are a lot more cynical about 60 Minutes' sensationalist claims.
Regardless, it seems to be an in-joke amongst the tiny communist terror network of Melbourne that a big Channel 9 hit piece on the EAM and NSN is about to air this evening. Almost like they all know about it, just like they knew about the the initial incident which sparked this latest cycle of political repression: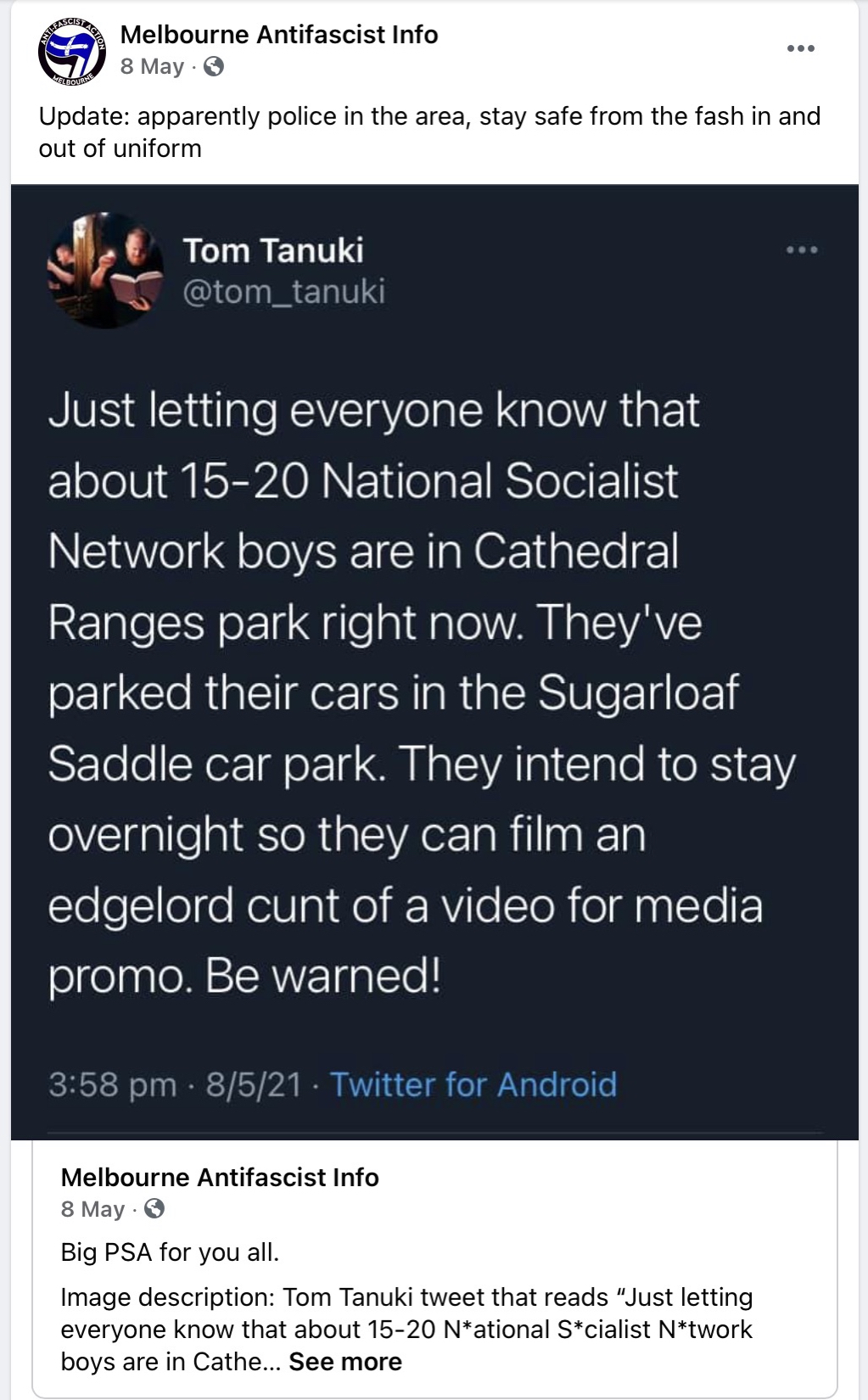 Ironically, in its efforts to frame Australian nationalists as terrorists, both so-called "counter-terrorism" police and Channel 9 may very well be colluding with terrorists.
It should be noted that not only are Antifa a terrorist organisation, they openly terrorise anybody who points out that they are a terrorist organisation:
Thus when we consider the following facts:
Jacob Hersant was arrested 18 days after a claimed positive ID via photograph by an alleged witness, which itself occurred over two months after the alleged incident over which he has been charged;
Jacob Hersant has been forbidden from communicating with members of the organisation he leads and from posting o social media;
Channel 9's 60 Minutes is telegraphing that it will air a hit piece on Australian nationalist organisations just days later;
The Slackbastard terrorist network has shown a particular interest in this expected 60 Minutes hit piece and is literally winking at its followers;
It appears that Jacob Hersant has been deliberately arrested to prevent an effective and coordinated response to a likely libellous assault from a major Lying Press outlet. The police, "counter-terrorism" agencies, communist terrorists and the Lying Press all appear to be working together.
In conclusion, it is telling that the Slackbastard terrorist network continues to censor the names of Thomas Sewell, Jacob Hersant and yours truly.

They're scared of us.
Even with full spectrum dominance of the mainstream media and social media, and through their work as an effective intelligence arm of the Australian Regime, they're still scared of a bunch of guys talking on the internet.
I interviewed Jacob Hersant last Monday 9 August in only my fifth, bumbling solo livestream. It has had over 1,000 views. Hersant had also been running Thomas Sewell's Telegram channel, which continues to grow despite his illegal imprisonment and has amassed nearly 13,000 followers. Sewell himself is a lightning rod for nationalists and attracted strong support from across the country and internationally.
When major nationalist figures were still on Facebook in 2015-2017 they had followings and levels of engagement which dwarfed those of so-called "mainstream" political parties, personalities and media organisations. The XYZ became such a threat to the mainstream narrative that Lying Press organisations have steadfastly refused to link to The XYZ or even mention us.
Again, they're scared of us.
The focus of the Australian nationalist movement and of The XYZ is the fact that native White Australians are being deliberately replaced in our own country by the Australian government through its policies of mass immigration and multiculturalism. We don't want to be replaced. We just want our country back.
This view is representative of the majority of ordinary Australians, yet any political representation for our desire to not be replaced has been consistently repressed by the Australian Regime for several generations since World War 2.
Hence the Australian Regime's desperation to silence any dissent at any cost. Tonight's 60 Minutes hit piece against Australian nationalists is thus expected to be a major escalation in the campaign of lies, violence and terror against ordinary Australian people.
Interview with Jacob Hersant on The David Hiscox Show