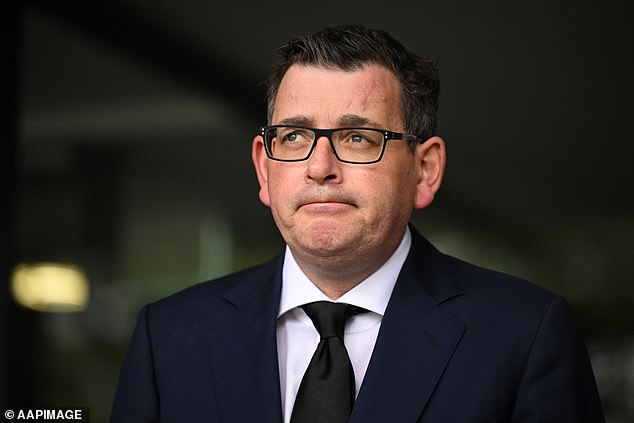 It was never about Covid:
Those walking off a trail, swimming in a waterway or conducting research in a park could face hefty fines under new rules.
Victorian Premier Daniel Andrews' new rules, which have been slammed as 'nanny state' by the opposition, would apply to more than 50 parks across the state.
These changes are broken down in the proposed Metropolitan and Regional Parks Regulations, as many of Victoria's regulations will expire in March of next year.
Rules in metropolitan parks were deemed 'outdated' and regional parks were believed to be 'unregulated for recreational use'.
Changes include a fine of up to $924 for walking off a park trail, which is set out by the land manager.
Victorians conducting 'intrusive research' at a park such as a scientific study, could be hit with a $1,472 fine.
No more straying off the main path to defy the dominant narrative and undermine the foundation myth of our age which is slowly killing our people.
Those wanting to swim in a body of water at a park will require a permit unless that waterway has been clearly designated for swimming.
Has this guy ever listened to our unofficial national anthem?
The whole point of a billabong is that you don't ask for permission.
Rock climbers, abseilers, hanggliders and paragliders will also need to get a permit unless an area has been designated for it.
Crown land managers will determine what areas of a park are permitted for activities such as walking, swimming, or rock climbing.
Filling up a chainsaw with fuel or oil will also be a finable offence of $1,840.
Victorians must not fill up a chainsaw while collecting firewood unless the chainsaw is on an impermeable surface.
Protections have also been applied to rocks and natural features at a park, with fines issued to those who park on, remove, or deface rocks, plants, and trees.
XYZ News understands the Andrews government has also introduced a capital punishment for those caught hunting the Premier's deer.
A spokeswoman for Environment Minister Lily D'Ambrosio told The Australian the changes are being made to preserve the natural habitat and heritage of parks.
'The regulations do not ­restrict any activities that are currently allowed and will only be used to restrict an activity if it is necessary to protect the environment, cultural heritage and safety,' she said.
Everything which is not compulsory is forbidden.
This is worse than nanny-statism. Piece by piece, block by block, the architecture of the so-called Great Reset or "fourth industrial revolution" is being constructed. Covid provided a pretext for mass surveillance and compliance experiments to be conducted on populations. Hysteria over the spread of disease has been used to hijack Australia's previously exemplary quarantine regulations to turn them against ordinary people sourcing their own food. The deliberate neglect of national parks is causing massive bushfires, but environmental extremists utilise the devastating bushfires caused by their own policies to implement even worse policies.
Governments are trying to make it impossible for ordinary people to live off the grid and source everything they need from the land around them, so they can herd us into mega prison cities:
Not sure if these people ever watched any science fiction movies:
Subscribe to XYZ on Telegram, Bitchute, Twitter and Gab.