The grooming of children is the next stage of the globalist agenda.
In video below, Daniel Fihelly was filming a book in the children's section of Tambourine Mountain Public Library in Queensland.  The book in question shows children how to have "anal sex" and "transition" without their parents' permission. For his efforts, library staff called the police who demanded that he leave.
In Australia, our public libraries contain reading material designed to groom our kids.

Simply recording it is enough to get you into trouble with the police. pic.twitter.com/FRzbKqsniC

— Dave's (@StilettoDave) May 10, 2023
For two years we watched videos of similar tedious conversations with police officers over why people weren't wearing masks. Now it is the literal grooming of children. The police and the library are getting slammed in the comments.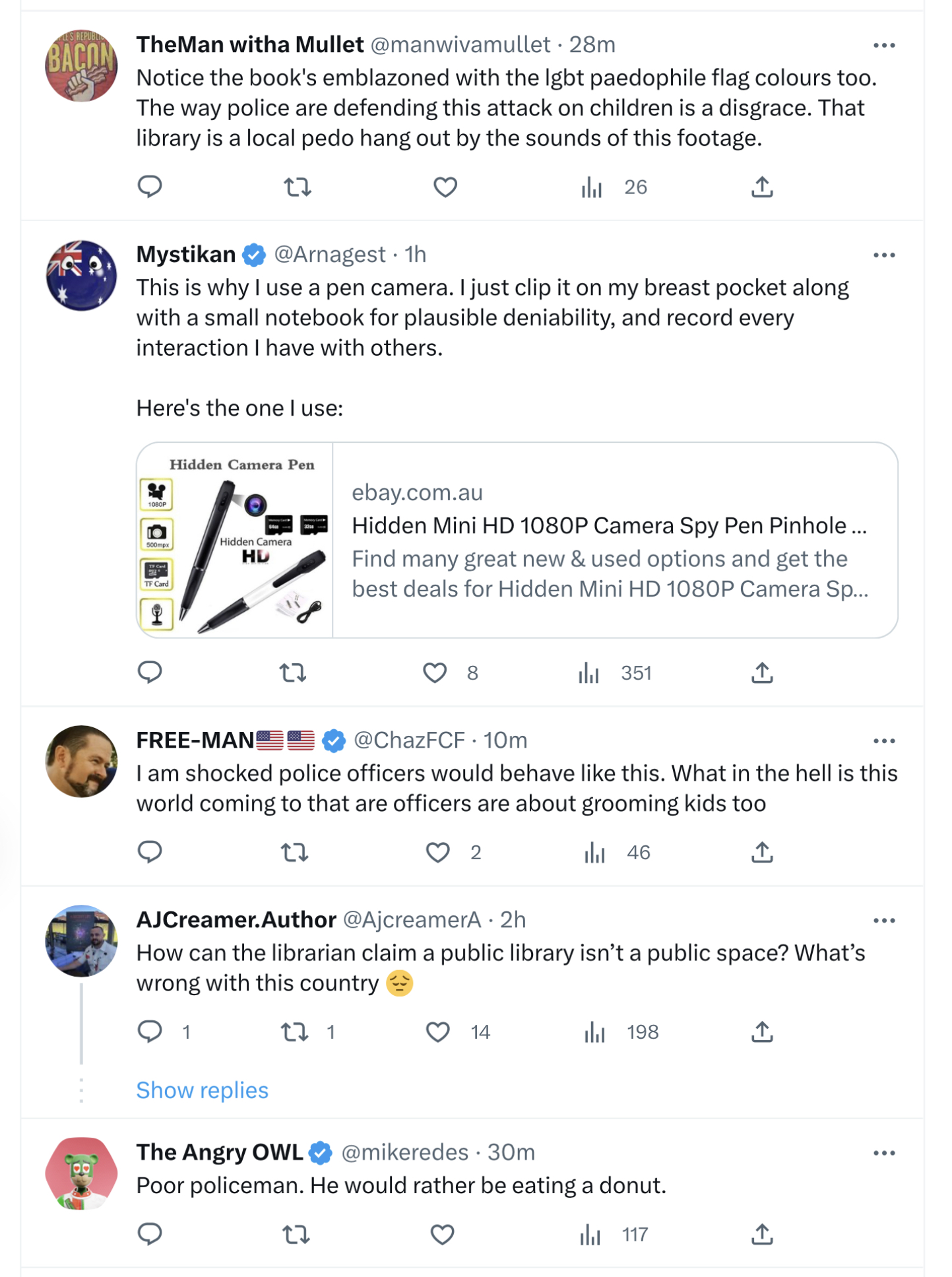 A Daniel Fihelly received compensation in 2002 for abuse suffered at Brisbane Grammar. XYZ News has not confirmed if this is the same man. In the above video he also revealed that he had previously been visited by so-called "counterterrorism" police for organising rallies.
In Melbourne, activists have had some success in recent times in pushing back against the groomer agenda. A performance in Moonee Ponds by a literally satanic "adult" performer with the stage name Belial Bzarr was shut down in September last year.
Last week, a groomer event featuring an "Adult Industry Choice Award Winner" was shut down, drawing a spluttering reaction from premier Daniel Andrews.
Once again, Victoria's LGBTQI+ community and entertainers have come under attack by hate groups – this time out in my neck of the woods, the City of Monash.

And it's more than just placards and yelling – some councillors have received death threats. pic.twitter.com/GZEoQ4JNr3

— Dan Andrews (@DanielAndrewsMP) May 4, 2023
He's transitioned seamlessly from demanding Victorians inject poison to keep their jobs to demanding Victorians let pedo freaks molest their children.
Activists' attention is currently focused on another groomer event in Eltham in Melbourne's east, planned for next Wednesday 17 May at 12 pm noon at Eltham Library. It currently headlines a man in a wig called Dean Arcuri who features in several disgusting photos.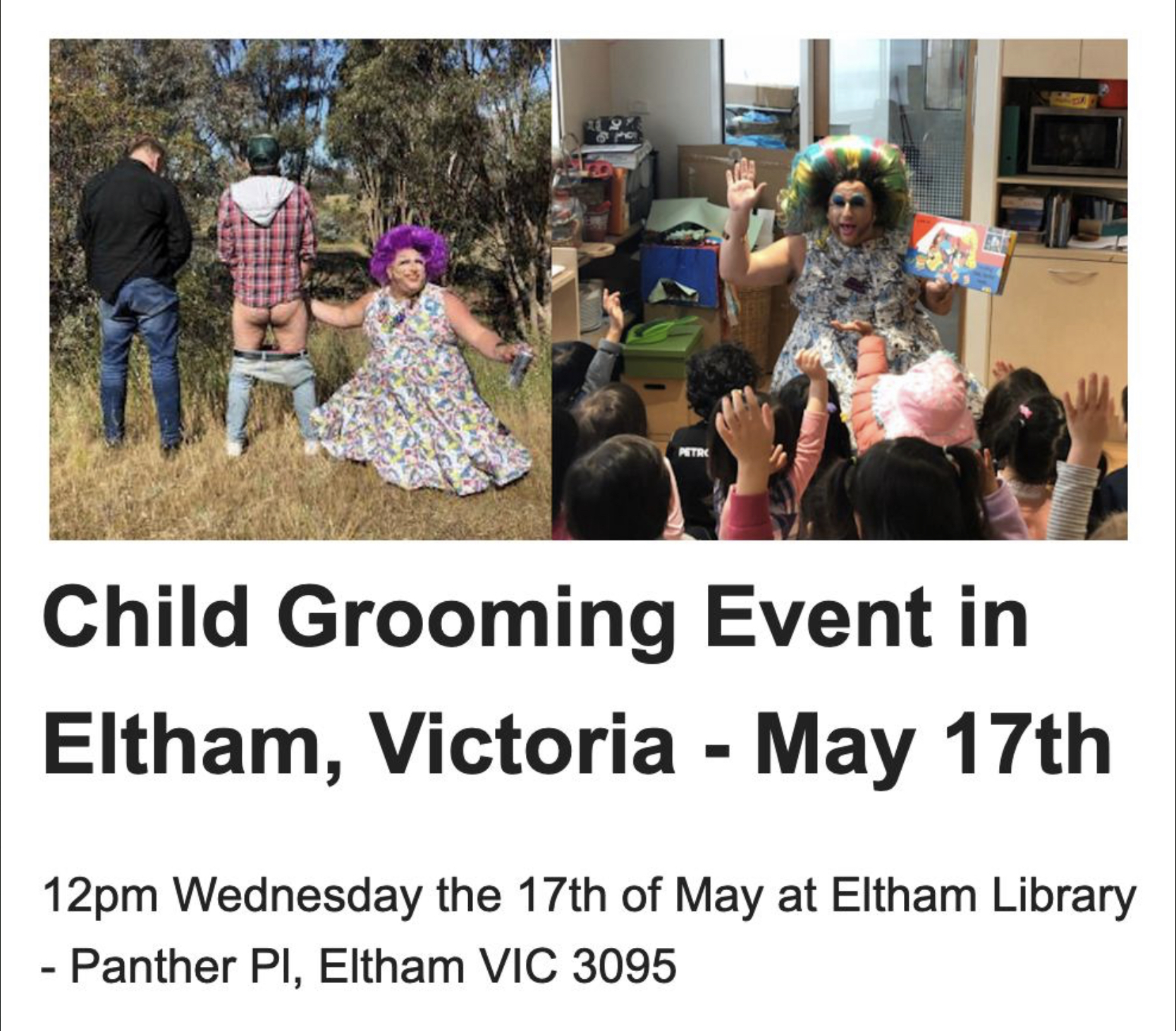 Next Wednesday is also, apparently, IDAHOBIT Day, a coordinated mass grooming event designed to disperse opposition to the pedo freak agenda.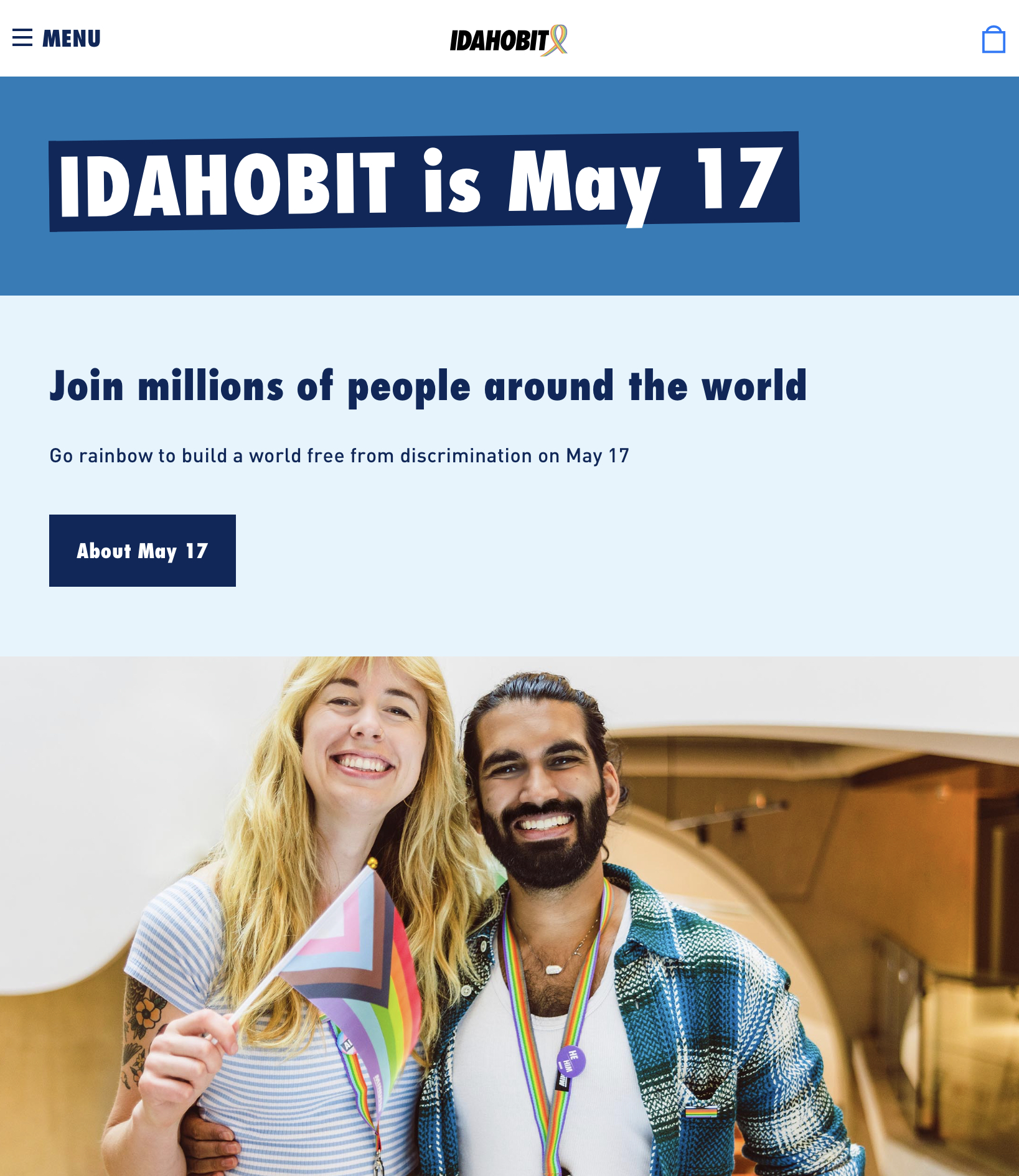 Fortunately it appears activists are not being distracted by this tactic and remain focused on the Eltham event. You can contact UAP Senator Ralph Babet at his electoral office on (03) 9070 1900, or by email at senator.babet@aph.gov.au to urge him to mobilise conservatives against the Eltham event.
Subscribe to XYZ on Telegram, Bitchute, Twitter and Gab.