Good news everybody. This: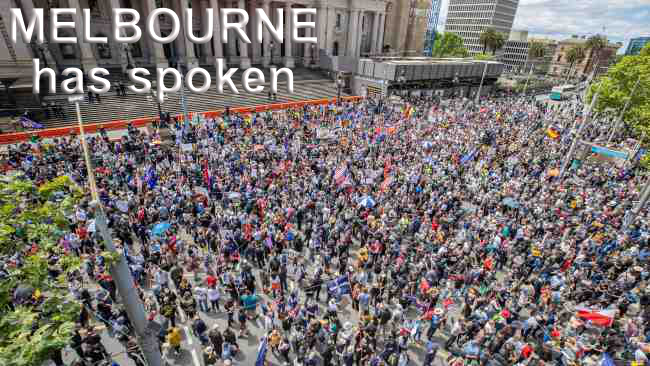 Leads to this: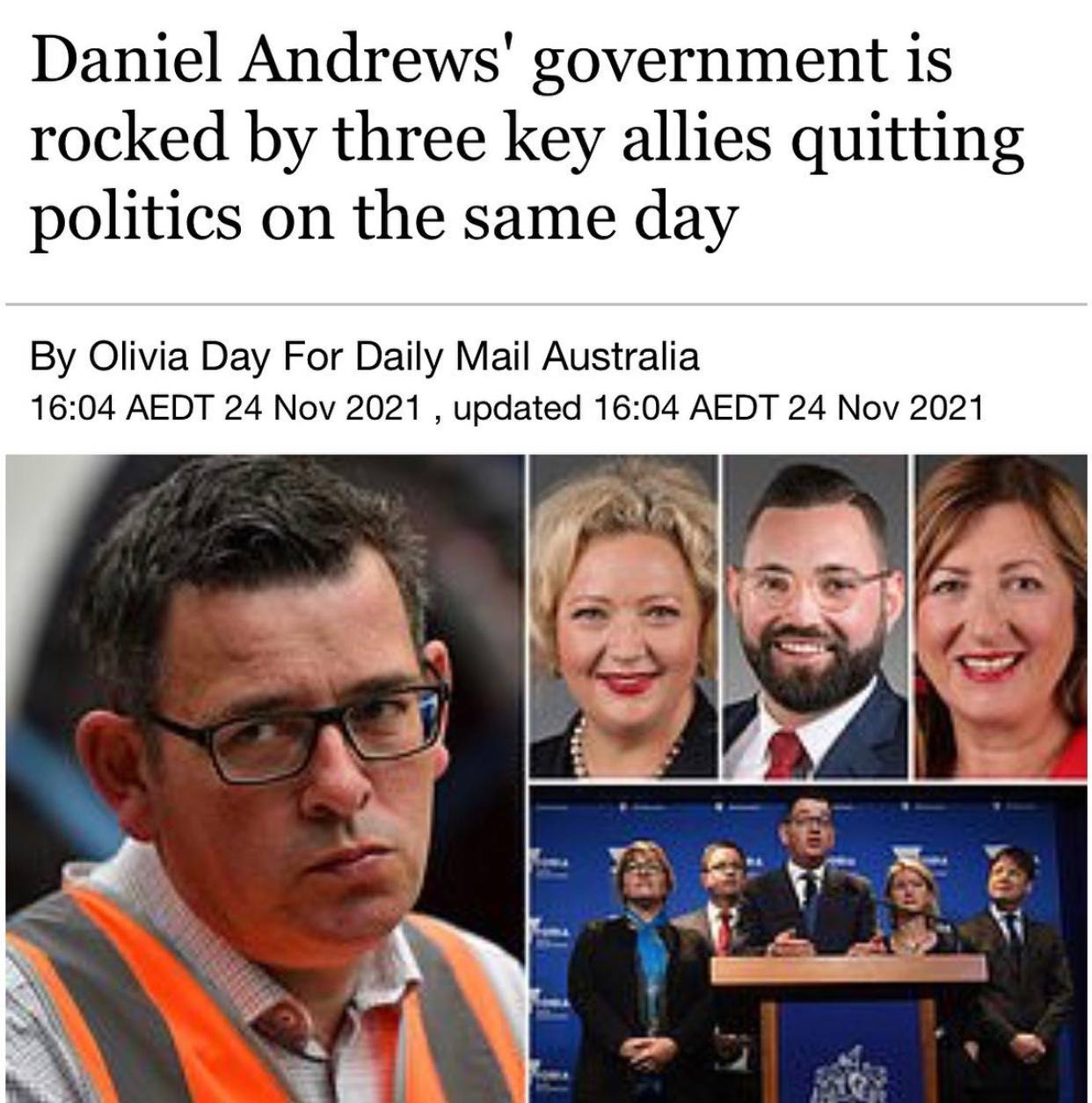 Which leads to this: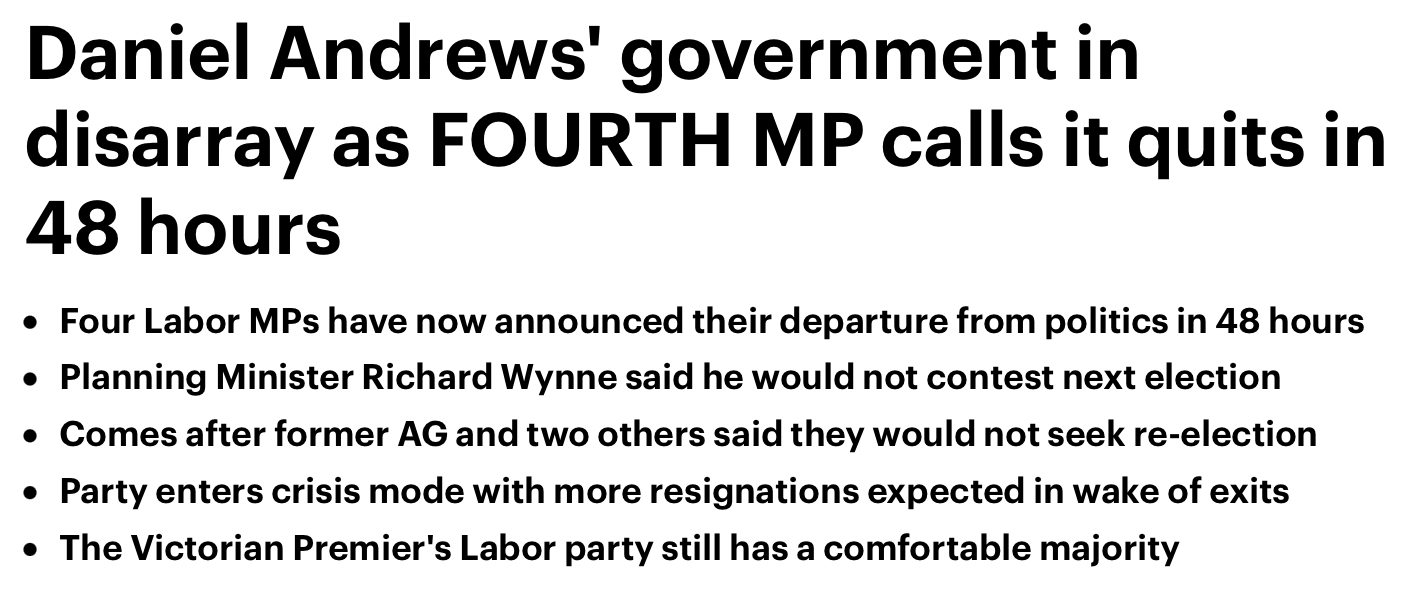 A fourth MP has quit Daniel Andrews' Labor ranks with more resignations expected in the coming days.
Mr Andrews on Thursday announced Planning Minister Richard Wynne would not be contesting the next election on Thursday.
Mr Wynne issued a statement thanking his family and his political party for their support over the years.
'I'm proud to be a part of this socially progressive, reforming government – but I am focusing on the next 12 months,' the minister said.
'If you believe in social progress, there is always more work to be done.'
It comes hot on the heels of former Attorney-General and Altona MP Jill Hennessy, Yan Yean MP Danielle Green and Ringwood MP Dustin Halse announcing they wouldn't seek re-election.
Others may not seek re-election, with Broadmeadows MP Frank Maguire and Narre Warren North MP Luke Donnellan rumoured to be considering their futures, the Herald Sun reports.
Mr Donnellan quit the cabinet in October after an anti-corruption hearing heard claims he paid for party membership fees on behalf of others as part of a branch-stacking operation.
The place of former ministers Marlene Kairouz and Robin Scott, who both featured in anticorruption hearings into taxpayer-funded staff, also remains up in the air.
Labor MPs have been asked to reveal their plans to run by the end of the week, with the national executive to decide on candidates in both houses by December 3.
Victorian Labor is utterly beset with scandal. The IBAC Inquiry has revealed that branch stacking is as natural to Labor as water is to a fish. Daniel Andrews' excuse for his own involvement in the practice seems to be based solely on the excuse "it wasn't illegal yet whenI did it".
The fact that the Red Shirts Scandal, which involved the use of public funds to finance Andrews' election in 2014, did not lead to the fall of his government years ago is a testament to his complete dominance of Victoria's judicial system and the system's willingness to go along with it.
Adem Somyurek has clearly decided that Labor has already released all the dirt it had on him, he has nothing left to lose and has a free hand to tell everything he knows. This means the Andrews government will continue to be embarrassed by corruption allegations in coming months.
The caution is that Daniel Andrews knows that if he can hold out, he can still still win the next election thanks to his diversity vote:
The exodus has raised fears Labor could lose their comfortable majority – despite a recent Newspoll predicting Mr Andrews remains on track to win a third term.
A comfortable majority could at best become an uncomfortable majority. Thus the importance of the Freedom movement in maintaining the pressure on the Andrews government right now. An IBAC Inquiry which claims regular scalps, several hundred thousand people in Melbourne's CBD each weekend, and all the activism that goes along with it, means Andrews will be assailed on multiple fronts.
As usual, another march is planned for tomorrow in Melbourne. There could very well be a million there.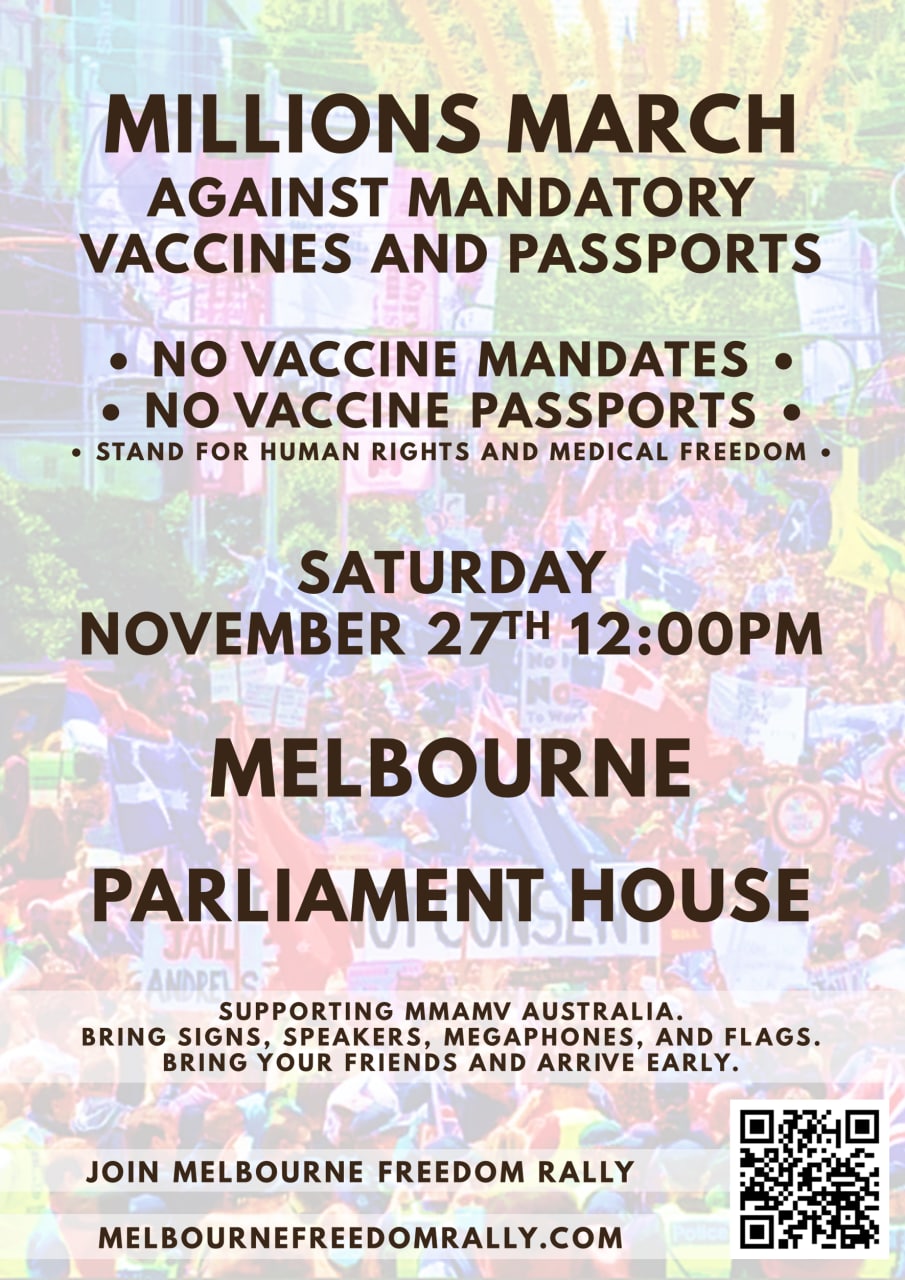 You can find updates on these events courtesy of Melbourne Freedom Rally at Telegram, Twitter and their website.
Subscribe to XYZ on Telegram, Bitchute, Patreon, Twitter and Gab.