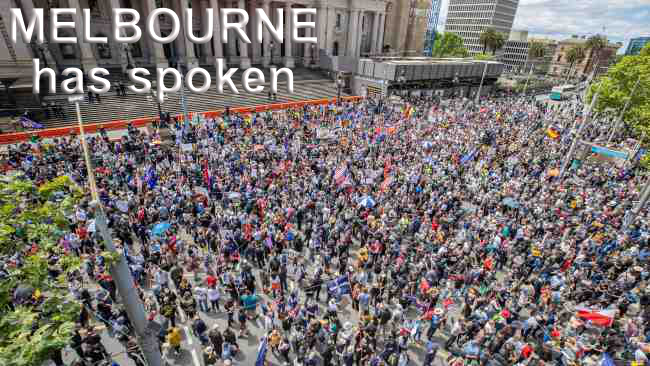 I have never seen so many people in all my life, and I have been to several Grand Finals at the Melbourne Cricket Ground.
#Melbourneprotest pic.twitter.com/1ggXMri9mS

— Pure Blood Punky (@AnonymousPunky) November 20, 2021
A gigantic crowd has rallied against Victoria's vaccine mandate, and against proposed legislation which would allow Premier Daniel Andrews to declare a pandemic at at will. Estimates for the size of the Melbourne crowd range between 200,000 and 450,000.
Two hundred thousand plus… We left Parliament House two hours ago..
Victorians go right back to Bourke Street still..
Thousands…. pic.twitter.com/Vc5CwfS7cb

— Nicky Lindsay (@nickylindsay) November 20, 2021
To give an idea of the ridiculous number of people who turned up in.Melbourne, this XYZ reporter met someone who watched the crowd march down Bourke Street from the vantage point of the Elephant and the Wheelbarrow on the corner of Bourke and Exhibition. The crowd took nearly a full hour before it had finally gone past.
Melbourne Finally Says Enough pic.twitter.com/QpMuUm2YQY

— (@risemelbourne) November 20, 2021
It snaked down Bourke Street from Spring Street to Elizabeth, and then up to Lonsdale. The.crowd marched to Flagstaff Gardens and absolutely packed it out.
So proud of my fellow Australians ❤️ goosebumps and tears. Happy tears pic.twitter.com/EcGhJUSS69

— ValGlass2.0 (@AussieVal10) November 20, 2021
Massive crowd at Flagstaff Gardens in #Melbourne. 200,000 easy.#Melbourneprotest #DanielAndrews #KillTheBill pic.twitter.com/McWc58JKTb

— XYZ (@itsyourxyz) November 20, 2021
This aerial photo does not do it justice, by the time we arrived the gardens were overflowing and people were still coming.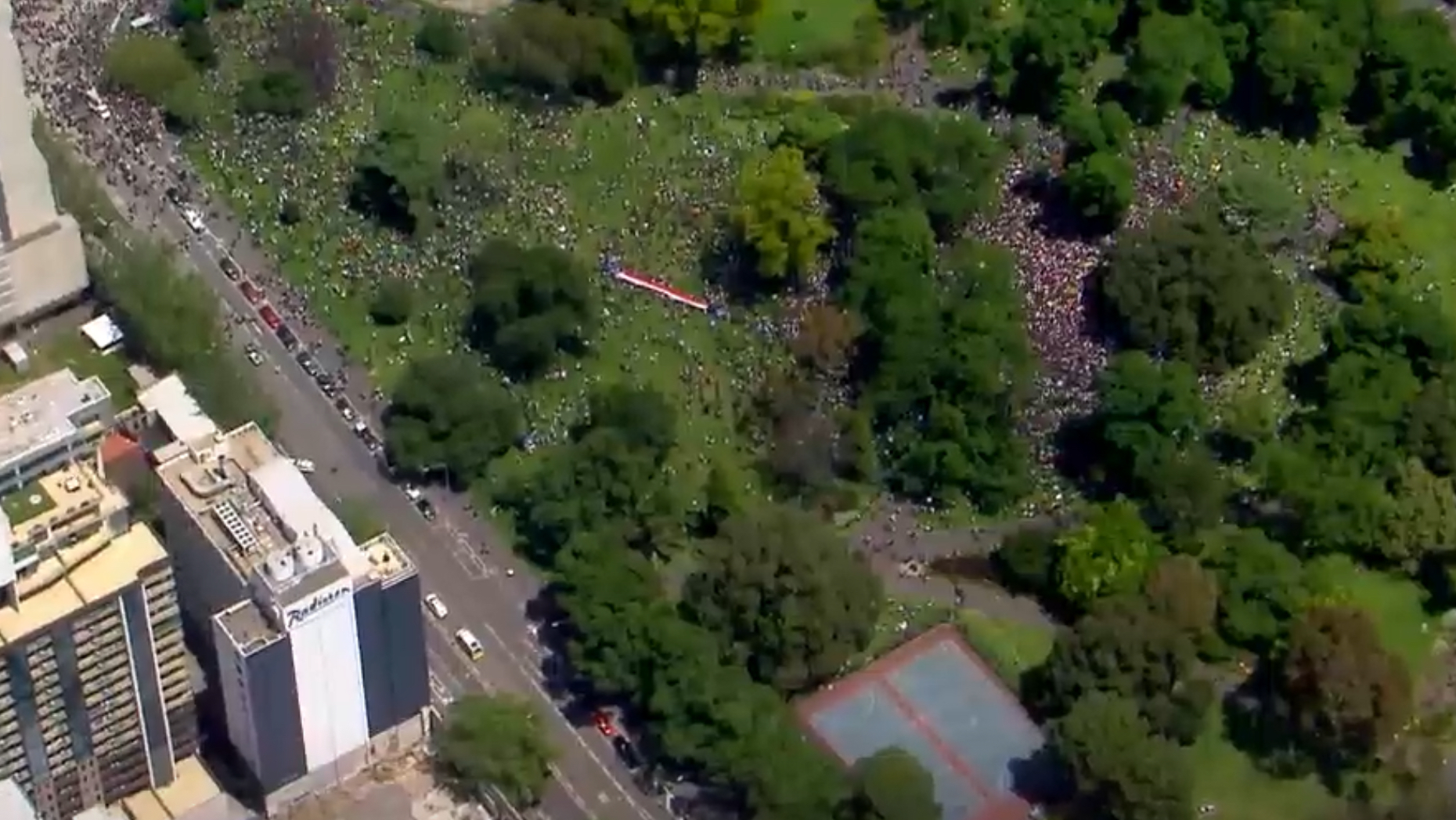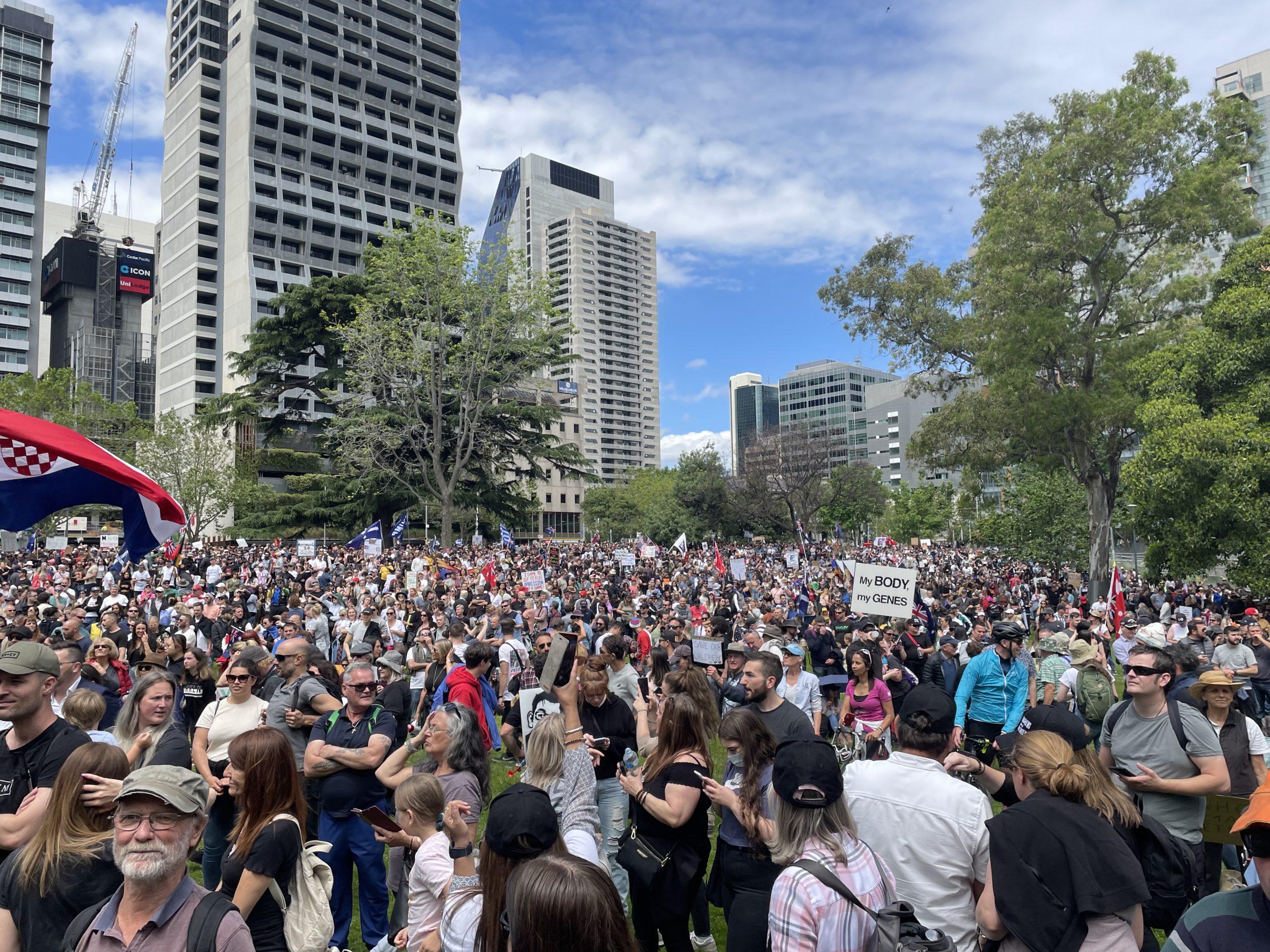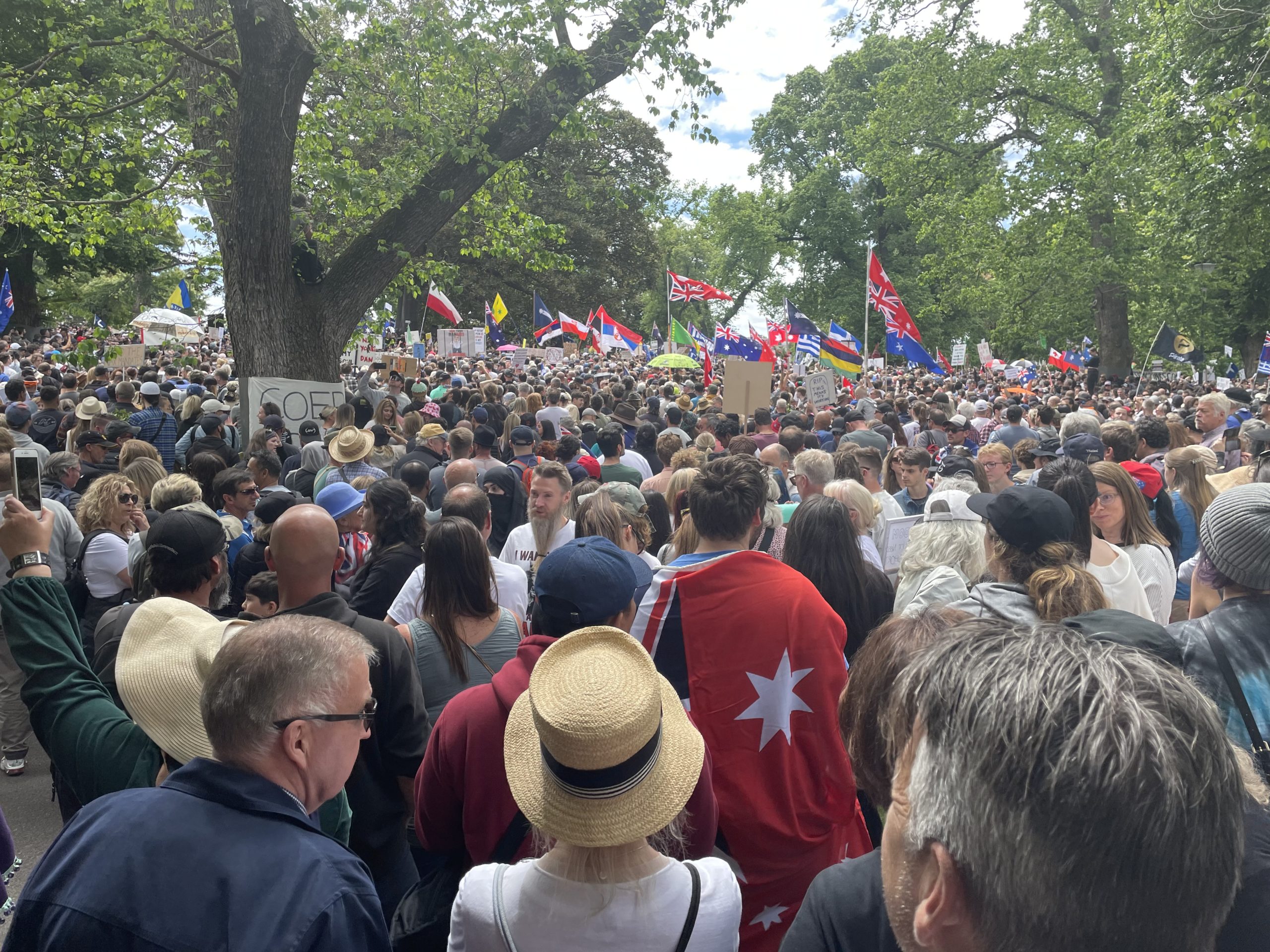 The usual mix of music and speeches were on show at Flagstaff, the most moving moment coming courtesy of an Aussie veteran who pointed out the tragedy that so many of our countrymen have fought tyranny overseas, yet now tyranny has arrived at our shores, courtesy of our own government.
His name is John and I absolutely love him ❤️ thank you Sir for your service and your wise words.@therealrukshan pic.twitter.com/rE1njzbF1k

— ValGlass2.0 (@AussieVal10) November 20, 2021
The rest of Australia's capital cities saw similar crowds. Sydeny's crowd was at least 100,000:
Postcard to the world. Love, Sydney pic.twitter.com/q2mye0grF7

— Stephen Chavura (@ChavuraStephen) November 20, 2021
With similar numbers in Brisbane:
Here's the #Brisbane Freedom Celebration in it's entirety!

Time-lapsed 16x.#WorldWideFreedomRally pic.twitter.com/bRPQKQK95v

— BabaBoon (@BabaBoon17) November 20, 2021
Adelaide:
Adelaide Freedom Rally ✌️

Incredible turnout !!
15,000

Never seen such crowds in Adelaide‼️

✌️✌️✌️✌️✌️✌️ pic.twitter.com/3Gcg66uh1N

— The Baboon Scrolls (@BaboonScrolls) November 20, 2021
GO BRISSY!! They keep pouring in! ❤️ pic.twitter.com/dzOPTU0v8E

— BabaBoonBro ❄️❤️ (@BabaBoonBro) November 20, 2021
And Perth: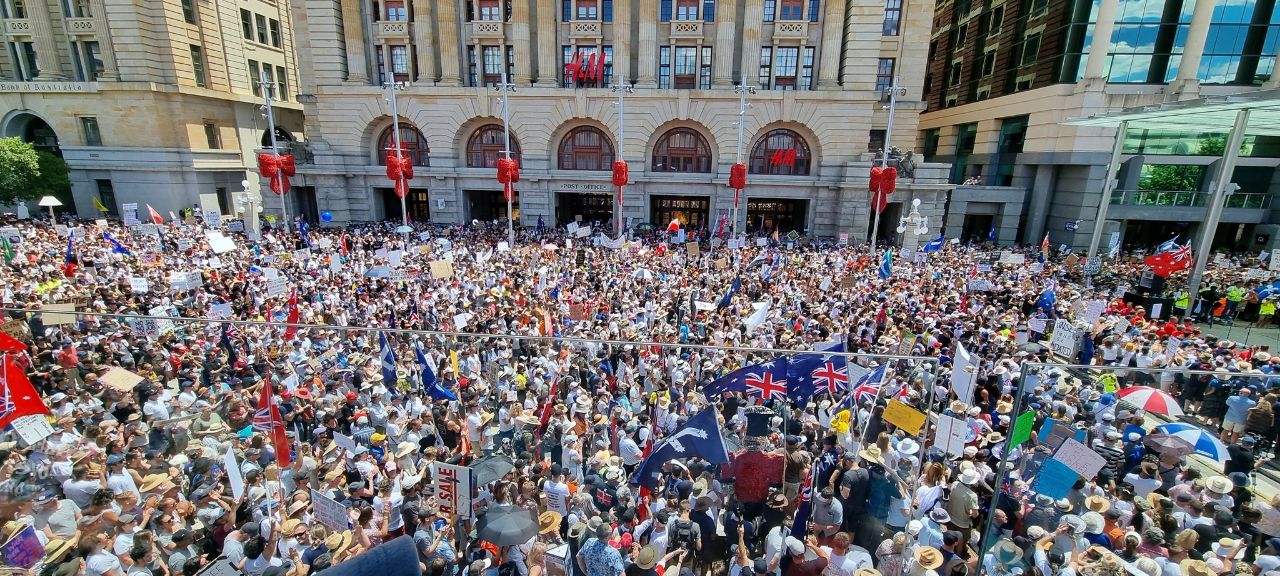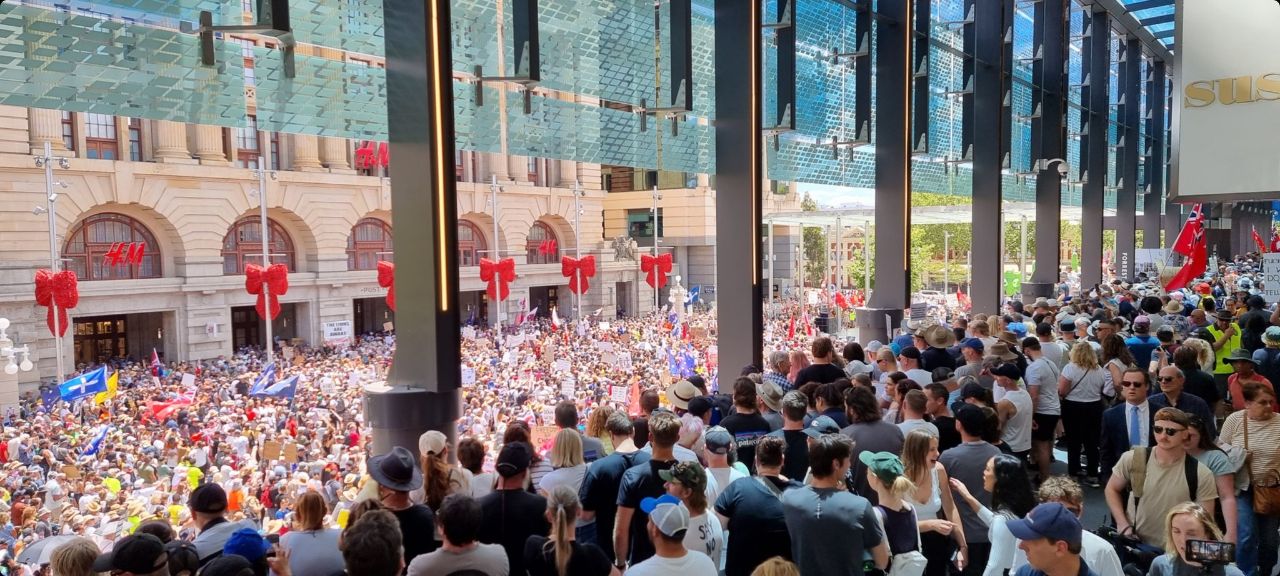 In all honesty, this XYZ headline is probably quite conservative. Even last weekend's claim of 40,000 at the Melbourne march was hopelessly short.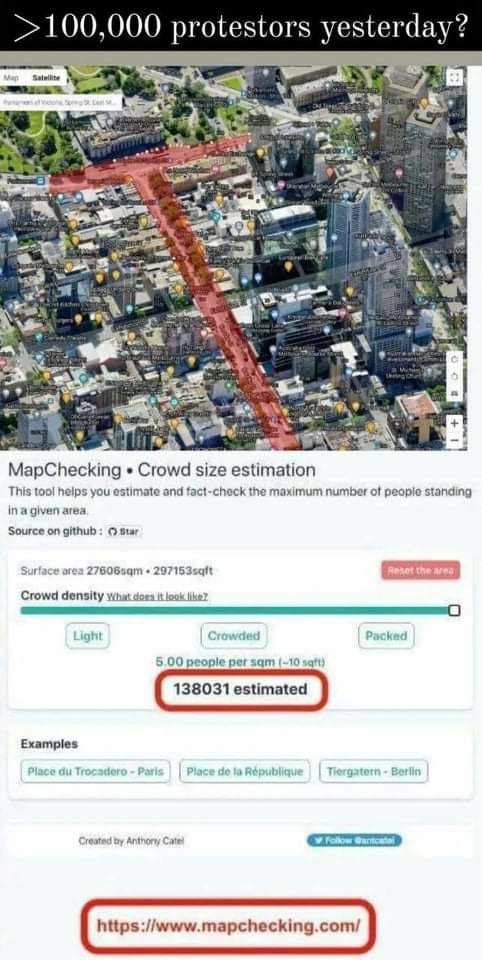 Aerial shots prove last weekend's crowd was bigger than Vietnam War protests, so the real figure was likely upward of 100,000, and today's was much bigger again.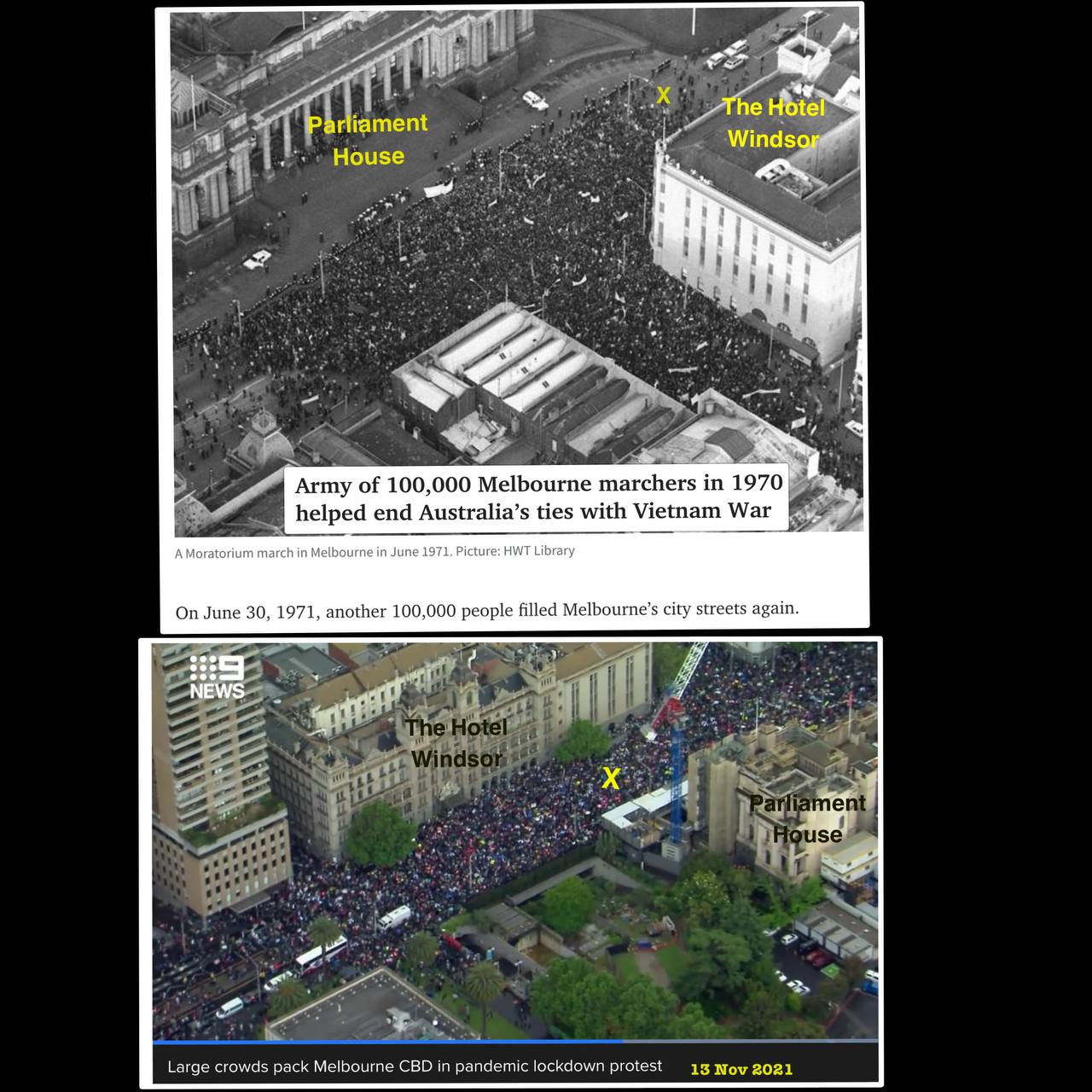 Today, anywhere between 500,000 and a million Aussies marched across the country against the vaccine mandates. They even turned up in regional centres:
Mackay Qld Anti Everything It's happening Everywhere pic.twitter.com/Y9TnOwA1B6

— (@risemelbourne) November 20, 2021
This is an insane number of people. As with previous protests, it was ordinary people who turned up. Ordinary working class Australians with their families who don't want to be forced between keeping their job and taking a dangerous vaccine. The numbers in Melbourne alone obliterate the media narrative of strong support for Covid Tyranny.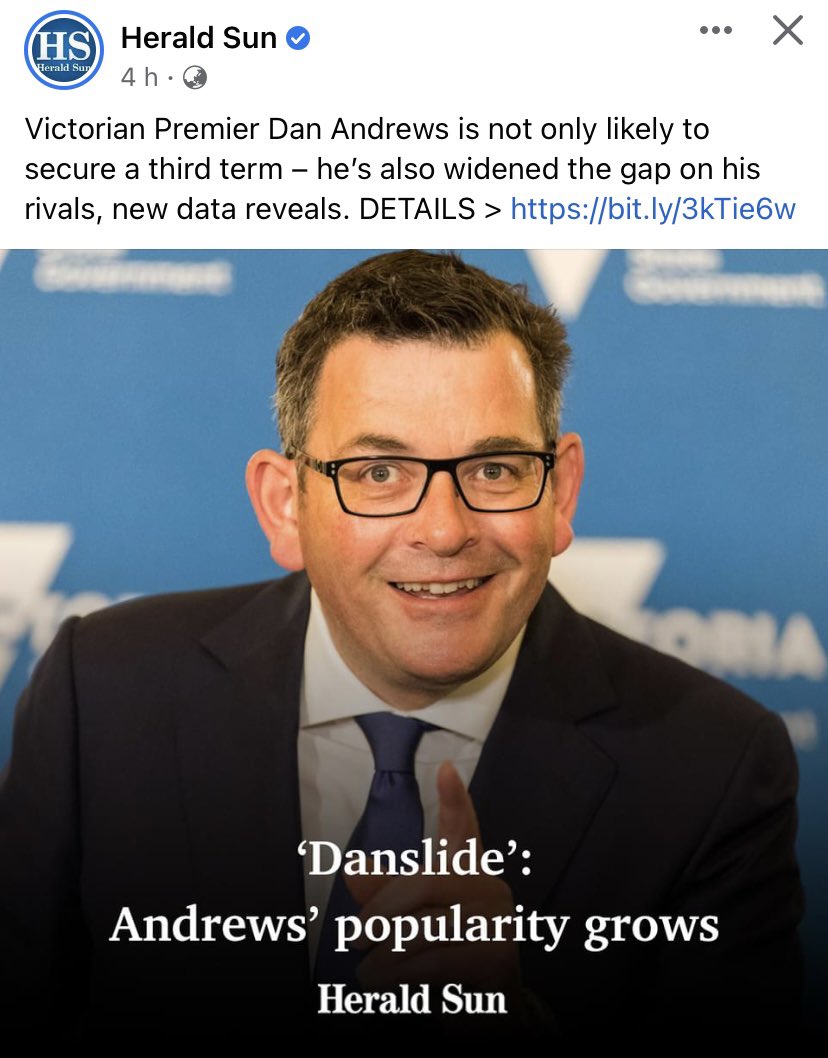 Only a handful of the most rabid communists could be bothered turning up in support of Daniel Andrews.
Pleasant bunch pic.twitter.com/C9yscibYHK

— ValGlass2.0 (@AussieVal10) November 20, 2021
Andrews' tenure hangs by a thread. He is facing a revolt within his own party to get the Dictator for Life legislation pushed through the upper house. If he can't get it done by December 15 the current State of Emergency will end, and he will be hard pressed to make a case for it.
This is the tangible political result which these massive protests can achieve. There is every chance that enough political pressure can be brought to bear to defeat the designs of Dictator Dan. The message from the last month is, keep protesting.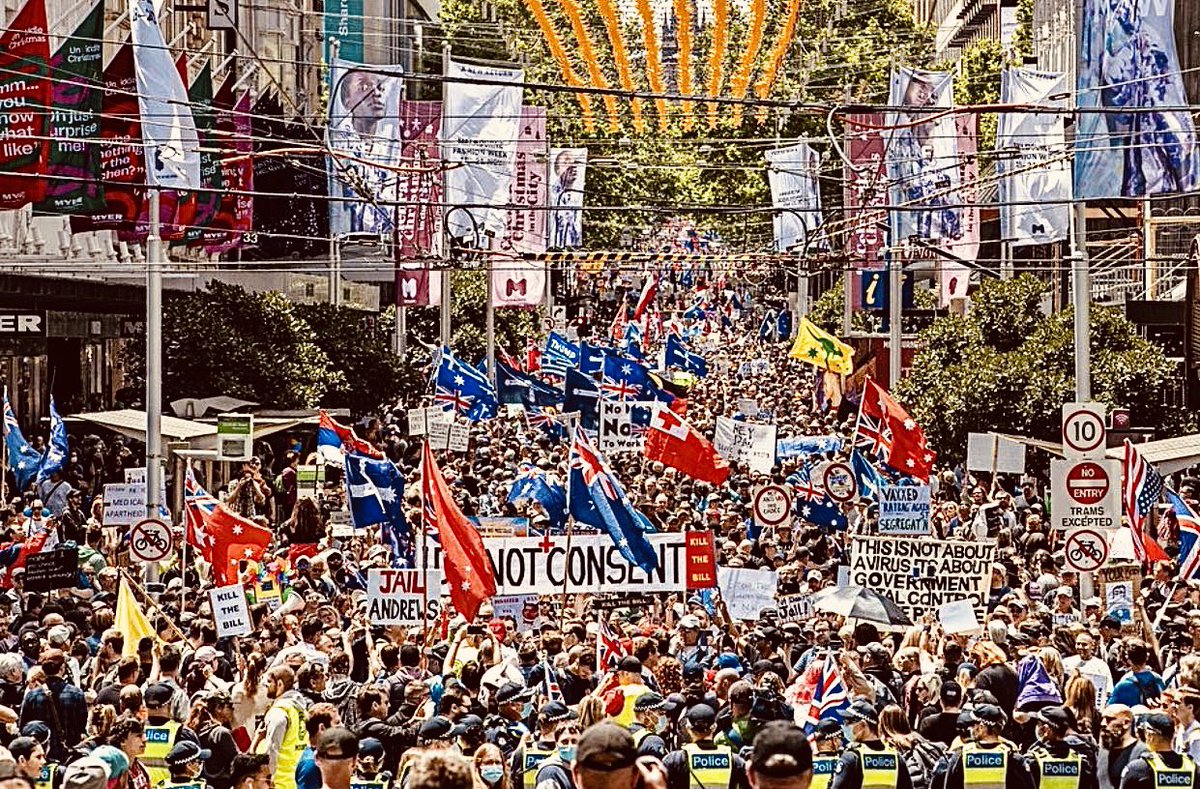 Subscribe to XYZ on Telegram, Bitchute, Patreon, Twitter and Gab.