An angry nurse spoke in a press conference in Melbourne today. She appeared to be repeating rehearsed lines, rhe key phrase being the following:
"One of the saddest things I've seen over the last few weeks is people wanting the vaccination just before we put them on a life support machine. That is the absolute truth. They're begging for the vaccination. They're very young. And once we get to that and we're about to put them on life support, it is really too late."
The Lying Press has dutifully parroted the Narrative: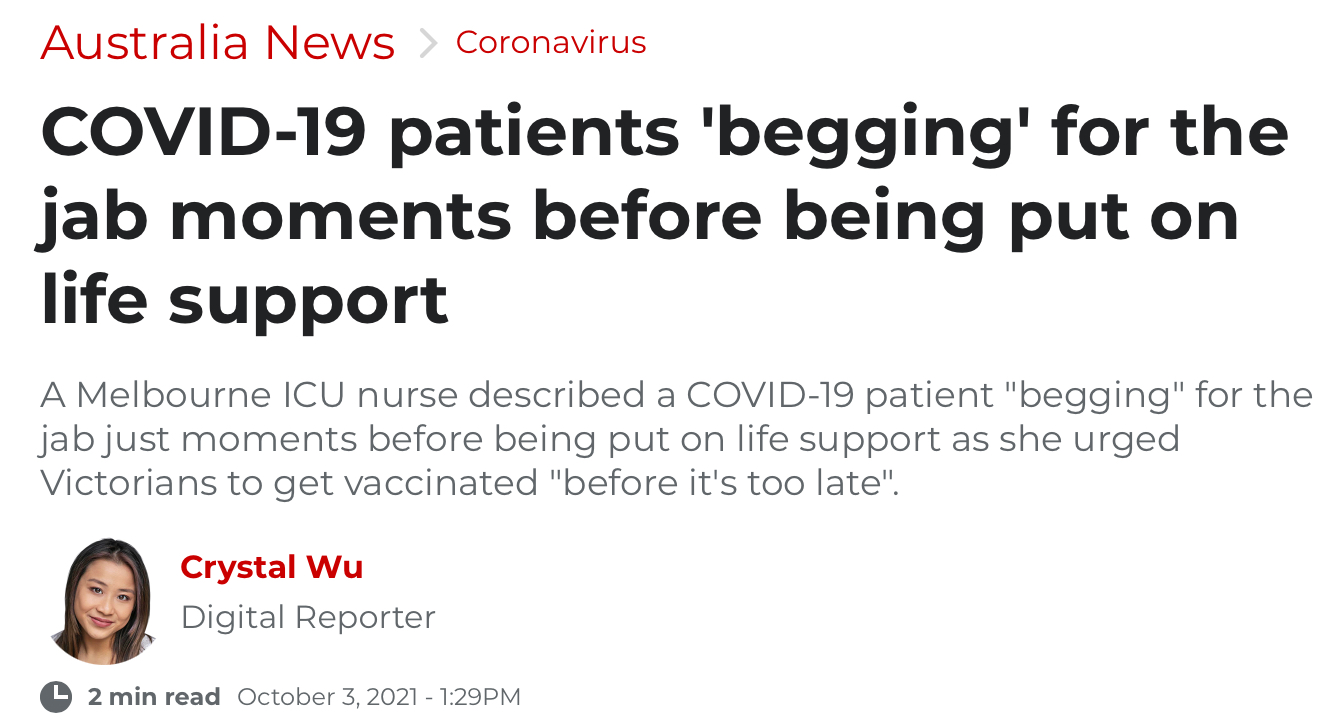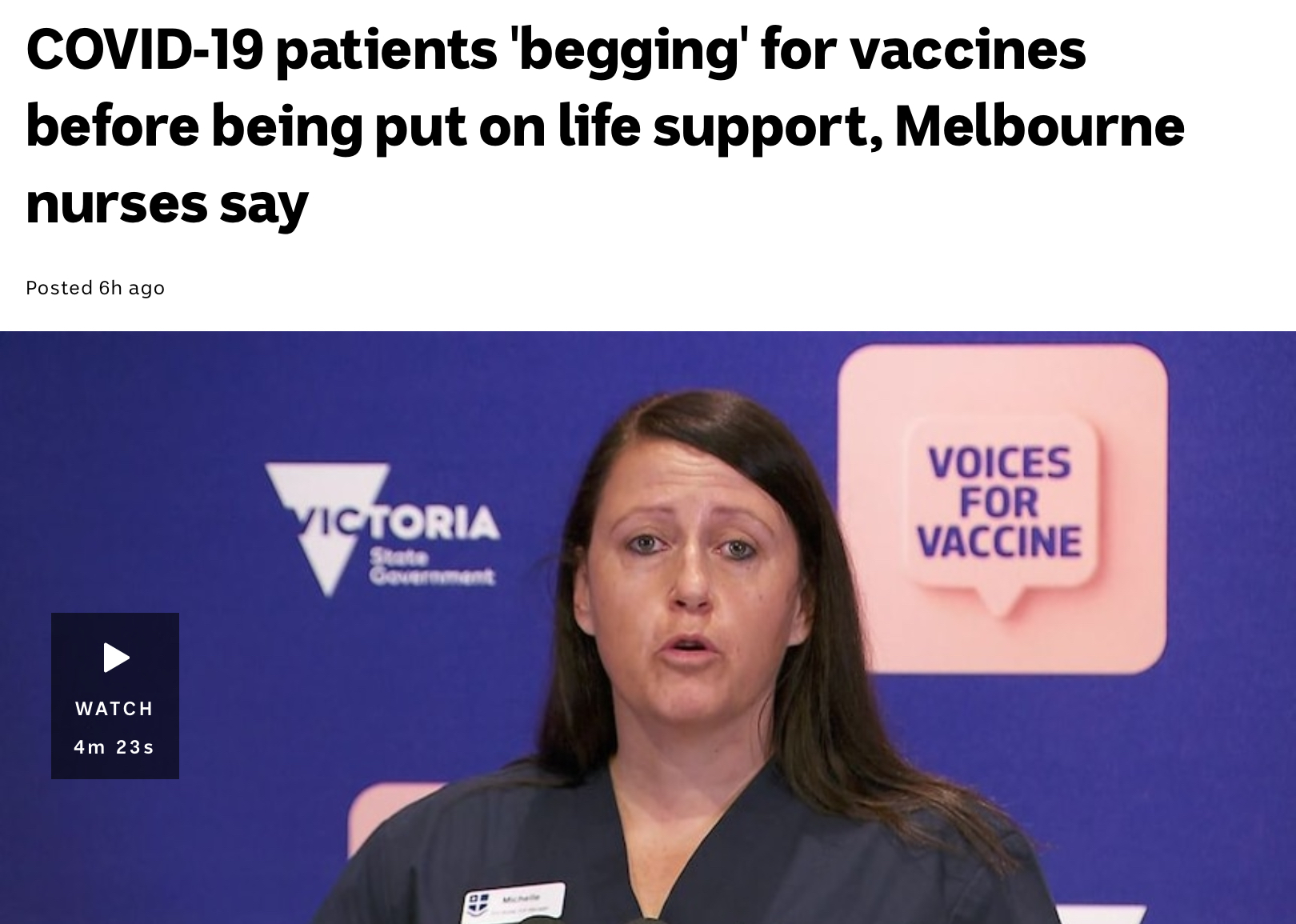 The thing is, we have heard this story before. In July, news of an Alabama doctor who claimed exactly the same thing was dutifully parroted by the Lying Press: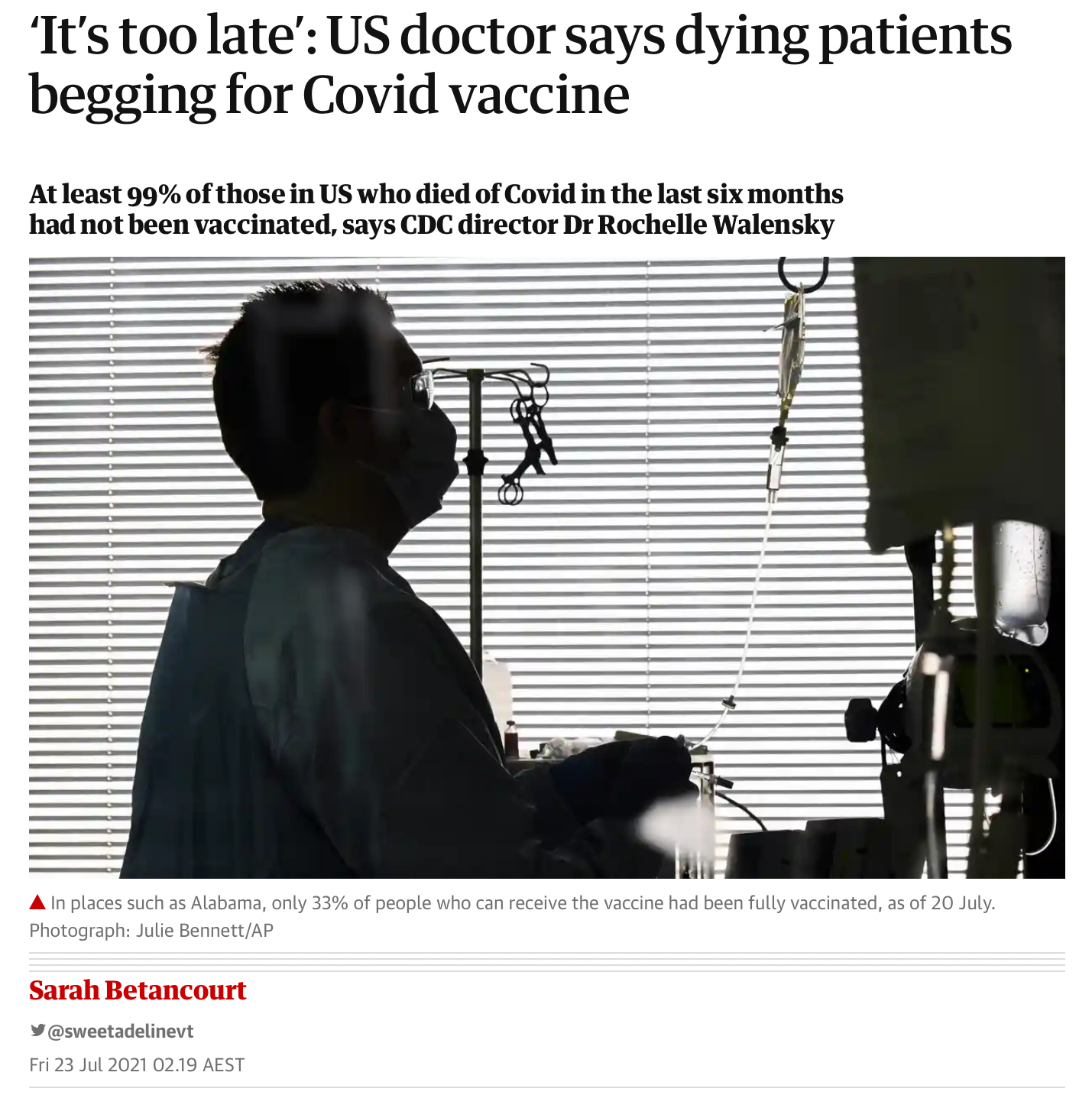 The claim was based on a Facebook post, which you can find here:
"I've made a LOT of progress encouraging people to get vaccinated lately!!! Do you want to know how? I'm admitting young healthy people to the hospital with very serious COVID infections. One of the last things they do before they're intubated is beg me for the vaccine. I hold their hand and tell them that I'm sorry, but it's too late. A few days later when I call time of death, I hug their family members and I tell them the best way to honor their loved one is to go get vaccinated and encourage everyone they know to do the same. They cry. And they tell me they didn't know. They thought it was a hoax. They thought it was political. They thought because they had a certain blood type or a certain skin color they wouldn't get as sick. They thought it was 'just the flu'. But they were wrong. And they wish they could go back. But they can't. So they thank me and they go get the vaccine. And I go back to my office, write their death note, and say a small prayer that this loss will save more lives.
"As always, I am an open book. Please bring me your questions and I will tell you everything I know and everything I don't.
"It's not too late, but some day it might be.
"Thank you Dr. David B Wilhelm for sharing your medical knowledge with all of us.
Brytney Cobia, MD"
It is possible that both claims are true. It is possible that none of them are true. Whether or not the first one is true, it is entirely possible that someone from the Victorian government's PR department remembered how effective that Facebook post from the Alabama doctor had been in scaring people into taking the jab.
Daniel Andrews' government has copped a lot of flack in the last two days for mandating the vaccine for over a million "authorised workers", to the point that Australia is now being compared to North Korea. It has been pointed out that forbidding the unvaccinated from working is a violation of their human rights.
Dan Andrews, Premier of Victoria violating Universal Declaration of #HumanRights Article 23: "Everyone has the right to work, to free choice of employment, to just and favourable conditions of work and to protection against unemployment."

Not fit for office. #Resign #DanNext pic.twitter.com/VlDDgK14oj

— Know Your Human Rights (@HumanRights4UK) October 1, 2021
It is entirely possible that they copied the story of the Alabama doctor in an attempt to deflect this criticism, and to put the onus back on the people they are trying to coerce into taking the dangerous vaccine, to make them look like the bad guys.
Basically, we're calling bulldust on this.
In our most recent report on this story, The XYZ reposted revelations from Australian healthcare workers about the tidal wave of adverse reactions they are seeing, but are not allowed to report. Let's read another, courtesy of Nurses Speak Out, which details adverse reactions suffered by actual nurses:
Whistleblower #0075
ICU/Emergency Dept RN. 22.5Yrs+
2/10/21
I am an Registered Nurse with a post graduate Critical Care degree. I have over 22.5 years experience in ICU & ED. I will be out of a job 1st October if I do not take a vaccine that is still in phase 3 clinical trials until 2023 and only has provisional use (not full approval) in Australia under a state of emergency.
Some of my colleagues have experienced some very nasty side effects post the vaccine. I am unsure if any have been reported to the TGA.
1) nurse in her 30's developed chest pains after 1st vaccine. Went to ED, had blood tests, all came back inconclusive. Given pain relief and sent home. Slowly improved, but has ongoing lethargy and is concerned about what it may have done to her heart.
2) nurse in her 40's developed sore feet and joints within days of receiving her 1st vaccine. Was referred to a rheumatologist by her GP where she was diagnosed with an autoimmune condition called 'Rheumatoid Arthritis'. Is now on daily lifelong steroid based medication (which has its own set of side effects & weakens your immune system) to help with pain & inflammation. She continues to have persistent pain and discomfort, cannot go for long walks anymore, and struggles with the 12hr shifts. She believes the vaccine caused this as she had no symptoms prior to the vaccine.
3) nurse in her late 40's with a history of anaphylaxis to a previous flu vaccine was still advised to have the covid vaccine or loose her job. She was told to have her vaccine in a hospital near the crash cart. She did not have an anaphylactic reaction, but did develop a huge lump on the side of her neck the size of a tennis ball. The doctor put her on a strong course of steroids to help reduce the lump.
4) nurse in her early 60's had 8 weeks off work after her 1st vaccine dose due to issues with her blood pressure and constant dizziness. She was put on various medications to help with little effect. She slowly improved and eventually came back to work. After her 2nd dose she had another 4 weeks off work with similar issues. She is planning on an early retirement at the end of the year as she isn't coping with the long shifts anymore. Prior to the vaccine, she was very fit and healthy and rarely had a sick day.
5) nurse in our coronary care department developed tremors and shaking in her arms and hands on and off for weeks after her vaccine. It is reported that she still has issues with this months down the track.
6) nurse in her 30's suffered anaphylaxis post the vaccine (no prior history of anaphylaxis). Was treated in hospital and went home when stable. A few weeks later she suffered another bout of anaphylaxis (shortness of breath and throat swelling) whilst out exercising. An ambulance was called and she was treated in hospital again.
7) one of our doctors had raging fevers, dizziness and lethargy and had to leave work early the day after his vaccine. He couldn't sleep the previous night after having the vaccine because he felt so unwell. He ended up having a few days off work.
8) almost all who received the vaccine in our unit suffered one or more side effects ranging from fevers, sore arms, swollen lymph nodes, nausea, lethargy, joint pain, rashes, insomnia, lumps etc. most requiring at least 1-5 days off work (some more).
Medical professionals are very well educated to assess their own personal risk of catching covid 19 versus their risks of taking the vaccine. We know how to keep ourselves and our patients safe, and we have access to the best PPE gear available.
We've worked tirelessly and safely throughout the last 18 months without a vaccine. We have also worked through many previous pandemics without a vaccine, such as SARS, MERS and Swine flu.
There is no need to mandate this vaccine for healthcare workers, especially given it does not prevent the spread, nor the contraction of COVID-19.
Freedom to make our own medical health decisions is non negotiable. The Australian Immunisation Handbook clearly states 'for consent to be valid is must be given in the absence of undue pressure, coercion or manipulation'. How is threatening the loss of employment if we decline not coercion, manipulation or undue pressure?
I have devoted the best part of my to life saving lives. I love my job and I love caring for people. It is legally, morally and ethically wrong to force us to choose between a job we love (and have devoted our lives to) or the vaccine. I honestly don't know what else I will do, but I will not be coerced into taking something that carries with it, the risk of death or disability. I stand in my principles and I stand for medical freedom of choice. Our kids and their future freedoms are worth fighting for. As of of today I have been stood down, but know that I'am fit, healthy, willing and able to work.
Funny how these nurses' stories don't "go viral" courtesy of the Lying Press, or get their own press conferences courtesy of the Victorian government. Again, here is the page of Nurses Speak Out. Let's make their stories go viral.
Subscribe to XYZ on Telegram, Bitchute, Twitter and Gab.