Victoria Police have accosted a man in Melbourne's CBD today, Wednesday 22/9/2021, wih one officer placing a knee on the man's neck, George Floyd-style.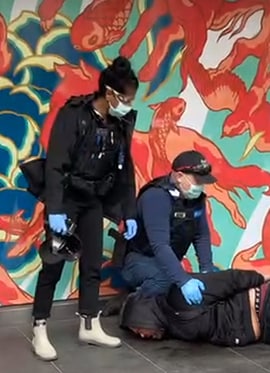 Video of the incident shows the man saying "I can't breathe" as bystanders film the incident and raise concerns for the man's wellbeing.
— 🇦🇺 (@aussie000050) September 22, 2021
The tradie protest in Melbourne today is the biggest one of the week, with construction workers fulfilling their promise to return "every day" until their demand. In line with their own threat to "do whatever it takes", police had been arresting anybody turning up in the CBD with a flouro vest.
Ok – anyway – back to the #TradieProtest – the police tactic is immediately arrest anyone in the city wearing hi-vis #springst #auspol

— James Newburrie (@DifficultNerd) September 22, 2021
Regardless, a massive crowd made their way down to the CBD from Melbourne's north through Carlton.
I don't know where @therealrukshan is, poor bloke I hope he is ok.

Another page is live-streaming on FB https://t.co/a4j2rMXtKC pic.twitter.com/k95OsI4M9Z

— ValGlass2.0 (@AussieVal10) September 22, 2021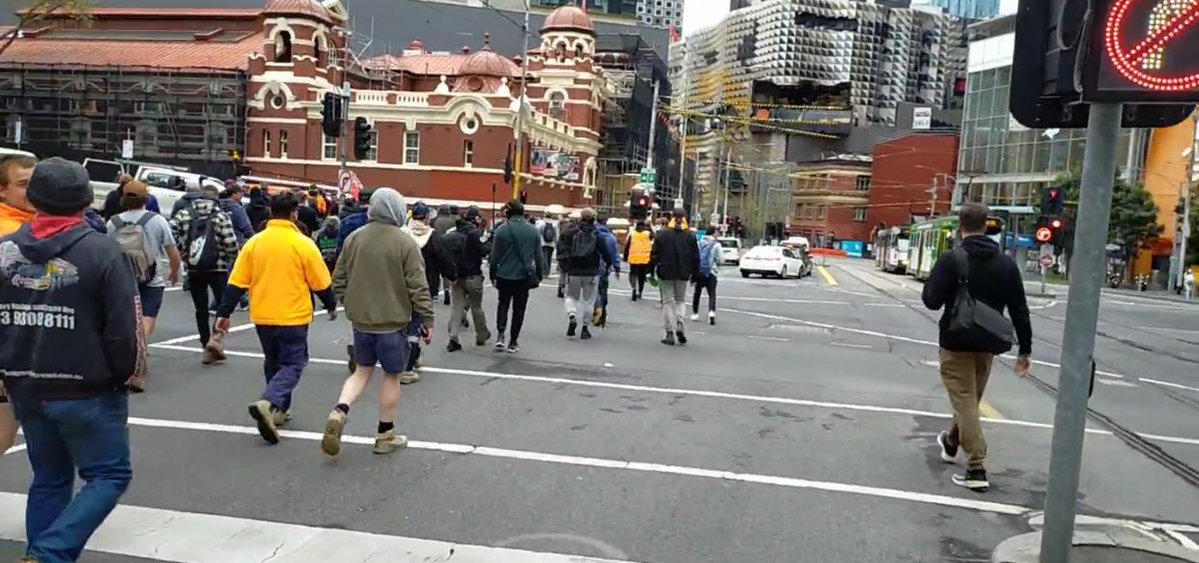 The crowd marched peacefully through the city.
On the move down Flinders St. No police in sight. @9NewsMelb pic.twitter.com/5TLrxsSJEW

— Alicia Loxley (@alicialoxley) September 22, 2021
The cavalry was mobilised.
Never have I ever!!! Middle of the CBD 😧 #melbourneprotest pic.twitter.com/rxQfjEcZ3y

— Teegan Dolling (@tdolling) September 22, 2021
Then all hell broke loose as Riot Police opened fire on peaceful protesters on the corner of Bourke Street and Elizabeth Street.
Police shooting at peaceful protesters pic.twitter.com/lL5JTfCZ5R

— Trixi (@Trixi888) September 22, 2021
Police open fire on peaceful protesters on #Melbourne.#IStandWithTradies pic.twitter.com/LAvWUqSqHI

— XYZ (@itsyourxyz) September 22, 2021
Police also brutalised independent media attempting to provide a balanced view of procedings.
Police brutalising independent media in #Melbourne.#IStandwithTradies pic.twitter.com/9HN3bGOAc3

— XYZ (@itsyourxyz) September 22, 2021
Victoria Police has claimed that the protesters are coming looking for trouble. As The XYZ's reporting has repeatedly shown, violence only occurs when Victoria Police show up.
This is the third time in as many days that rubber bullets have been used against peaceful protesters. It has not deterred them. The lads have made their way down to the Shrine of Remembrance.
Stand-off.. pic.twitter.com/1R6CxY18KH

— Antonio Montana (@dnforca) September 22, 2021
One wonders where the State will escalate from here.