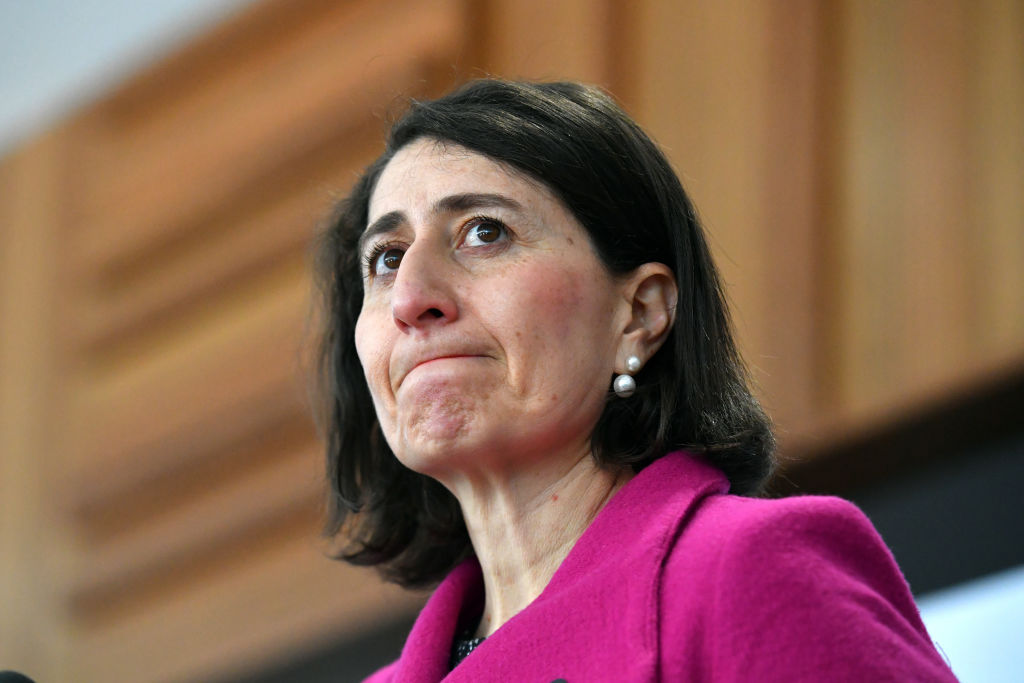 A very interesting news segment has been going around this morning. NSW Premier Gladys Berejiklian's position would appear to be shaky if they are talking about it in mainstream controlled media:
There have been discussions about 'contingency planning' should @GladysB quit, or be forced to quit, as Premier. There is growing concern about how the COVID-19 crisis is being handled. https://t.co/OF81oZFF1j #nswpol #7NEWS pic.twitter.com/MBPcie2bE9

— 7NEWS Sydney (@7NewsSydney) August 19, 2021
This could be huge. NSW is steadily being turned into a prison where you can be fined $5000 for sitting in your car for two minutes.
Police helicopters are telling people to get away from the beach or the dolphin gets it.
And they're taking the hoops off basketball courts.
However, scanning the tone of Lying Press articles on Gladys it would appear her masters are not impressed.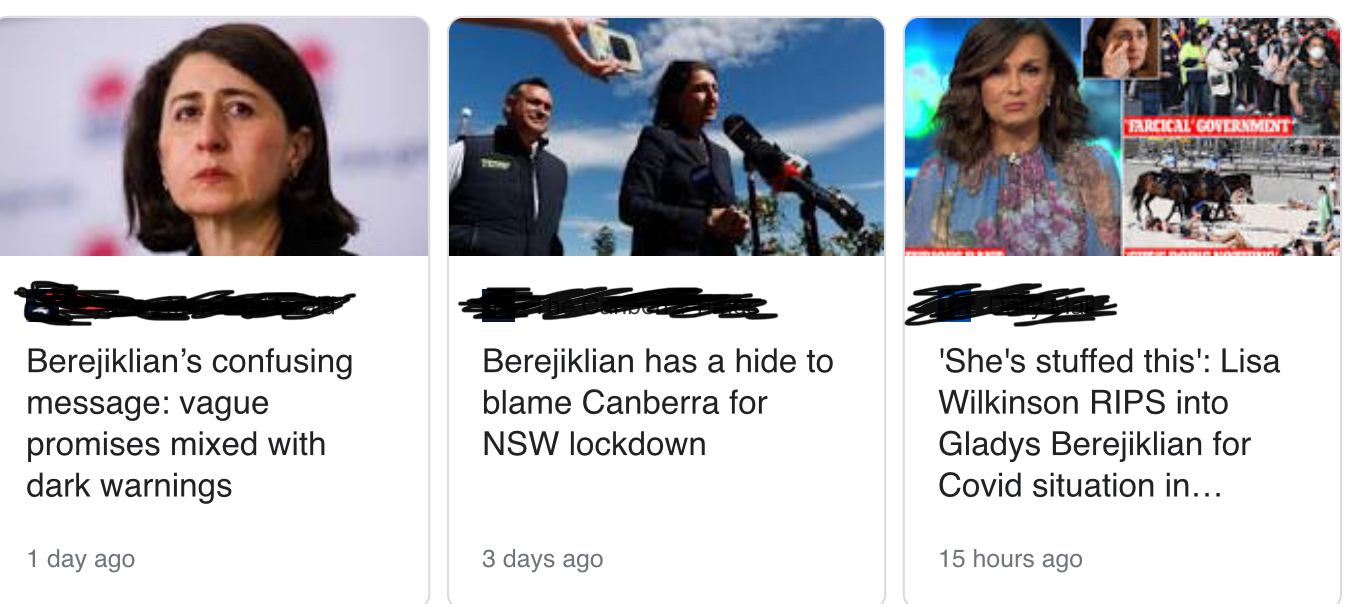 This commenatry from the Lying Press is telling:
The chief minister of the Australian Capital Territory, Andrew Barr, has accused Gladys Berejiklian of putting young people at risk by not toughening restrictions in greater Sydney, and has called on his colleagues to stop presenting 70% or 80% vaccination targets as "freedom day".
Ahead of what is likely to be a testy national cabinet meeting on Friday, Barr told [the Lying Press] political leaders needed to be more frank with the community about when it will be safe to move past lockdowns, given the Doherty Institute modelling painted a much more nuanced picture than simply hitting certain vaccination rates.
One gathers from the rest of the article that Gladys is going soft on two key aspects of The Regime's Narrative.
Firstly, all states are pushing the so-called "zero-Covid" approach while Gladys appears to want to follow a so-called "living with Covid approach" which they claims puts their jurisdictions at risk:
Barr is battling a Delta outbreak in the national capital, with the bulk of new infections in unvaccinated young people. The chief minister told local reporters on Thursday his objective remained driving cases in the community down to zero – a similar approach to Victoria, Queensland and Western Australia.
Barr noted NSW was continuing to pursue elimination of the virus in regional areas, but Berejiklian's approach to cases in Sydney was different.
"That decision has massive implications for the ACT, Victoria and Queensland, and then South Australia and the Northern Territory," he said.
"The only two jurisdictions that can conceivably protect themselves from NSW's decision to a certain degree are Western Australia and Tasmania."
Secondly, now that the blackmail of "70-80% vaccination rate before you get your freedom back" has been normalised, so called "modelling" is being pushed by the Doherty Institute to normalise the idea that "freedom" will be pushed back even further.
The chief minister said rather than constantly referring to national vaccination rates of 70% and 80% as the trigger for ending lockdowns, there needed to be more discussion about effective vaccination rates.
Barr said much of the political conversation around lockdowns ending didn't take into account the time it takes for a vaccination to become clinically effective. He noted chief health officers were highlighting that nuance in daily briefings, but the political messaging was different.
"The note of caution we all need to have is that reaching 70% is not the day the magic number is reached in terms of a jab in an arm – it is three weeks after that," Barr said.
He noted the Doherty modelling also did not envisage reopening would be happening in an environment of 600 new cases a day, and based on Sydney's current effective reproduction rate of 1.3, "by the time everyone gets to 70% or 80% [Sydney] is going to have thousands of cases a day, not hundreds".
The chief minister said managing expectations was critical. "I think it is important that the 70% threshold is seen as a gentle step forward, not freedom day, and even at 80% there will still need to be a range of public health directions in place that will include everything from physical distancing, mask wearing, density limits, all of those things – 80% doesn't mean a free-for-all either, and 80% presumes optimal test, tracing, isolation and quarantine arrangements".
It was possible lockdowns could stop once the vaccination rate reached 80%, Barr said, "but it doesn't mean there will be no measures".
Basically, The Regime does not have any intention of giving our freedom back any time soon, no matter how obedient we are.
However, Gladys may have been unnerved by the massive size of the protests against lockdowns last month, and the potential that they could prove overwhelming this weekend. She may prove to be the weak link in the globalists' push to make Australia the model prison for the rest of the world to follow. Either her demise is being pre-programmed, or she is being given the unequivocal massage that she must toe the line.
Most disturbing is that even though data collection and analysis courtesy of James Fox Higgins and Vox Day respectively shows that "since Covid is less harmful to the young while the vaccines are more harmful to them, it is completely unconscionable, and should be illegal, to advocate or administer Covid vaccines to young adults and children," The Regime is doubling down:
He said it was striking in the current Canberra outbreak that the median age of Delta infections was 19-and-a-half.
"More than half our cases are in young people, many of whom do not have access to a vaccine. This has not yet firmly featured in terms of the national cabinet discussion about when it is safe to reopen.
"My view is Australian parents will just not tolerate the country opening up with their kids being exposed, because that is where the virus is going to go."
Barr noted the first wave of Covid ripped through aged care, but the Delta strain was problematic in schools and childcare centres.
"What we've experienced in the ACT in the last week gives a pretty clear indication that the vaccines are working to protect people because we are not having many cases in the older parts of the population who are vaccinated – but [removing public health measures] puts kids at risk.
"And that is going to be very concerning to millions of Australians."
They're going after our kids.