The fix is in; European elites are doing what they can to force Britain into another vote in order to get the "right" answer:
EU leaders will reportedly allow Theresa May to delay Brexit only if she agrees to hold a second referendum or soften her withdrawal deal.
Senior EU officials have already told the British PM that conditions for an extension to the Article 50 process — which MPs voted to pass early this morning AEDT — would include the option of a second Brexit vote, according to The Times of London.
You hear that plebs? The EU will "allow" the Prime Minister of Britain to delay Brexit, but only if she promises to betray Brexit.
This, a day after the treasonous British parliament voted to take a No-Deal option off the table and thus throw themselves at the mercy of Globalist EU parasites:
British MPs have narrowly voted against leaving the European Union with no deal in a non-binding vote — just 16 days before the country is due to split from the European Union.
They rejected a no-deal Brexit 312 to 308.
Previous votes had indicated only a minority of the House of Commons supported crashing out without a deal.
Yeah, that's the way you muppets, take your main negotiating tool off the table because that's how you get what you want, right?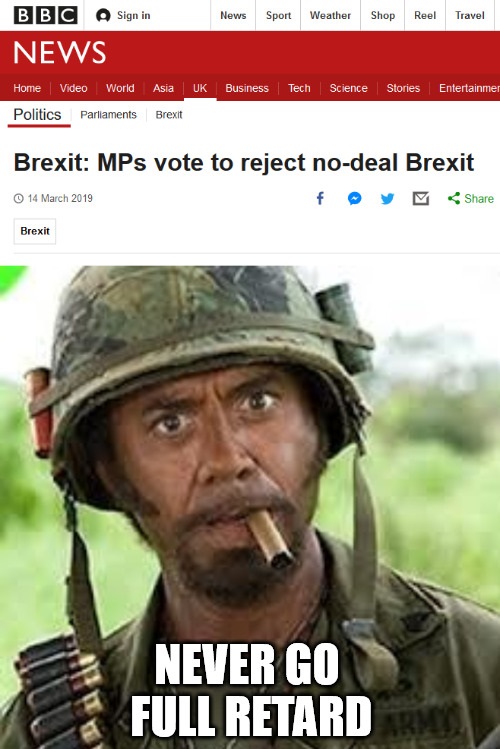 That's what Donald Trump would do right? Oh wait:
Mr Trump told a press conference last summer that he had made a "brutal" suggestion to Mrs May on Brexit, which the prime minister later said amounted to advising her to sue the EU rather than negotiate.
"I'm surprised at how badly it's all gone from the standpoint of a negotiation," he said. "But I gave the prime minister my ideas on how to negotiate it and I think you would have been successful.
"She didn't listen to that and that's fine. I mean, she's gotta do what she gotta do. I think it could have been negotiated in a different manner, frankly. I hate to see everything being ripped apart right now."
Another referendum "would be very unfair to the people that won", he added.
"Both sides are cemented in. It is a tough situation. It's a shame. There was no reason for that to happen. They could have had the vote and it should have gone smoothly. Unfortunately it didn't."
Leave means leave Dammit! This foot dragging by the establishment is one of history's biggest dummy spits. You lost, get over it, and do what the people ordered you to do.
Wars have started over much less than this betrayal and a second referendum would be a direct assault on the liberties of the people. It would be a clear message to Brits that their elites will not accept their will when it goes against the interests of the elites.
It will be a clear message to the British people that they live in a tyranny; precept #52 has a clear lesson on that matter
52. Tyrannies cannot be ended without the use of force.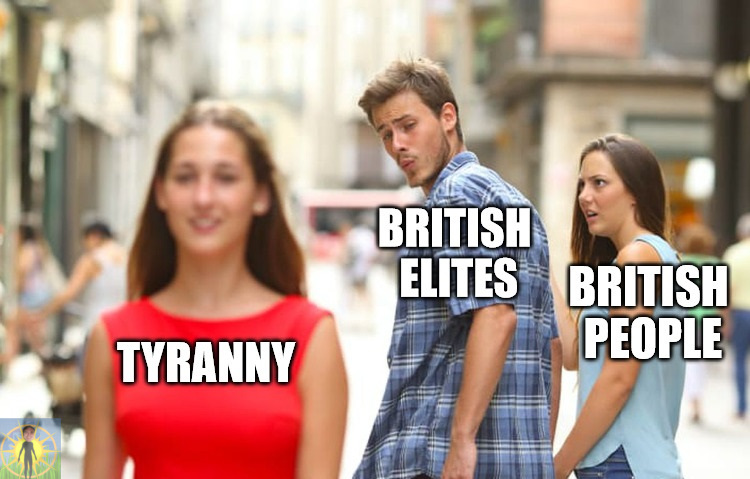 Hold on to your butts.