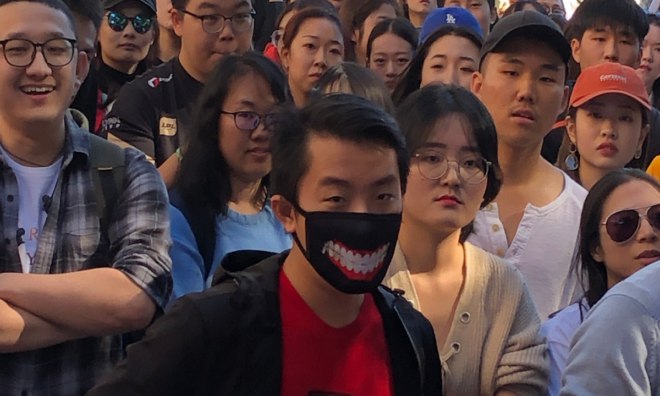 From MacroBusiness.
Leith van Onselen
MB has long questioned the spurious relationship between our universities' reliance on international student fees and university rankings, which we have termed a 'ponzi scheme'.
In a nutshell, the federal government and universities in Australia devised a structure to encourage large volumes of full-fee paying overseas students by:
The Australian government offering the most generous student visa work rights and permanent residency opportunities in the world; and
Australian universities lowering entry and teaching standards.
The financial windfall from rising international student numbers was then diverted into research aimed only at propelling Australia's institutions up global rankings, rather than areas that helped Australians.
Because a better international ranking enhances a university's reputation and signifies quality, these rankings were then used by universities as a marketing tool to lift international student enrolments alongside justifying higher fees.
Meanwhile, actual teaching quality has deteriorated, with the student-to-academic staff ratio rising considerably across Australia's institutions in tandem with the rapid increase in international student enrolments: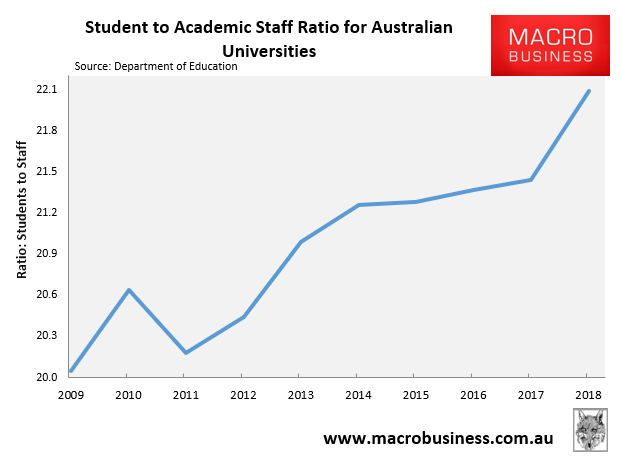 International student cheating is pervasive, Chinese influence is rampant, and universities' casualised staff are underpaid and pushed into passing low-performing foreign students.
Domestic students have also been made to carry NESB students through their courses via group assignments.
Local students are paired with international students in these assignments, which frequently results in domestic students completing the majority of the work, essentially becoming unpaid tutors and cross-subsidising international students' marks.
In essence, the education business has degraded into an immigration racket, with universities acting more like migration agents than academics.
Meanwhile, Australian university vice-chancellors have been rewarded with million dollar salaries for effectively turning their institutions into low-quality, high-volume migration agencies run for maximum throughput and profit.
Last month, we witnessed Australia's universities storm up the QS 2024 World University Rankings because of a methodological change that reduced the importance of "the ratio of the number of academics to students".
As explained by The Australian's Tim Dodd:
"What a gift it was two weeks ago when, instead of universities having to go to the QS rankings, the QS rankings came to them. A major change in methodology led to most Australian universities rising, some dramatically so, and three universities – Melbourne, Sydney and UNSW – vaulting into the world's top 20".
"A key reason behind Australian universities' rise in the QS rankings was the QS decision to reduce the weighting on faculty to student ratio from 20% to 10%. (Faculty is the US term for an academic member of staff.) This measure (intended as a proxy for quality of teaching) is one in which Australian universities perform badly because of their large class sizes".
"Ironically, it's the reduced weighting on a poor outcome which was a major factor in Australian universities' ranking boost".
As shown in the chart above, Australian institutions rank poorly on this measure, so its reduction in weighting from 20% to 10% was a huge benefit.
By contrast, Korean universities, which rank very well on this metric, slid down the rankings when the weighting was halved. They are furious, and a group of 52 Korean universities have threatened to boycott the QS rankings.
The rise in Australia's rankings is already having a big impact in China:
"The strong performances of Australian universities in the latest QS World University Rankings have been enthusiastically celebrated by Chinese students, both those who have already enrolled with and those who are planning to study Down Under", Heidi Han – a former mandarin editor of The Australian reports.
"The students and alumni of the University of Melbourne woke up filled with excitement over the incredible news that they had surpassed Yale (16th) as well as the highest-ranked Chinese universities, Tsinghua (17th) and Peking University (18th) – institutions they had once only aspired to join".
"The impressive surge in rankings has boosted the morale of study agencies in China, which are now intensifying their efforts to promote studying in Australia and capitalise on the recent leap in rankings".
"The selling points are now crystal clear and compelling".
As noted above, the rankings systems have always favoured universities publishing lots of research over those more focused on teaching and course delivery.
These rankings also give extra points for the proportion of international students enrolled. Thus, having more international students equals a higher ranking (other things equal).
What a marvelous ponzi scheme for Australian universities: 1) bring in plane loads of international students. 2) pump the fee revenue into research. 3) achieve a high ranking. 4) use it to market for more international students. 5) rinse and repeat.
Meanwhile, the actual experience of local students continued to degrade, as documented by The Australian last month:
Four of Australia's large research universities are among the worst rated by undergraduate students for educational experience, with the universities of Sydney, Melbourne, NSW and Monash clustered near the bottom of the latest official survey".
"The University of Sydney was given a positive rating by only 68.8% of its students in the federal government-backed survey, with the University of NSW only slightly better at 69.9%, the University of Melbourne at 71.8% and Monash University at 72.7%".
These universities have among of the highest proportions of international students in the world, and the QS 2024 World University Rankings rewarded them accordingly. What a farce.
Let's be honest. It was never in the national interest to run low-quality student visa factories for maximum throughput.
Unfortunately, the Albanese government has ratcheted up the farce by expanding post-study work rights and migration pathways, particularly for Indian students.
From MacroBusiness.