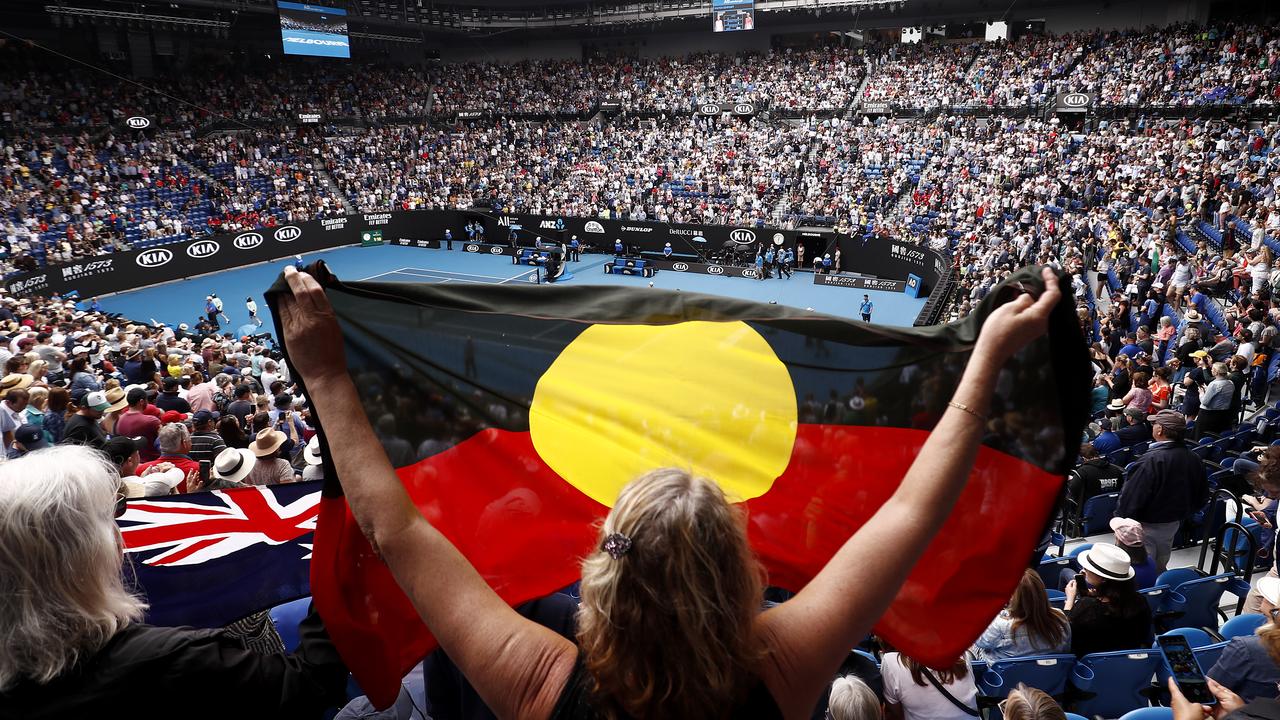 The corporation in charge of butchering the Australian Open tennis tournament has jumped on the anti-Australia bandwagon, banning the celebration of Australia Day on Australia Day:
As movement grows in the sporting world against celebrating Australia Day tennis officials have made their position clear.
Note that there is zero grassroots support for changing the date of Australia Day. This is a completely astroturfed, top down political agenda being forced down the throats of ordinary Australians.
Australian Open organisers will celebrate the women's game and not Australia Day on Thursday joining a growing number of organisations seeking to avoid conflict over the national holiday.
But what is a woman?
Everybody serves a master. Atheists believe they serve themselves rather than God, but eventually they discover they are only serving the devil. Likewise, the elites can't simply replace Australia Day with an empty day where everybody can just relax. Rather than revering our nation, our folk and our ancestors, we are expected to worship feminism and aboriginal identity politics.
On that note, amongst the recriminations over male tennis stars being forced to play into all hours of the night, nobody has mentioned the bleeding obvious. Women's matches used to finish by about 7 or 8 pm so the men could play during prime time and not finish too late. The schedule has beed rigged so that women can feature during prime time, forcing the men's matches to start at 9pm, 10pm or later.
After the Victorian government axed its Australia Day parade and amid a growing backlash from athletes about celebrating on January 26, Australian Open officials won't officially recognise the day.
It comes after Australian cricket star Ash Gardner declared her opposition to Cricket Australia scheduling a T20 on January 26, a day which she said marked the beginning of "genocide, massacres and dispossession".
XYZ News has already thoroughly debunked Gardner's specious stance.
Cricket Australia has also stopped referring to Australia Day in any promotions for games on January 26.
The Australian national anthem will be played before the night session at Melbourne Park but there will be no reference to Australia Day or any ceremonies to mark the occasion as a result of "differing views" on celebrating the national day.
"We are mindful there are differing views, and at the Australian Open we are inclusive and respectful of all,'' Tennis Australia said in a statement.
"We acknowledge the historical significance and deep spiritual connection our First Peoples have to this land, and recognise this with a Welcome to Country on stadium screens prior to both the day and night session daily.''
There was a First Nations Day at the Australian Open last week and there will also be a Pride Day at the tournament, but nothing for Australia Day.
They present divisive anti-White hate propaganda and the open sexualisation and grooming of children as "inclusive and respectful".
This is a deliberate cultural genocide of White people. They have moved beyond merely denigrating our reverence for the achievements of our ancestors to openly flaunting the disenfranchisement of native White Australians. A people forbidden to tell their own stories about themselves will struggle to transmit their history and culture, and eventually genes, to the next generation.
They are deliberately creating conditions under which we may cease to exist after several generations. This is the literal definition of genocidal conduct.
This cultural genocide is being coordinated across the entire corporate sector this year. They have been very smart about it, giving people the option of taking their day off on a day other than Australia Day. It falls on a Thursday this year, so a lot of people who don't want to change the date will take the Friday off so they can have a long weekend, rather than having to sheepishly call in a sickie on the Friday.
They will use this statistic to show "community support" for changing the date, when none actually exists.
Subscribe to XYZ on Telegram, Bitchute, Twitter and Gab.