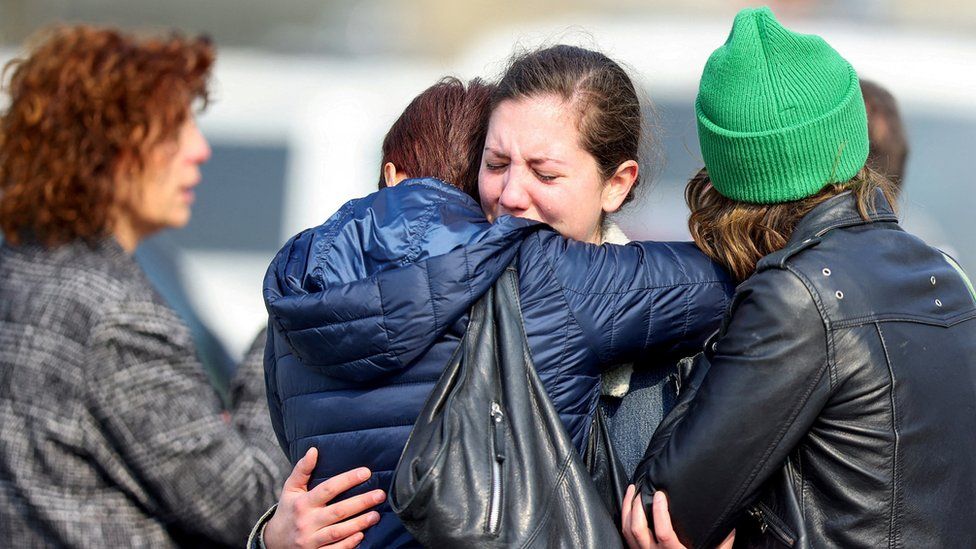 Astute commentators have noted that the spate of terror attacks which struck Europe during the height of the Migrant Crisis have mysteriously dried up. Some have suggested that this could mean that the Islamic terror wave of the 2010's had the same (((origin))) as the 9/11 terror attack.
A far simpler explanation for the mysterious disappearance is that the media simply refuses to report Islamic terror attacks as Islamic terror attacks:
At least six people have been killed after a car drove into a crowd of carnival-goers in southern Belgium.
The incident happened in the small town of Strépy-Bracquegnies, about 30 miles (50km) south of the capital Brussels.
The car drove at high-speed into dozens of people who were preparing to take part in a traditional parade on Sunday morning.
Around 40 people were injured and several are in a serious condition, the town's mayor said.
"There were about 150-200 people who were following the parade and [the] car arrived from behind and drove into the crowd," Jacques Gobert said.
"It continued for another 100m (328ft)," he added. "It should be considered a national catastrophe."
The exact circumstances of the attack are being investigated, but police said a terror attack had been ruled out.
"It is an accident, a tragic one. The car hit the group and tried to carry on but it was quickly stopped by the police," police spokeswoman Cristina Ianoco told the BBC.
"The driver and the other people in the car have been detained," she added. They have not been identified.
Police denied earlier reports in some Belgian media that the crash, which happened at around 05:00 local time (04:00 GMT), followed a high-speed police chase.
Police ruling out a terror attack and not identifying the driver are code for "a muslim deliberately drove his car into a crowd of White Christians".
The total giveaway is what got snuck into the article right at the end:
"Deepest condolences to the families and friends of those killed and injured in the incident this morning," Belgian Interior Minister Annelies Verlinden wrote on Twitter.
"What was supposed to be a great party turned into a tragedy," she added.
Prime Minister Alexander De Croo, who is expected to visit the scene later on Sunday, said it was "horrible news".
"A community gathering to celebrate has been hit in the heart," he said.
Belgian towns and villages host traditional street carnivals around the period of Lent. The event in Strépy-Bracquegnies, like many others, features a parade with participants dressed up comical figures.
Lent is the period which leads to Easter, when Jesus died on the cross to redeem our sins. It is the whole point of Christianity – one blood sacrifice, made by God on our behalf, to atone for our sins. It is the cornerstone of Christian theology and the foundation of Western Civilisation.
However, according to the Lying Press, Lent is just another community festival, a mere "traditional parade" in multiculti Europe, and a car plowing 100 metres through a Lent street carnival is just a tragic accident.
A coincidence.
Andrew Anglin makes a similar point regarding the recent mass shooting by a black man at a car show in Arkansas:
What happened?
We don't know what happened.
BREAKING: Wallace McGehee, the car show organizer, has addressed tonight's shooting that left at least 10 people injured in Dumas, Arkansas.

"We apologize for all of this to happen. This has never happened with us in our event ever." #ARNews pic.twitter.com/CGeba2s3qh

— Shelby Rose (@KATVShelby) March 20, 2022
We all know what happened, but we can't say it because it would be evil to say it, so we have to pretend we have no idea what happened.
If a black person is punching you in the face, you have to say: "I don't know what's happening? What is happening? Where are these blows to my face coming from?"
The funniest thing about white people is their inability to talk about black people.
So, islamic terror attacks no longer occur in Europe, because the media doesn't report them. Millions of Euorpean girls are not being raped by migrants across Great Britain and the European continent, because the media does not report on it,
Black crime doesn't happen in America, because the media doesn't report it, and police obviously just kill black guys in cold blood for no reason.
Millions of people are not marching through the streets worldwide against Covid Vaccine Mandates, because the media does not report on them, but the handful of people marching for Ukraine is representative of deep community support for our governments to cripple our own economies in order to squeeze Russia out of the globohomo system.
Hundreds of thousands of adverse reactions to the Covid not-vaccines are not happening, because the media doesn't report on them.
Seriously, when the mass die-off starts, the media won't report on it, and anybody who points that the suburbs are full of rotting corpses will be labelled a conspiracy theorist.
Subscribe to XYZ on Telegram, Bitchute, Patreon, Twitter and Gab.