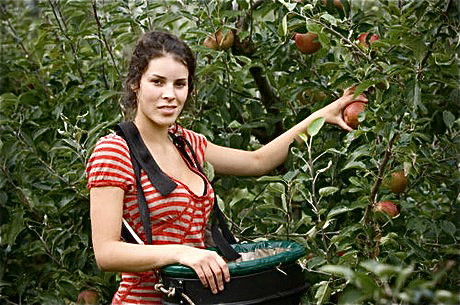 Australia is about to face a serious disruption to its food supply at a moment in history when the nation is particularly vulnerable to disruptions in the global supply chain. A variety of factors mean the headline of this article is not by any means hyperbole
Let's examine the potential spark.
A FairWork case on behalf of a British backpacker has resulted in the awarding of a minimum wage to fruit pickers on Australian farms.
From Sky News:
Fruit pickers will now be guaranteed a minimum wage after a ruling by the Fair Work Commission.
The Australian Workers' Union applied to the commission in December last year to amend the Horticulture Award, to "guarantee every worker on every farm is entitled to take home the minimum casual rate of pay, currently $25.41 per hour".
The AWU said there were incidences of fruit pickers earning as little as $3 an hour through piece rate arrangements, where workers are paid based on quantity of fruit picked or vegetables harvested.
We can be sure that the union trumpeted the lowest example they could find and that the media is parroting it dutifully. However, it is undeniable that growers have been underpaying pickers for decades. This led to a ridiculous situation over the last two years, whereby millions of Australians were out of work, yet concerns were raised that food would rot in the fields because the borders were closed. Basically, producers did not want to hire Aussies because they knew we would not work for the wage offered.
Thus the medium to long term bonus of this ruling is that it brings the whole system of importing foreign labour to harvest food crashing down. Much to their chagrin, labour unions will in good time realise that they have reinstated a key pillar of the White Australia Policy.
The short to medium term downside is that they have also just kicked into motion conditions akin to the Great Leap Forward:
"The changes our union proposed, and that the FWC has now accepted, will put a safety net under fruit pickers to ensure they get what every worker in Australia deserves: a fair day's pay for a fair day's work.
"Now it will be easy for workers — even if they don't have good English language skills or Australian connections – to understand if they're being ripped off. From now on if you're making less than $25 an hour fruit picking in Australia your boss is breaking the law and stealing from you."
But the National Farmers' Federation said the commission's decision was a "bitter blow to many farmers who are already doing the right thing".
"Farmers want to ensure workers are paid fairly and they also want to be able to reward their most productive workers," NFF CEO Tony Mahar said.
"The increase in wage costs, most farm's largest input, threatens to make the most productive workers unaffordable. The loss of these workers will put a handbrake on agriculture's growth, at a time when our country can least afford it."
Increasing the cost of harvest labour will have all sorts of flow-on effects. Prices can be borne by producers, retailers or consumers or a combination of all three. Many farmers will change what they produce, they will choose not to produce or they may walk off the land altogether. More efficient farmers will acquire land and some farming practices will improve, while some land may fall fallow.
The consequences will be uneven, there will be some positives, some negatives, and there are many other factors which I have not listed here. What is undeniable is that there will be disruptions to Australia's ability to harvest food, which will in turn disrupt  Australia's food production.
This is occurring as Australia's energy production come under serious threat by insane environmental targets imposed by our so-called friends, the price of fuel is spiking prohibitively and the supply of basic goods is significantly delayed by disruption to the global shipping network.
I don't usually link to the Lying Press, especially not twice in the same article, but this article by news.com is extraordinary for how frankly it discusses disruptions to the global supply chain:
Freight costs on key global container routes have increased around seven-fold compared with this time last year off the back of a perfect storm of Covid-19 related supply chain disruptions, labour shortages and rising consumer demand.
Despite the increased costs, shipping lines have struggled to deliver goods on time, causing major headaches for Australian businesses.
A number of Australian exporters are struggling to meet their contractual obligations, and some large retailers are so concerned that their cargo will not arrive before Christmas that they are buying their own shipping containers and chartering their own vessels, according to a new report into the container crisis released today by Australia's competition watchdog.
"International shipping line movements normally run lean and just-in-time, but a surge in demand and Covid-19 outbreaks that have forced numerous port operations to temporarily shut down have caused congestion and delays with a cascading effect across the globe," Australian Competition and Consumer Commission chair Rod Sims said in a statement…
"Pre-pandemic, the sector would have likely been able to manage such a surge in containerised demand, but the simultaneous destabilisation of almost every part of the supply chain has left them without any spare capacity and struggling to cope," Mr Sims said.
Adam Piggott has warned of Australia's vulnerability to global supply chain disruption, particularly if it affects our supply of oil:
Fuel security is now almost non-existent with the country down to three out of date refineries, all of which are under review by their respective owners as to whether or not to remain in operation. A 2020 report into Australia's fuel security situation revealed that on average the country has five days of fuel reserves available.
All foodstuffs that are harvested, processed and transported in Australia require fuel at every step of the process. It's not just that a major conflict which cut off fuel supplies to the nation would mean that our military would quickly grind to a halt; we would run out of food in a matter of weeks. During the Second World War, harvesting was done by manpower and horsepower. Transport was achieved via a vast network of local rail networks run off coal. In other words, it was largely unaffected by attacks on shipping lines. But not today.
A perfect storm of factors was already putting pressure on Australia's ability to transport food to its 25-30 million residents. Now an industrial relations decision is about to place unprecedented pressure on Australia's ability to harvest and produce food in the short term.
It is why I am holding on to my tin cans from 2020.
Subscribe to XYZ on Telegram, Bitchute, Patreon, Twitter and Gab.