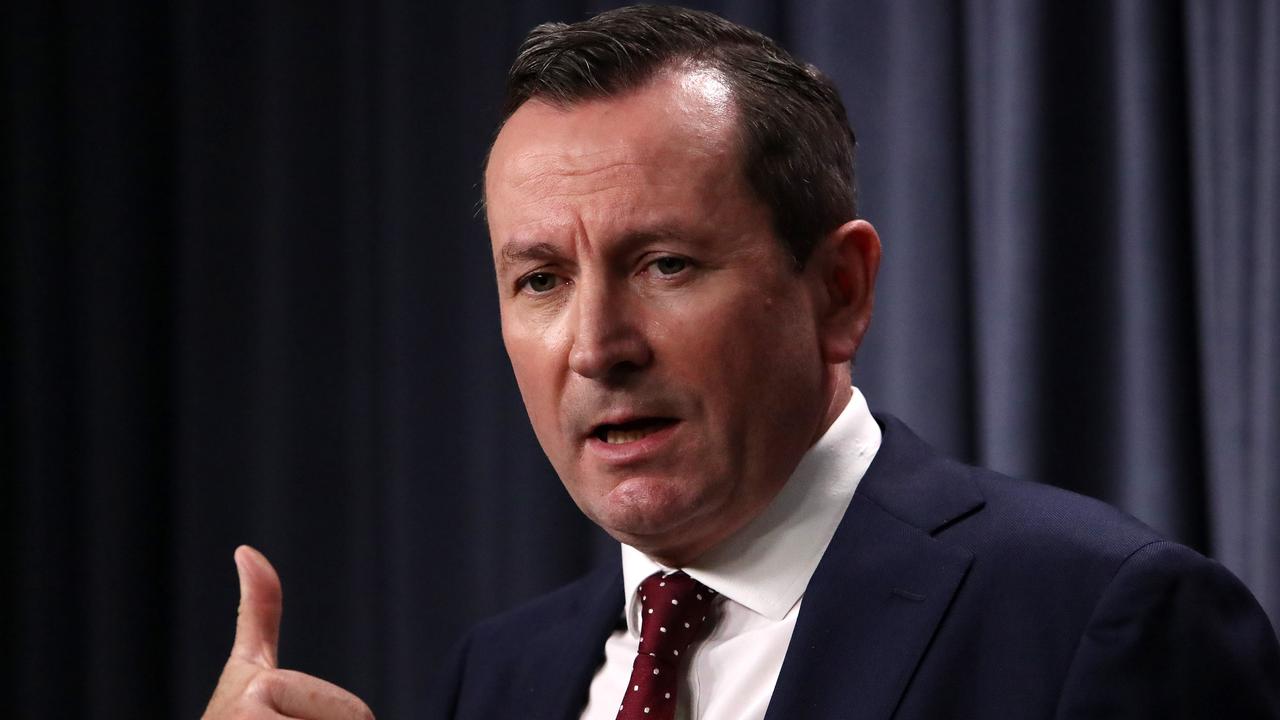 Western Australia's Premier Mark McGowan has received death threats just days after the Northern Territory's Chief Minister had to move his family away from their home due to security fears.
Both leaders have essentially threatened to make people homeless and their families destitute by imposing a vaccine mandates on workers:
Threats made against Western Australia's Premier after the announcement of a vaccine mandate for workers are "disgusting" and "despicable", the state's health minister has said.
WA Police has confirmed it is investigating after Premier Mark McGowan received a barrage of calls and texts to his personal mobile phone this week after his number was posted on social media.
"I can confirm WA Police Force is aware of the threats and an investigation is ongoing," a spokesperson said.
On Thursday, hundreds of protesters rallied outside Perth's Dumas House in opposition to the vaccine mandates set to be rolled out from December 1.
On the same day, the state's Joint Counter Terrorism Team charged a Huntingdale man for allegedly making death threats to Mr McGowan and Prime Minister Scott Morrison.
He was refused bail at Armadale Magistrates Court on Friday.
Note the Lying Press tactic of linking peaceful protesters with people making death threats. They deliberately place these two factoids together to imply a link when there is none. This has been a common tactic used against other Australian activists in recent years.
Health Minister Roger Cook told reporters on Saturday that police were keeping a close eye on people who continue to make threats of violence.
"And the police will make sure you're punished for this unacceptable behaviour. It's ridiculous and it's despicable," he said.
"We all have families. We all are caring for the community. And these people who've gone about this sort of behaviour are quite disgusting.
Is he talking about politicians who threaten people's livelihoods by imposing vaccine mandates? Perhaps he is referring to police who slam their rifle butts into the backs of ordinary citizens minding their own business.
"And it needs to be stamped out and our message is to just say 'stop it'.
Okay.
"Do the right thing. Get yourself vaccinated. Work with the community. We are all in this together and together we'll get through."
Is he using a random slogan generator?
"But not if we are going to attack each other and undertake this divisive behaviour."
Says a man representing the government which is actively segregating one class of people from another:
Vaccination will be compulsory for about 75 per cent of Western Australia's workforce, including in "high risk" jobs in teaching, hospitality and construction.
Those in high risk industries must have their first dose of a vaccine by December 1 and be fully vaccinated by December 31.
Mr McGowan said on Wednesday that anyone who does not comply could face hefty fines of up to $100,000 for employers and up to $20,000 for individual workers.
That's divisive. It's also called tyranny.
Anyway, since British MP David Amess was murdered by a Somali the other day the political class are freaking out about how vulnerable they all feel. Apparently, threats were also made against the PM and federal Health Minister Greg Hunt had a little cry about things too.
As usual, the Regime and the Lying Press present peaceful White protesters and the ocassional guy who vents on the internet as being in the same big-league as actual, murderous Islamic terrorists who actually kill people.
There is no longer any subtlety, no nuance, no real "intelligence" applied to counterterrorism or comparative politics any more. They are just jumbling everything together in their relentless quest to gain absolute control.
Subscribe to XYZ on Telegram, Bitchute, Twitter and Gab.