The South African government has received communications from the Australian Prime Minister and Foreign Affairs Minister that contradict Peter Dutton's call for Australia to fast track refugee visas for white South African farmers. From the ABC:
"The South African Government has welcomed what it describes as a "retraction" from Prime Minister Malcolm Turnbull of comments his Home Affairs Minister made about "persecuted" white South African farmers.
Peter Dutton caused a diplomatic row last month when he said white farmers were facing "horrific circumstances" in South Africa and deserved "special attention" from a civilised country.
South Africa immediately rejected Mr Dutton's concerns, demanded a retraction and called in Australia's High Commissioner to explain.
Since then, Mr Turnbull and Foreign Minister Julie Bishop have reiterated Australia has a non-discriminatory immigration policy and ruled out a special humanitarian intake, or visa category, for white farmers.
Those remarks have been interpreted by South Africa's Foreign Minister Lindiwe Sisulu as a "retraction" of Mr Dutton's comments.
"We welcome the assurance by the Australian Government as reported in the media that the comments made by their Home Affairs Minister are not in line with Australian immigration policy," Ms Sisulu said in a statement."
So, "Peter Dutton caused a diplomatic row." Captain Frank Foley risked something similar in the 1930's…
Reading between the lines, there is clearly a policy debate going on within the Australian Liberal government. We can hold the torch to them by spreading the word, writing to MP's and generally making a fuss about this.
Let me draw the readers' attention to several aspects of the media reporting regarding the crisis in South Africa. Here is a screenshot of the ABC article: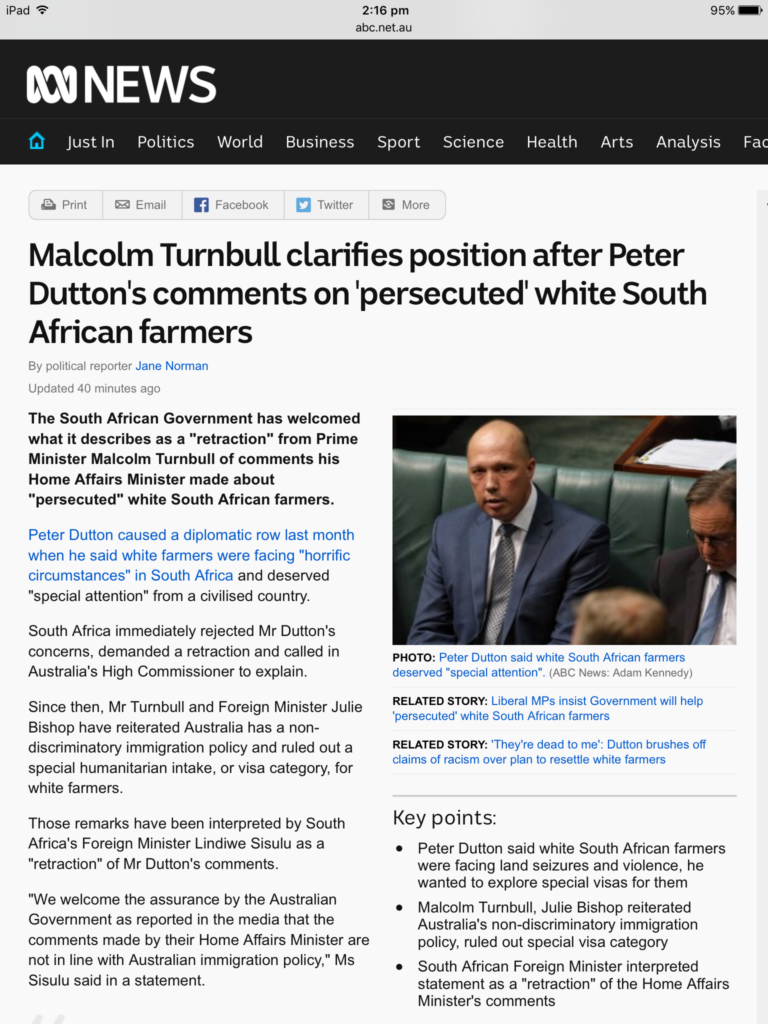 Note the word persecuted is put in inverted commas, implying that the fact that white South African farmers are being persecuted is in dispute.
Also note that the term "non-discriminatory immigration policy" is not put in inverted commas, implying that our immigration policy actually is non-discriminatory, when in fact our immigration policy is currently designed to demographically replace the native European descendants of the people who built this country.
Even the Australian put inverted commas around the word persecuted in an article on the story, twice, although it is an article sourced from AFP: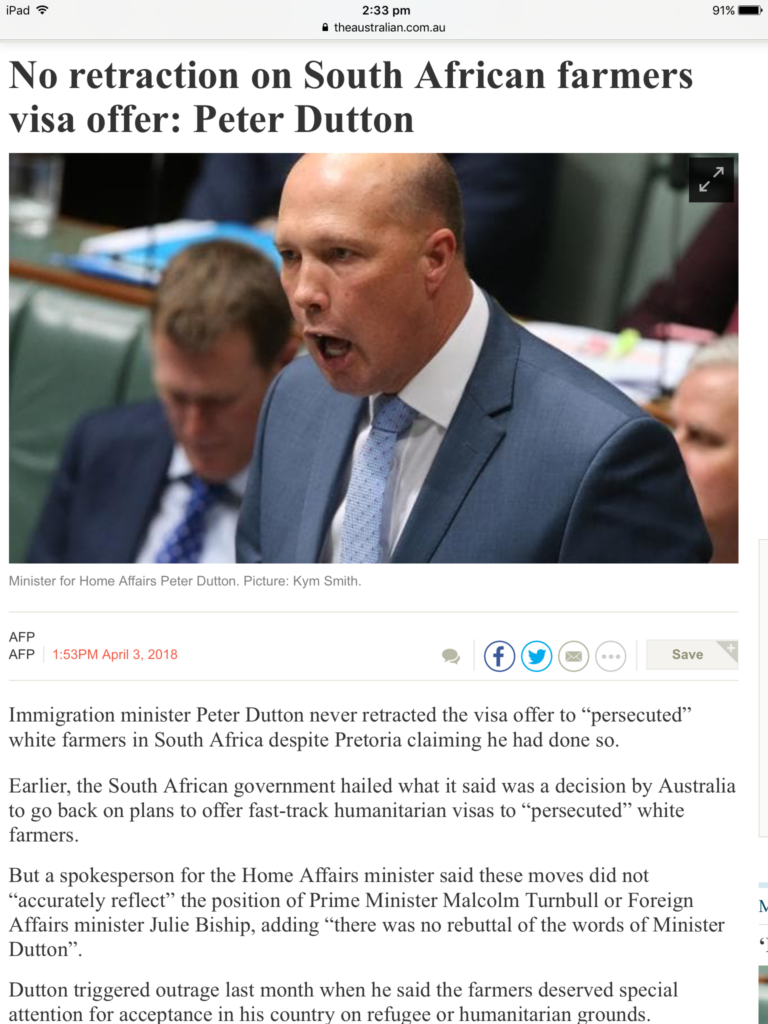 What really scares me is the continued MSM propagation of two lies. Firstly the parroting of the South African government's narrative:
"South Africa is a law-abiding country and, through a constitutional process, it will arrive at solutions on land redistribution that will take the country forward without violating anyone's rights." Land is a hugely divisive topic in South Africa, where 72 percent of individually-owned farms are in white hands 24 years after the end of white-minority apartheid rule.
By contrast just four percent of such land is owned by black people, according to an audit cited by President Cyril Ramaphosa.
The truth is that South Africa was practically empty when it was colonised by Dutch settlers in the 1600's. Furthermore, blacks are only a majority in South Africa because their numbers exploded thanks to the civilisation brought to the region by the whites they now despise. They won't, but they would be wise to bear this in mind when considering "land redistribution".
Secondly:
"According to police, 74 farmers were murdered between 2016 and 2017 in South Africa, which has one of the world's highest crime rates."
No.
Since the communist ANC took over South Africa, as many as 70,000 white South Africans have been murdered. This does not include those robbed, beaten and raped.
Finally, here is another excellent video by Vertigo Politix on the history of South Africa, the gravity of the plight white South Africans face, and what we can do to help them.