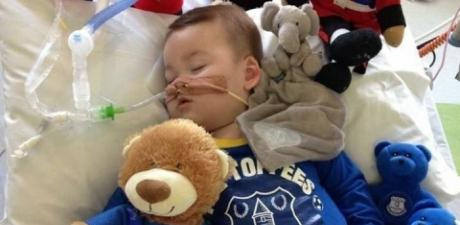 In Great Britain, if you are raped by a brown person the establishment don't care. In Great Britain, if you own a bike wheel the police will disarm you. In Great Britain if you want to inform the population that they are being replaced, you will be refused entry to the country. In Great Britain if you are a citizen who points this out then you will be arrested.
And in Great Britain, the courts are literally killing infants:
"ALFIE Evans, the sick British toddler whose parents won support from Pope Francis during a protracted legal battle over his treatment, died early Saturday.
He was 23 months old.
"Kate James and Tom Evans made the announcement on social media, saying they were "heartbroken." The death of Alfie, who had a rare degenerative brain condition, came five days after doctors removed life support."
British courts ruled that he could not be taken to the Vatican to continue treatment which could give the faintest possibility, no matter how small, that his life would be saved. Instead the courts sentenced him to death, and he died five days after his life support was turned off.
If you're angry, you should be.
Great Britain is abolishing itself. Great Britain is literally killing itself.
If ever there is retribution for this, it is going to be terrible.
Photo by HazteOir.org