The Intergovernmental Panel on Climate Change (IPCC) today announced that it would be replacing the Boy Who Cried Wolf with Chicken Little on this first day of the United Nations Conference on Climate Change which has just commenced in Paris.
A spokesman from the IPCC stated that they had been disappointed with the performance with the Boy Who Cried Wolf.
"We acknowledge the effort that he has put into spreading climate change alarmism, ho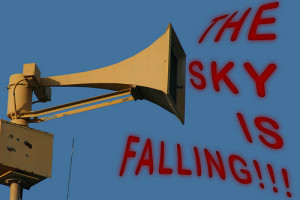 wever, since the climate hasn't warmed for 18 years, people have stopped taking his cries of doom seriously."
The IPCC stated that it was time to try a different approach with its media strategy, and has opted for the appointment of Chicken Little.
"We are quite impressed with Chicken Little's track record. She has managed to convince countless numbers that the sky is falling, and that is exactly the kind of experience and powers of persuasion we are looking for.
Furthermore, we are impressed that Chicken Little has recruited so many into the environmental cause with absolutely no evidence at all except for her shrill cries.
When asked how she knows the sky is falling, Chicken Little's message is: "I saw it with my own eyes, heard it with my own ears, and a part of it fell on my head."
"If anyone is up to convincing people of the world's impending doom, it will be Chicken Little" the IPCC spokesperson said.
Photo by KAZVorpal