The long suffering residents of the city of light are still not free from violent extremists, as activists descend on central Paris ahead of this week's climate change talks.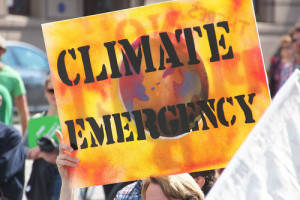 A group of earth loving, and peace loving, compassionate types, had to be moved on with tear gas and riot gear yesterday in Paris. Described as "far left activists," the protesters, who are apparently upset about the weather, pelted French police with bottles and other objects, including candles taken from streetside memorials that were left in tribute to real and actual victims of the real and actual threat of Islamic terrorism.
With their faces covered by scarves and wearing black hoods, the protesters eerily resembled the cowards of Islamic State, admittedly without the automatic weapons and grenades (at least on this occasion). In addition to the climate, the ferals were also said to be angry about Capitalism – except, we assume, that part of the Capitalist system that ensures other people pay taxes so they can continue to live on welfare.
Source: Paris riot police clash with activists
Photo by John Englart (Takver)