Yesterday was Ernie Day, a time to celebrate the annual flagellation of uppity males who have yet not bowed to – and in some cases, who have openly attacked – the self-righteousness of that great oxymoron, feminist thought.
Who won? Who cares. Here at the XYZ, we prefer to mark Dworkin Day, which, as the name suggests, documents the worst of the words of those hateful harridans who think it's their cunt-given right to befoul the internet with virulent attacks on men, masculinity and related topics and people.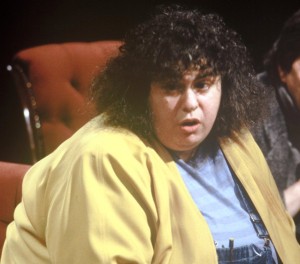 Why choose to name the awards after Andrea Dworkin when there are so many other vituperative, irrational feminists to choose from, you ask. Simple. She fits the stereotype we need perfectly: a fat, ugly, angry, "rad-fem" lezzo who's dead and so can't sue us.
Sadly, while the Ernies focus only on filthy Australian males in the past 12 months, we've had to Logie in some special overseas guests because our homegrown harpies are limited in both number and variations on their few favourite themes. Further, as this is the first time the 'Dworkin' has been awarded, we've decided to stretch out the timeline to include all of 2014/15 so we could get a few more token 'cunt' references in.
The nominations for the inaugural 2014/15 Dworkin Award are:
Clementine Ford (10 November 2014), for rehashing a line that had been around since at least 2009 before she updated it with the phony concern-trolling for Islamic reffos who don't give a toss about her first-world womanly worries.
"I'd call Scott Morrison a cunt but we all know he lacks both the depth and warmth. And the ability to deliver humans into safety, obviously."
Clementine Ford (May 2014, quoted in August 2015), for tweeting and deleting that conservative News Corp columnist (she did write for the Green-Left Morning Herald for many years, but people have short memories) Miranda Devine was a "fucking cunt".
"Ford, who was a columnist in Adelaide with News Corp's Sunday Mail, tweeted in May 2014 that she remembered why she had called Miranda Devine a "fucking cunt" (which [Andrew] Bolt said revealed Ford's "internalised misogyny"). The tweet, which appears to now be deleted, was in response to Devine penning a column on the rugby league entitled "NRL bosses are totally gay" (The post was not homophobic, as "gay" does not mean homosexual, Devine wrote, but "dumb or stupid")."
Clementine Ford (June 2014), in a remarkably self-unaware comment attacking someone else's appearance because he managed to be much funnier and creative in his insults.
"Tim "I'm a gigantic cunt with a face like a weasel's arse" Blair is running a poll on his News Ltd bog to find Australia's biggest 'Crazy Queen' aka feminist frightbat. I would really, really like to win this. Please vote for me! If I win, I will make a plaque for myself and everything."
*Editor's note. Poor Clem, despite her pleadings for votes in the 2014 Blair Frightbat poll, came up short by a mere six votes to the bespectacled, bustier and cuntier (at least in 2013 when Gillard got the lardarse from the Labor leadership) Van Badham. In this year's poll, she and the rest of the competition were comprehensively thumped by Human Rights Commissioner Gillian Triggs, who attracted a massive 47.91% of the vote (7,512 to Ford's second-place result of 15.31% or 2,401 votes).
Catherine Deveny (February 5, 2014), for a short, blunt attack on the gay man [editor's note: isn't ANY attack on a gay person homophobic?] who, more than anyone else on the Human Rights Commission, believes Deveny should be allowed to go full-femtard without being hauled before a tribunal or court for insulting or offending someone else.
"Tim Wilson. What a monumental cunt." [Post includes a link to an attack on Wilson's former employer, the much-hated-by-the-Left Institute of Public Affairs.]
Catherine Deveny (quoted in June 2015), for saying the same words that got former Australian batsman and now coach Darren Lehmann suspended for five one-day matches waaay back in 2003.
"I comment that it's irresponsible to post this book as a "favourite" without acknowledging the racist caricaturing within. Deveny's friends turn up. Some point out that the book wasn't considered racist back then. A few agree with me. Deveny weighs in. None of the black cunts I know think it's racist."
Julie Bindel (29 August, 2015), for … well, geez, where do we start? Just read the shit that pours out of the mouth of this "outspoken journalist, tireless radical feminist activist, and political lesbian". (Do note that the original article was removed from the site and is only available thanks to a web archive site. Some feminists must still have standards higher than this gutter-slug's.)
"I would actually put [men] all in some kind of camp where they can all drive around in quad bikes, or bicycles, or white vans. I would give them a choice of vehicles to drive around with, give them no porn, they wouldn't be able to fight – we would have wardens, of course! Women who want to see their sons or male loved ones would be able to go and visit, or take them out like a library book, and then bring them back."
"Tireless"? She's carrying at least two spares. Anyway, next stop: Auschwitz.
Lisa Mayoh [no we'd never heard of her either] (23 September, 2015), for being that nagging "woman, mother and wife" every man wants to get away from and go and get pissed when he's allowed to.
"It's nude girls, it's binge drinking, it's a loss of rational judgment — and it's scary."
Does this sheila have any self-awareness? She's just described the exact situation when a bunch of women are getting ready at a mutual frenemy's place before going out! At least men have the decency to act indecently in public where they can be photographed and filmed and communally shamed.
There can only be one winner from this morass of immorality and unseemliness, however; and nothing disgusts us more than having to announce that one of Australia's foremost misogynists has turned against the brotherhood and taken out the 2015 Dworkin.
Daily Telegraph opinion writer/editor Tim Blair has been ridiculing wacko femmos for so long that he's actually become one. This putrid, simplistic recount (we refuse to quote even a word of it on principle) of 'The Bachelorette' – something Blair is apparently going to be rubbing our noses in for each week the show is broadcast – is nothing more than the bitter ramblings of a middle-aged man with a face for podcasts.
Tim Blair, please stand up, show us yer tits, and accept this Dworkin.