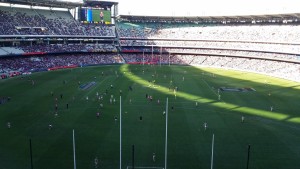 Who will play off in the 2015 AFL Grand Final?
It's getting down to the pointy end of the season now.  18 contenders have been whittled down to 8, then 6, now 4.  The question will be answered in the next 32 hours or so, who will be the final 2?
We could see a throwback to the (VFL) 1970's, when Hawthorn and North Melbourne played off in 3 Grand Finals. Or AFL history could be made, with the first all Western Australian Grand Final a real possibility, given both WA teams have the home ground advantage this weekend.
Will this reopen the debate about moving the location of the Grand Final away from the MCG?  What will be the deciding factors in the upcoming games?
Over to you.
XYZ.
Sorry, there are no polls available at the moment.