From MacroBusiness.
Australia is on the verge of an historic housing shortage and homelessness calamity.
According to the latest federal budget, Australia's population will grow by a record 2.18 million people over the five years to 2026-27, driven by a record net overseas migration of 1.5 million people.
This population surge is expected to occur at the same time that the actual number of new dwellings completed in Australia is decreasing, as shown in the following chart: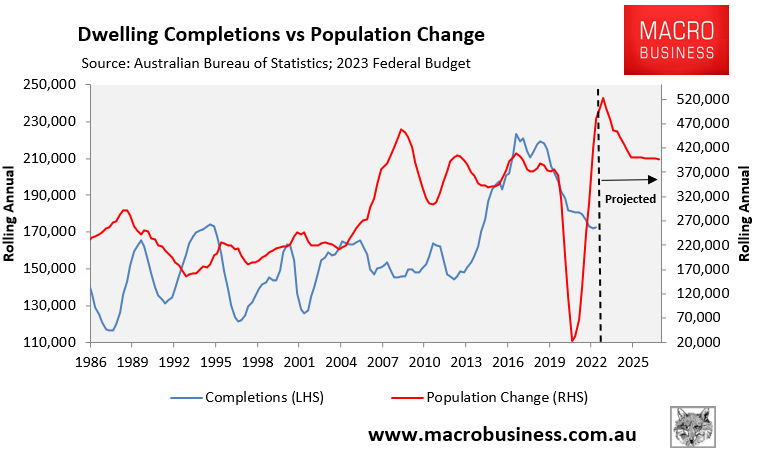 All of the forward-looking indicators for housing construction have collapsed: new home sales, dwelling approvals, and loans for construction.
Treasury Secretary Steven Kennedy told this month's Senate Estimates Committee that the decline in housing construction will last until 2025, with investment in new dwellings forecast to fall by 2.5% this year, 3.5% in 2023-24, and 1.5% in 2024-25.
Meanwhile, Australia's home builders have dropped like flies into insolvency, crushed by soaring materials costs and rising interest rates.
Thousands of home building companies have collapsed in the past 18 months.
These range from small players to industry stalwarts like Porter Davis Homes, which left 1700 homes under construction across Victoria and Queensland.
In the past week alone, 35-year Melbourne-based builder Red Bluff Homes and Sydney building company Ellingsworth Homes both went into administration.
As reported in The AFR on Monday, 2032 companies in construction appointed administrators in the year to May, which is the highest number on record.
It is estimated that builders responsible for more than 5200 homes worth a total of $2.2 billion have gone bankrupt since 2021.
The widespread company failures mean there are now fewer builders remaining to meet the country's housing needs amid unprecedented immigration demand.
Last week, Domain estimated that Australia needs to supply 500,000 additional homes over the four years to 2025-26 to keep pace with the record projected net overseas migration: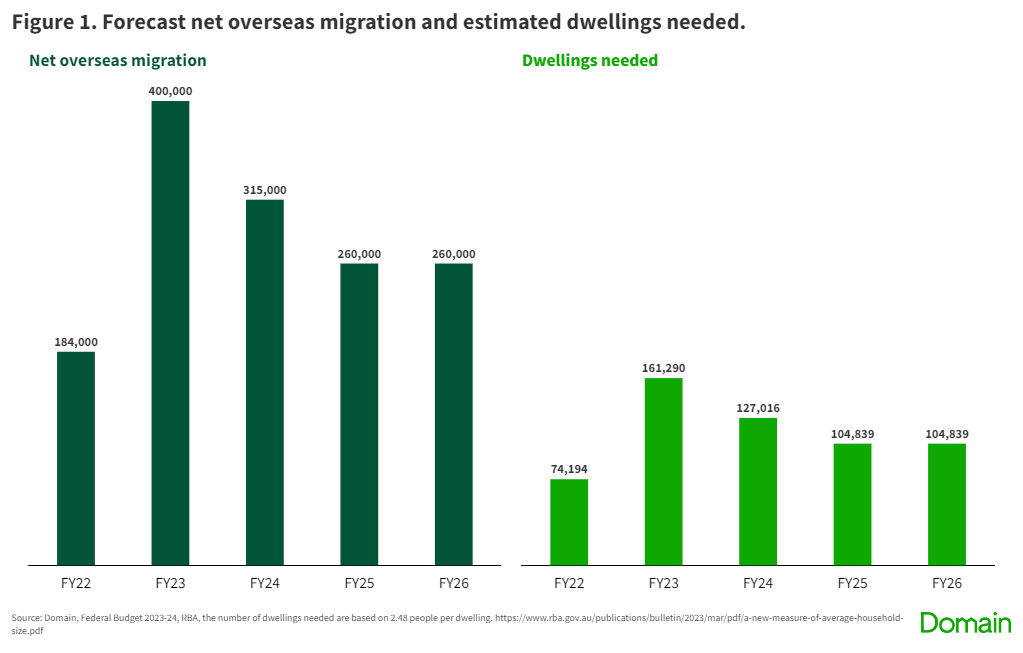 Put another way, Australia will need to supply 341 additional homes every day for four years.
That is an impossible task under the very best housing conditions, let alone the situation we face currently with rising materials costs, rising interest rates, and record home builder insolvencies.
As a result, Australia's housing crisis will intensify, forcing up rents and pushing more people into homelessness.
Running such an extreme immigration program in the midst of a housing crisis is policy insanity.
From MacroBusiness.