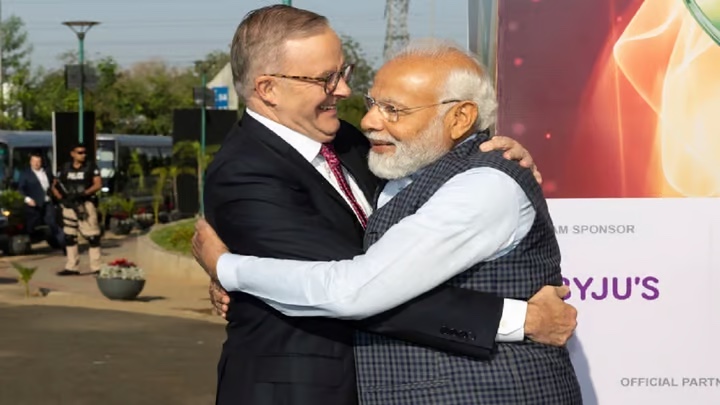 From Macrobusiness.
Leith van Onselen
Last week, Australian Prime Minister Anthony Albanese and Indian counterpart Narendra Modi signed the Australia-India Migration and Mobility Partnership Agreement, which aims to make it easier for students, academics and professionals to live, study and work in each other's countries.
"This Arrangement will promote the exchange of students, graduates, researchers and business people; expand our people-to-people ties and enhance cooperation in preventing people smuggling", Albanese said in the joint statement.
So far, I have been unable to obtain a copy of the Agreement online.
However, according to two media reports – from The AFR and SBS News – the Agreement includes the following provisions:
Five year student visas, with no caps on the numbers of Indians that can study in Australia.
From 1 July this year, Indian graduates of Australian tertiary institutions on a student visa can apply to work without visa sponsorship for up to eight years.
The Mobility Arrangement for Talented Early Professionals Scheme allows 3000 of India's top graduates and early career professionals to work and stay in Australia for up to two years. They can apply for a permanent skilled visa, and spouses will have unlimited work rights.
Three-month visitor visas available to Indians for family or business purposes (no caps on numbers).
The first two provisions are obviously the most significant and will have the largest impact on student (migrant) numbers.
The carrot of five year student visas followed by automatic eight year graduate employment visas is incredibly enticing and will very likely see many more thousands of Indian students seek to live and work in Australia.
This new migration agreement comes on top of the recently signed Mechanism for Mutual Recognition of Qualifications, which requires Australia to recognise Indian vocational and university graduates to be "holding the comparable AQF qualification for the purposes of admission to higher education".
It also requires Australia to recognise Indian vocational and university graduates to "to be holding comparable Australian qualifications for the purposes of general employment, where such qualifications are required".
India is awash with ghost colleges selling fake credentials, and there is a high likelihood that some students will find their way to Australia.
Several media reports have also emerged recently warning of massive visa fraud and scams targeting Indian students migrating to Australia for jobs and residency.
Because of the upsurge in non-genuine students, at least seven Australian universities have banned or restricted students from specific Indian states.
The system has been labelled a "ponzi scheme" and a "race to the bottom" by Phil Honeywood, CEO of the International Education Association of Australia, the industry's principal lobbyist.
Honeywood is now lobbying for increased regulation of education agencies and students to ensure that only genuine applicants arrive.
So, despite damning reports of visa scams and rorting involving Indian students and graduates, Prime Minister Anthony Albanese has carelessly signed migration accords with India that will ensure the floodgates remain wide open.
As a result, young Australians will be priced out of rental homes and jobs by Indians willing to work for lower wages, while capital city infrastructure will strain under the load of thousands more people.
For all the claims made by Home Affairs Minister Clare O'Neil that Labor is not delivering a "Big Australia", Anthony Albanese's open borders migration pacts with India sure sing a different tune.
These agreements will augment already record-breaking levels of immigration, with worrying implications for the jobs and housing markets.
From Macrobusiness.