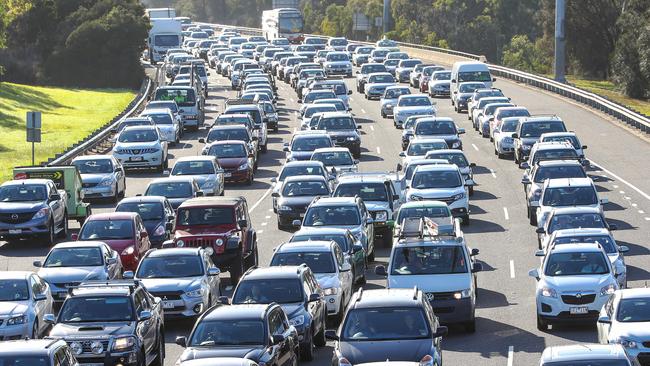 The use of the term 'lucky country' to describe Australia, was first coined by Donald Horne in 1964, and far from the compliment it is interpreted as today, was in fact intended as a term of reproach. He argued that our prosperity was based on the sheer 'luck' of abundant resources, a democratic form of government inherited from the colonising power, and a continuing influx of migrants, rather than any form of innovation or excellence. And he was right.
However, that's where the luck ended. Blessed with more natural resources than almost anywhere else on earth, our mining sector alone has created unimaginable wealth, yet we have virtually nothing to show for it. Instead, we have crumbling roads and infrastructure, health and welfare systems in crisis and a trillion-dollar debt.
Yet, so great has this wealth been, that if only 10% of it had ever been responsibly managed, we would have the greatest infrastructure in the world. State of the art highways and high-speed rail systems would connect every major city in the country. Cities like Bendigo would be a 40-minute commute to the Melbourne CBD, allowing those who work there access to affordable housing and country lifestyles, while freeing the gridlock of Melbourne traffic, and also allowing Bendigo locals the freedom to jump on a train, catch dinner and a show, or a football game in Melbourne, before arriving back home in plenty of time to get enough sleep, before going to work the next day.
But far from ever seeing such commonsense ideas become reality, our money continues to be frittered away on such things as useless 'green schemes', compensation to endless victims of the government's selective choosing, billions in court cases for illegal arrivals trying to thwart our immigration laws, overseas aid, and political bickering like the $1.7 billion Victoria wasted on a road they never got, simply because it was the opposing party's initiative.
Our governments throw the terms million, billion and trillion around so complacently, that the average Australian has stopped even questioning it. They never ask for itemisation of how exactly those in charge arrive at their costings. We drive down the highway and see a sign that says "Such and Such Bypass. Total Cost $350 million. Your taxes and registration fees at work". But how much does it actually really cost to build that 2 kilometres of road? Well, the truth is, you probably have no idea. And that's exactly what our 'snouts in the trough' and their corporate and union mates whose palms are being 'crossed with silver' are banking on. They can put any figure they like, and the average person has zero clue how much it costs to build a road, or how long it should take to accomplish it.
But here's an example that may bring it into perspective a little, using something you may have an idea about when it comes to what it should cost. And please factor allowances into this for the huge rise in inflation we have seen over the past 9 years.
How many of you have a swimming pool, or know someone with a swimming pool?
In 2014/15, a new aquatic centre was being built in the Bendigo suburb of Kangaroo Flat. The original design included a 25-metre swimming pool, however, the local population decided they weren't happy with that and wanted a full-size pool. A reasonable request, it could be argued. "Well, okay" said the council, "but it's going to cost an extra $4 million".
Now, how many of you have or know someone with a swimming pool that cost $4 million? I'm guessing not many. And there is a good reason for that. It's because swimming pools don't cost $4 million dollars, much less HALF A SWIMMING POOL, and much less again, half a swimming pool 9 years ago! In fact, had the council had to purchase the land next door in order to fit it in, it still couldn't have justified even half the cost of that figure.
Likewise, that 2 kilometres of road should probably have been built for a fraction of the cost, and in 2 months rather than 2 years. Anyone driving past the work site regularly quickly realises they rarely ever see anyone actually working, and a bobcat drilling a hole with seven workers standing around it watching is a common site, leaving them wondering how the project even eventually got finished.
I had a retired 80 plus year old contractor walk in to our shop one day, who chatted about his previous work while awaiting his order. He had worked on the West Gate Bridge construction, and other CBD projects. That is, until he was confronted by union thugs for finishing projects too quickly, and very plainly told "you do know people have accidents off the top of these buildings, don't you?" After that he refused to work on projects in the CBD.
I asked if he would now come forward with what he knew, but he just responded "mate, I've got family, children, and grandchildren".
So, until Australians are finally prepared to say "enough", band together and do whatever it takes, they will have no choice but to accept that when it comes to the building of anything, (or not building, in the case of the East West Link), fanciful figures are going to be tossed around at will, all at the expense of the taxpayers who have become so disheartened by everything, they just feel grateful they are bloody getting something regardless of the cost. But the truth is, they are just cash cows for the government elites, who occasionally get thrown a few scraps from their masters' tables. And while even the scraps are pretty tasty in a place like Australia, they should be much, much bigger.
Subscribe to XYZ on Telegram, Bitchute, Twitter and Gab.