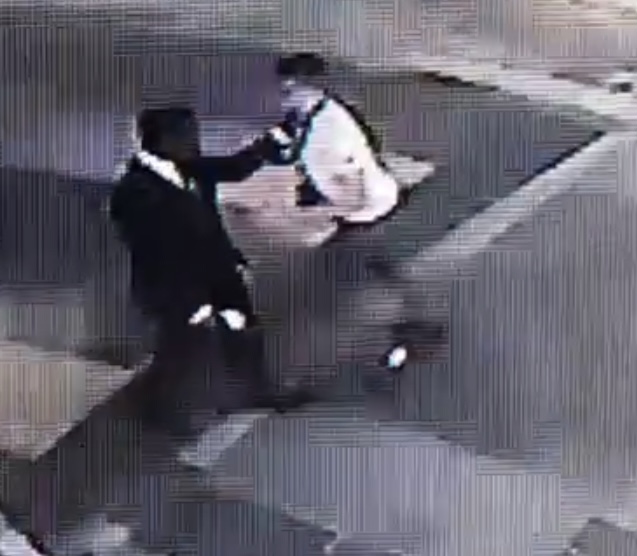 EAM leader Thomas Sewell appeared at the Melbourne Magistrates Court yesterday on charges related to an incident outside the Channel 9 office in Docklands, Melbourne in March 2021.
Thomas Sewell and Jacob Hersant had gone to the Channel 9 office after repeatedly attempting to contact Channel 9 regarding a hitpiece planned for the evening of the incident. They were denied an interview and removed from the building.
In publicly available footage of the incident released by Sewell and replayed hundreds of times by mainstream media:
Once outside, the guard appears to start dancing for no reason.
Sewell says "so now he's acting like a monkey" once, while cameraman Jacob Hersant can be heard saying "dance monkey, dance" once.
The security guard responds with "watch yourself bro, I'm not a dance monkey."
Hersant can be heard saying "don't you ——ing touch me" as he is allegedly assaulted by the security guard.
Sewell steps in to defend Hersant.
No music can be heard in the video.
Sewell cannot be seen holding any audio device, while Hersant is presumably focused on filming
In testimony given by the security guard yesterday, he claimed:
"Both men did refer to 'oh the monkey is dancing, the dance monkey'.
"I said 'there's no need for any racial slurs' and then I hand gestured that I would appreciate if you would stop, I'm not a monkey, I don't appreciate the racial slurs, I never disrespected the both of you."
Fantastically, the security guard also:
"..alleged Sewell started playing the Tones and I song Dance Monkey and said 'the monkey is dancing' to the guard."
This song.
No witnesses have so far been able to corroborate this claim.
The defence challenged the security guard, who at times appeared visibly agitated, putting it to him that he imagined the music and spoke far less politely. The defence also put it to the guard that he in fact throat punched Hersant.
Footage made public only last week, just before the trial, appears to show the guard grabbing Hersant by the neck and forcing him back before Sewell intervenes.
CCTV footage from Channel 9's Melbourne office clearly shows Jacob Hersant being grabbed/punched in the throat before Thomas Sewell lawfully intervenes.

Why has it taken so long for this footage to be made public? pic.twitter.com/YIDcL4ugQZ

— XYZ (@itsyourxyz) December 7, 2022
CCTV footage from Channel 9's Melbourne office clearly shows an unlicensed security guard grabbing Jacob Hersant by the neck before Thomas Sewell lawfully defends him.

Why has it taken so long for this footage to appear? pic.twitter.com/rhOnqmzcET

— XYZ (@itsyourxyz) December 7, 2022
As far as XYZ News is aware, no mainstream media outlets have published this footage despite it being publicly available and easily accessible.
On several occasions, online viewers of the trial were asked to show their face on camera and remove any items hiding their features. There is concern that at least one of the online viewers could have been a member of extreme-left terrorist group Antifa, a group who posted a previous hearing to Facebook in order to dox nationalists, without consequence.
Finally it should be noted that this is how the dirty game of politics generally plays out in our broken system. Thomas Sewell is a fearless advocate for White people, pointing out that we are being deliberately replaced by our own governments through mass immigration and forced multiculturalism.
In response to his establishment of a grassroots movement for White people, the government and Lying Press have characterised Sewell and the EAM as a terrorist organisation. Several incidents have been engineered by security agencies, the Lying Press and Antifa terrorists which have forced Sewell to defend himself in court. The system's strategy is one of lawfare, bogging down White advocates in endless process-as-punishment and drowning out our message to White people to wake up.
Meanwhile, Australians are still being steadily replaced, and multicultural and miscegenation propaganda is relentless.
However, the system has no answer to men who will never stop, no matter the cost.
Subscribe to XYZ on Telegram, Bitchute, Twitter and Gab.