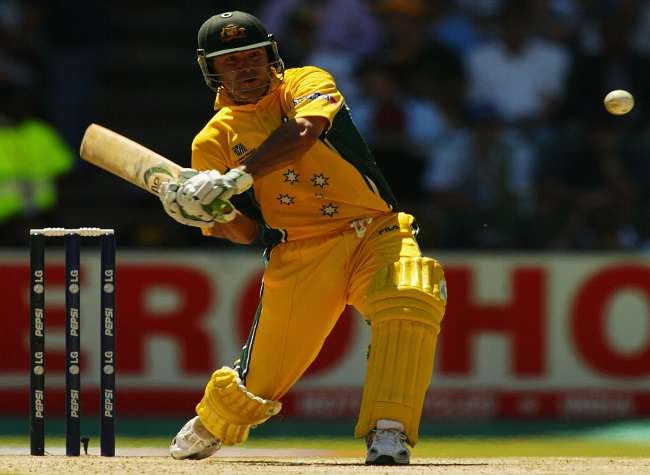 The T-Virus took Shane Warne from us earlier this year. On Friday it nearly stole the captain of one of Australia's greatest cricket sides, with Ricky Ponting being rushed to Perth Hospital with chest pains:
Ricky Ponting has revealed short, sharp pains in his chest led to him being taken to hospital before getting the all-clear to return to Perth Stadium for commentary 18 hours later.
Ponting was a welcome figure back at Perth's main stadium on Saturday morning, after sending a scare through the cricket fraternity late during Friday's play.
After feeling discomfort during his stint and light-headed after it, Ponting raised his concerns with colleague and former teammate Justin Langer before he was taken straight to hospital.
This proves conclusively that so-called "barefoot circles" have no effect whatsoever in curbing the effect of the T-Virus.
Cuck Aussie Cricketers to take the knee and suck black cock at WACCA
"I was sitting in the comms box halfway through the stint and got a couple of really short and sharp pains to my chest," Ponting recalled on Seven.
"I tried to stretch it out and get rid of it, and probably didn't want to give too much away when I was on air.
"I had a couple of those incidents, got through the stint, got up and went to walk to the back of the commentary box and got light-headed and dizzy and grabbed the bench.
"I mentioned to JL on the way out, who was commentating with me, that I had had these pains in my chest.
"[Executive producer] Chris Jones heard me and just reacted straight away and got me out of there 10 or 15 minutes later."
Ponting said he had a "relaxing" afternoon in hospital and a good sleep, and was returning "all shiny and new" on Saturday morning.
But the 47-year-old Test great said he had been put on high alert after a horror year in Australian cricket, with Shane Warne and Rod Marsh dying from shock heart attacks and Ryan Campbell also placed into an induced coma.
The effects of the notvaccine have caused havoc in the sporting world, with deaths and near misses among Australian sportballers mounting:
Rod Marsh, 74, heart attack, died.
Shane Warne, 52, heart attack, died.
Matthew Lloyd, 44, Bell's Palsy, lived.
Ryan Campbell, 50, heart attack, lived.
Hayden Crozier, 28, myocarditis, lived.
Ollie Wines, 27, Myocarditis, lived.
Peter Matera, 53, heart attack, lived.
Jason Januszke, 43, heart attack, died.
Justin Crawford, 45, heart attack, died.
Todd Woodbridge, 51, heart attack, lived.
Ricky Ponting, 47, myocarditis, lived.
Celebrities have been merely the most visible victims of a scourge which has struck the whole of society, with the death rate up and the birth rate plummeting.
XYZ News has gained exclusive footage of the treatment Ricky Ponting received to curb the effects of the T-Virus deep in the underground bowels of Perth Hospital.
Sadly, the T-Virus turned Ricky Ponting into a homicidal mutant and everybody died. The situation was finally brought under control when ASIO sent in a naked female assassin to kill him with her psychic abilities.
To the best of our knowledge, the Ricky Ponting who returned to Perth Stadium apparently alive and well is a clone.
It's your XYZ.
Subscribe to XYZ on Telegram, Bitchute, Twitter and Gab.