I don't really care, but either the knives are out for Victoria's CHO Brett Sutton, or he is being used as a proxy to maintain pressure on premier Daniel Andrews, who is getting slammed over a series of corruption scandals and mass resignations.
Basically, Sutton disappeared for a while, the media noticed, so they wheeled him back out, and the media noticed that he looked a little too comfortable: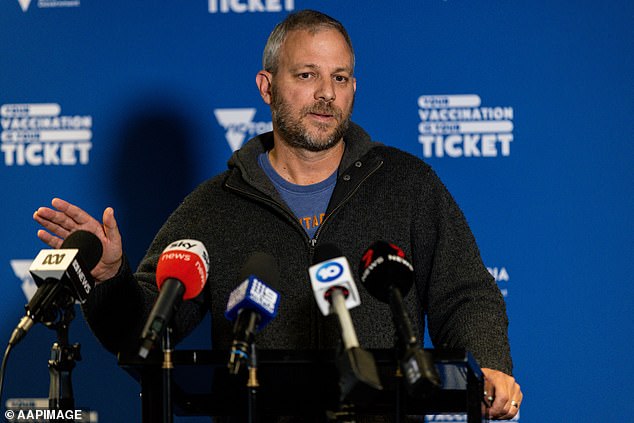 He's been on the chips and chocolate.
Victoria's Covid chief Brett Sutton has suddenly emerged just days after Victorian Premier Dan Andrews batted away accusations he was hiding the top doctor.
Prof Sutton became a Victorian stalwart during the Covid pandemic and starred almost daily at the premier's press conferences.
However, he has from time to time said things that reportedly didn't please the government, such as letting slip to 3AW's Neil Mitchell in September 2020 that a Covid curfew wasn't his idea.
He also said pub patrons could only drink alcohol through their masks, revealed that the vaccinated were dying with Covid, and admitted that the lockdowns were a realtime experiment to monitor the effectiveness of Covid Tyranny, and that if ordinary people did not enforce the mandates themselves, they would be unworkable.
Mitchell noted that it been literally radio silence from the not-normally microphone-shy Prof Sutton ever since.
'Why hasn't he spoken to me for two years?' Mitchell told Daily Mail Australia.
'Because the last time he spoke to me he was too honest and he embarrassed the government.
'I know he would like to talk to me, I know he's willing to talk to me, the government won't let him.
'We're in a bloody pandemic and people trust him. He knows he's got to get a message out but they won't let him.
'He should stand up for himself. He should insist.'
At a press conference last week, reporters asked Mr Andrews why requests to interview Prof Sutton were continually knocked back.
3AW's Dennis O'Kane said both the health department and the premier's media team had repeatedly blocked requests to talk to Prof Sutton.
'That's a matter for him – I'm not his press secretary, Dennis,' Mr Andrews said.
'He's perfectly capable of answering your questions and playing his role … he has quite a bit on.'
Top rating morning talk show host Mitchell called Andrews' response 'a load of nonsense'.
'I have no doubt he has been gagged by the government,' Mitchell said.
'We go to the Department of Health, others go to the Department of Health, and get an answer from the Premier's Department.
'They are controlling him. There is no question. They are restricting his access, because he can be embarrassing to government, and that is a bloody outrage. But what's new?'
Neil Mitchell reads XYZ News, confirmed.
Research conducted for The Australian by media monitoring service Streem showed Prof Sutton's media appearances had dried up to about 15 per cent of what they were a year ago.
In 2022, he has had just 250 media mentions a month compared to nearly 1800 mentions during last August alone.
Following Mr Andrews' testy exchange with the press, Prof Sutton suddenly re-emerged on the media scene last Friday.
He rang the 3AW newsroom in the morning to offer quotes and made himself available for interview to 3AW drive host Tom Elliott and ABC morning presenter Raf Epstein.
Then, with less than half an hour's notice, journalists were sent an urgent media alert to attend a 4.15pm media conference with the professor.
Journalists hot-footed it to find a very casual Prof Sutton, whiskery beyond his normal designer stubble, and dressed in a T-shirt and grey furry jacket, all of which gave the impression of someone suddenly summoned from the home sofa.
They're fat shaming him…
During the interview with Elliot, Prof Sutton denied he had previously been 'gagged' or suddenly told he had to front the media.
'I don't turn down (interview) invitations that come through to me,' Prof Sutton said, leaving open the question as to who the gate-keepers were from contacting him.
Mitchell, who did not get offered an interview with Prof Sutton, was less than impressed.
'I believe he has been in a form of witness protection for some time: he has witnessed things and the government wants to protect itself,' he told The Australian.
'What happened on Friday was a veritable festival of Brett, after months of official stonewalling. It had the smell of a government panicking.'
This confirms XYZ News' analysis that Brett Sutton has been a stooge from the word go. He was installed just before the "pandemic" kicked off and his "wife" is high up in the World Health Organisation.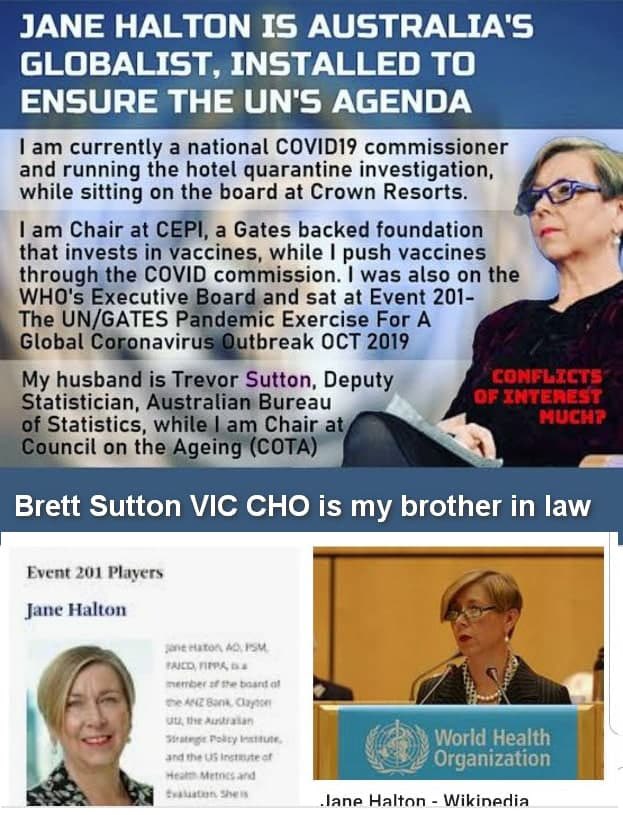 Sutton channeled the vibe of the entire white collar workforce during lockdown, practically phoning it in as he slumped, eyes glazed, in rambling press conferences.
His role, as with all so-called "Chief Health Officers" was to justify Covid Tyranny with the facade of medical necessity. Premiers would dictate totalitarian measures and harsh fines and sentences for ridiculous infractions, then state they were merely following the advice of the CHO and health "experts".
In reality the premiers were following the orders of the WEF and WHO and presenting the "CHO" as a frontman. Sutton was never a convincing public speaker because he understood this and did not have the ego nor the psychopathy to make it sound like he really meant it.
This attention from the mainstream Lying Press is encouraging, as it means that some of those responsible for the hell unleashed on Victoria these past two years could face justice. Andrews will eventually throw Sutton to the wolves, hoping it will save his own skin.
Subscribe to XYZ on Telegram, Bitchute, Patreon, Twitter and Gab.