I swear somebody at the Daily Mail reads XYZ News and is stealing our headlines: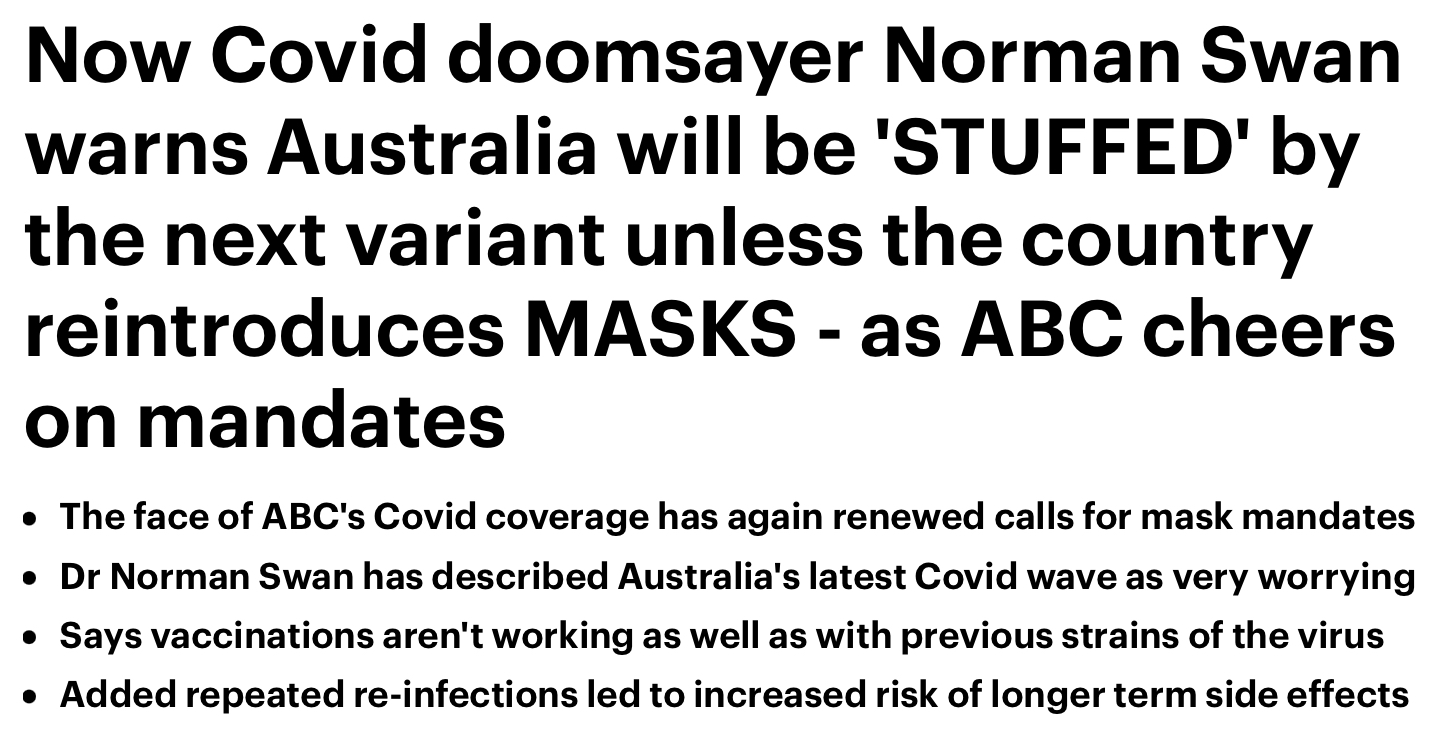 Soon they'll be referring to the ABC as the Lying Press and pointing out that it skews Australian media to the far left at the cost of $1 billion annually to the taxpayer:
Australia could be 'stuffed' when the next Covid-19 variant arrives on our shores unless mask mandates are brought back in, ABC presenter Dr Norman Swan warned.
Dr Swan renewed calls for the return of masks in indoor settings on Monday as the highly infectious and 'immune evasive' Omicron strains BA4 and BA.5 run rampant.
"Settings" is newspeak. They could simply write "indoors". Soon doors will have pronouns, probably.
State and territory leaders convened an urgent national cabinet meeting on Saturday after federal health minister Mark Butler warned to expect 'millions' of cases in the coming months.
Dr Swan described the latest wave of the 'immune evasive' sub-variants was very worrying.
The accredited medical doctor said vaccines aren't working as well as they used to as he called for improved ventilation measures and mandatory indoor masks.
Dr Swan told ABC's Radio National Breakfast: 'We probably do need to mandate masks and N95s in high risk environments, otherwise when the next variant comes along and it's more virulent than this one – in other words more likely to kill you or make you seriously ill – we'll be stuffed.'
Dr Swan said governments had a responsibility reinstate mask rules, and insisted vaccines alone weren't enough to protect the population.
I hope they lock us down. I loved the lockdowns because it meant I didn't have to see anybody, which meant I didn't have to listen to people talk all the time. Except then people would call me up and complain how they hate lockdowns, so I just pretended to listen and played computer games on my phone. Anyway, he's not the only one pushing a return to podlife:
Victoria's top public health official pressed for a return to working from home as the state entered its third COVID winter.
The most recent advice of Acting Chief Health Officer Ben Cowie published overnight by the Victorian government strongly recommended that where practical, employers and universities should facilitate remote work and study until the end of August.
The proposed return to a cornerstone of our earlier pandemic response, combined with Professor Cowie's recommendation for masks to be required in public indoor settings such as schools, early learning, shops and bars, clubs and restaurants, would have represented a wholesale shift in our approach towards COVID.
Ugh. "Settings" again. What we're seeing here is an attempt to manufacture consensus that a return to Covid Tyranny is needed. The fact that the Australian government will likely have to throw out around 140 million not-vaccines should tell you that Aussies simply are not buying it anymore. They can't even give that crap away. However, this doesn't mean they won't try it. The fact that something is completely crazy and unworkable has no bearing whatsoever on public policy decision making in the current year.
The Cowie advice, provided to newly sworn Health Minister Mary-Anne Thomas 12 days ago, advocated for current mask mandates to be substantially broadened as part of an urgent strengthening of our public health response before the present wave of infections built to threatening levels.
At the time the advice was provided in written form and verbally at a meeting between the Minister, the Acting CHO, Acting Health Secretary Katherine Whetton and her Acting Deputy Secretary Ryan Heath, there were 592 COVID cases in hospital. By the time the advice was published on Tuesday night, there were 897.
Again we're seeing the same sleight of hand used by government and the Lying Press to make the numbers appear worse than they are. They're warning of "millions" of cases and implying that heaps of people will die, but it's basically the same as any flu season. It's really cold at the moment: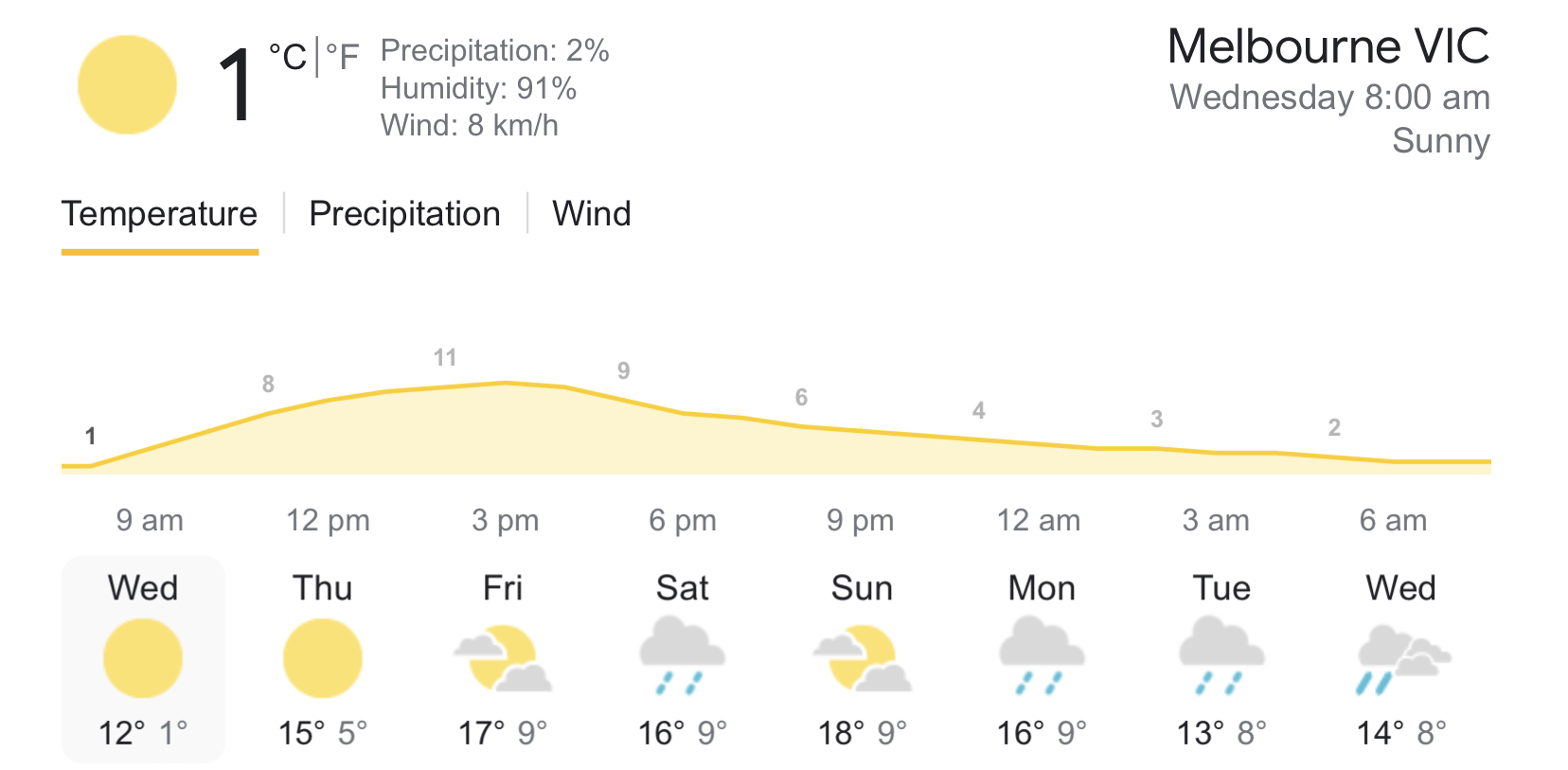 So people are going to get sick. In the first segment of this week's Racer's War On Everything, they covered the fact that Covid is back on the front pages. Nolzy pointed out that it is entirely possible that the "592/897 Covid cases in hospital" figure could include people who turned up to hospital for any reason and subsequently tested positive to Covid.
(I will be livestreaming with them again this evening at 9:00 pm AEST. Fenian and I are likely to debate what the government wants to do with all the gulags again. I remain convinced they intend to ship 6 million jews out to Mickleham on cattle cars so they can gas them in shower blocks with wooden doors which open from the inside.)
The really concerning datapoints indicate that the death rate is spiking while birthrates are declining precipitously, and evidence indicates that this is due to the not-vaccines, not Covid. As for the strain on Australia's health system, it results from several factors:
Covid (if it even exists)
Flu
The not-vaccines are basically AIDS (mind you, the original "AIDS" from the 1980's was a hoax, but the AIDS from the not-vaccines is real)
Staff shortages due to isolation rules
Vaccine mandates which still prevent 6000 doctors and nurses from working
Melbourne: yesterday a brave nurse spoke on behalf of the 6000 nurses in Victoria who are still mandated.

'Those are the critical thinkers who stood up for you like myself, who advocated for you who stood by you'

The fight is not over until all are free from these mandates. pic.twitter.com/6UqEMAkvu4

— Kat A 🌸🐭🚜 (@SaiKate108) June 19, 2022
More people are getting sick and less people are available to work. We can solve this problem by importing millions of nurses from the Phillipines and brain surgeons from Nigeria. Australia must become multicultural. Jews will play a leading role in this transformation and they will be criticised for this. However, without mass immigration Australia will not survive.
Subscribe to XYZ on Telegram, Bitchute, Patreon, Twitter and Gab.