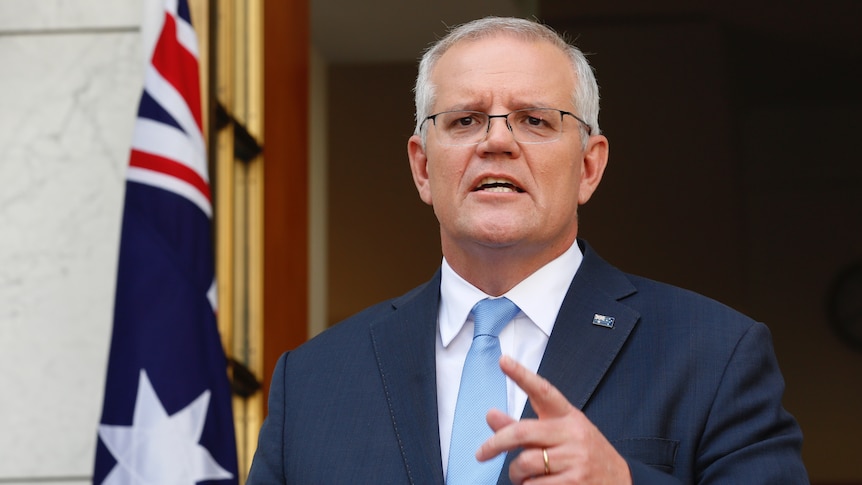 The horribly disfigured Callum Mouncey has chucked a spastic at the PM because he made comments calculated to appear mildly supportive of banning the horribly disfigured from playing women's sport:
Transgender [sic] footballer Hannah [sic] Mouncey has issued a scathing attack at Prime Minister Scott Morrison for backing calls to ban transgender women from competing in female sports.
The 32-year-old Australian rules football player says it shouldn't be an issue if transgender athletes have qualified for the Olympics.
"Scott Morrison has never cared about women before, why is he caring now?" she said, according to The Daily Telegraph.
"Of all the concerns women have and are passionate about, this is not one of them.
"I am exhausted… if it's good enough for the Olympics that we play, it should be good enough for Scott Morrison.
"We just want to be allowed to play."
Saying you're exhausted is not an argument. It means you're tired of normal people responding to your hysterics with facts and logic.
More to the point, nobody cares. Nobody is interested in women's footy. The only reason people are talking about women's footy is because a man is playing it. This is just desserts to the people who have tried to force women's sport down the throats of an disinterested public. The same Liberalism which fantasises that women's sport should be as popular as men's is the same Liberalism which fantasises that men can be women.
So, whatever.
Ironically, one advocacy group for the horribly disfigured does actually make a coherent argument:
National LGBTIQ+ group Equality Australia also lashed out at the Prime Minister for using the trans debate to score "cheap political points".
"Politicians must learn that there is nothing to be gained by refusing to stand up for LGBTIQ+ people or using debate about our lives to score cheap political points," Equality Australia CEO Anna Brown said.
ScoMo is indeed attempting to score some "cheap political points" without painting himself into a policy corner:
Ms Deves is the co-founder of Save Women's Sport, a group which campaigns for organisations to ban transgender competitors from female sports and promotes the creation of a separate category for transgender athletes to participate in.
"I think I've already conveyed my own personal view on these matters," Mr Morrison told reporters on Monday.
"I think she's raised some important issues."
The Morrison government has not banned the horribly disfigured from playing women's sport, he has just mouth a few easy platitudes. Naturally the degenerate lobby has thrown itself into a fit, which will reassure normie conservatives that the PM is on their side.
But he has not committed to anything:
Mr Morrison did not say, when asked, if he would introduce legislation to ban transgender women from female sports if the government was re-elected.
Instead, he said that if he had more to say about the issue another time then he would deal with it then."
The National Justice Party has reported on the tendency of cuckservative politicians to stymie any attempt to reverse the normalisation of body mutilation and protect children from groomers.
Indeed if Morrison is serious about protecting women and children, he would:
Ban mutilation surgery.
Outlaw homosexuality.
Outlaw abortion, contraception and divorce.
Imprison doctors who have conducted mutilation surgery and child murders, and imprison groomers who have deliberately pushed degenerate ideologies in public, regardless of whether it was to children or adults.
Subscribe to XYZ on Telegram, Bitchute, Patreon, Twitter and Gab.