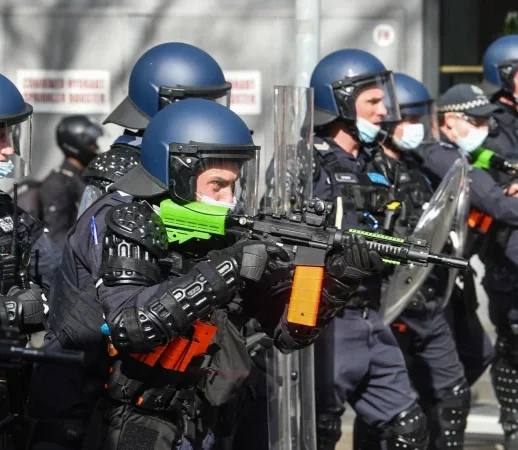 Without the mass influx of hundreds of thousands of immigrants to replace the outflow, the truth finally comes out – everybody is getting the hell out of Melbourne:
Melbourne's population declined by 60,500 people in a single year, more than any other Australian capital city, as international students flew home and some residents left the locked-down city for regional areas.
The Australian Bureau of Statistics on Tuesday released population data for the 2020-21 financial year, which showed greater Melbourne had a 1.2 per cent drop in residents to about 5.1 million people.
Sydney's population also fell, but only by a comparatively modest 5150 people, or 0.1 per cent of its population. The population of both Brisbane and Perth grew by almost 1 per cent.
The biggest drag on Melbourne's population was the loss of international students and working holidaymakers, with 54,367 people moving overseas who were not replaced by new arrivals.
"Those that were here have left and haven't been replaced by new visa-holders," said Brendan Coates, economic policy program director of the Grattan Institute.
Before the pandemic, Melbourne was destined to overtake Sydney as Australia's biggest city by 2026. Federal authorities still expect the Victorian capital to outgrow Sydney, but now predict that to happen in 2029-30, once migration rebounds to 1.9 per cent in 2023-24, according to the most recent population statement.
Somebody should tell these people not to blurt out the plan. Haven's they seen all the movies where the villain undoes all his good work by monologuing?
The truth is very simple. Nobody wants to live in Melbourne anymore.
After Australia destroyed its industrial sector through a combination of environmental insanity, free trade lunacy and union thuggery, the only thing we had left was our reputation as a good place to live. Just like the people smugglers they deride, the Australian government leverages the image of Australia as a wealthy, easygoing paradise to lure immigrants by the hundreds of thousands every year. The purpose is to keep the construction industry building houses and the banks expanding debt in order to give the impression that we still have an economy.
It does not bother them that the medium to long-term result of this policy will be the replacement of the Australian people.
They have turned Australia's cities into violent, overcrowded shitholes. Before Covid, Daniel Andrews' goon squads denied that the foreigners they had imported to keep the economy ticking over were causig any problems. When native Australians protested against Covid Tyranny his goons were suddenly unleashed.
Now the ring of steel is gone, people are voting with their feet. Victorians are getting as far away from Daniel Andrews as possible. They don't care though. They think they can just reopen the borders and reopen the floodgates, and everything will go back to the way it was.
This begs the question though:
What are they going to do when Australia gets so bad that nobody wants to come here anymore?
Subscribe to XYZ on Telegram, Bitchute, Patreon, Twitter and Gab.