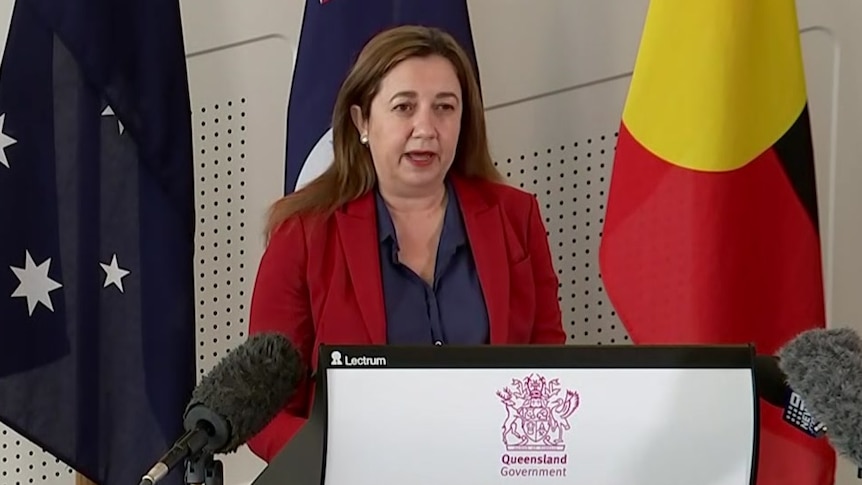 School has become hell for kids in the last two years. Masks and online lessons are the literal definition of child abuse. The kids aren't buying the nonsense either:
Perth Anti VAX Mandate,Pro Choice Rally This is Epic, this little girl has more common sense than most. Long Live Freedom pic.twitter.com/vLOK5eW3Jr

— (@risemelbourne) January 8, 2022
Bet she wishes she was in Queensland:
Queensland has recorded 18,000 new cases of COVID-19, with 4,320 from people self-reporting rapid test results.
Four hundred and two people are in hospital as a result of the virus, including 22 people in ICU, with five on ventilators.
There are now 80,563 active cases of the virus in Queensland.
In the last 24 hours, 37,951 tests were done and Queensland's vaccine coverage is 91.1 per cent for eligible people over the age of 16.
Queensland Premier Annastacia Palaszczuk also announced changes to the return to school date for the state's primary and high school students.
She said projections suggest Queensland would reach the Omicron peak in the last week in January.
Ms Palaszczuk said it was not desirable to have children back at the peak of the Omicron wave and so the government has moved the school year start from January 24 to Monday, February 7.
I know what you're all thinking: Why couldn't something like this happen when I was in school.
However, year 11 and 12 students will start remote learning from January 31.
There will be an extension to the planned end of the school year, with students finishing on December 16, instead of December 9.
Bugger.
That's a terrible decision. Kids learn nothing in the last fortnight of school, everyone knows that. That's definitely a decision made by a bureaucrat with no real world experience. And there are plenty of them.
Even before Covid, school was hell. The curriculum has been steadily degraded over the course of decades. Now impressionable young children are being manipulated into mutilating themselves, with gender dysphoria hysteria running rampant among young girls.
Schools have been turned into recruiting grounds for degenerate Marxists. Any teacher left in employment in this disgusting system is now automatically suspect, given you must be vaccinated in order to teach in Australian schools.
However, lockdowns were a blessing to many parents who got to spend more time with their children. There have been numerous reports of mothers in tears as they described what a joy it was to be forced to spend time at home with their children instead of furthering their office careers. Another mother described how perimeter limits during lockdown forced children to play in the streets with their neighbours, saying she was delighted that they got to experience the kind of childhood she had.
In other words, ordinary people remembered what it was like to have a community for the first time in years. The more the globalists disrupt our lives, and try to make life hell for the unvaccinated in particular, the more parallel institutions will take root. I could not think of a better place to start than homeschooling.
Subscribe to XYZ on Telegram, Bitchute, Patreon, Twitter and Gab.