The awkward moment when the Fake News Media just goes all in on the fake news: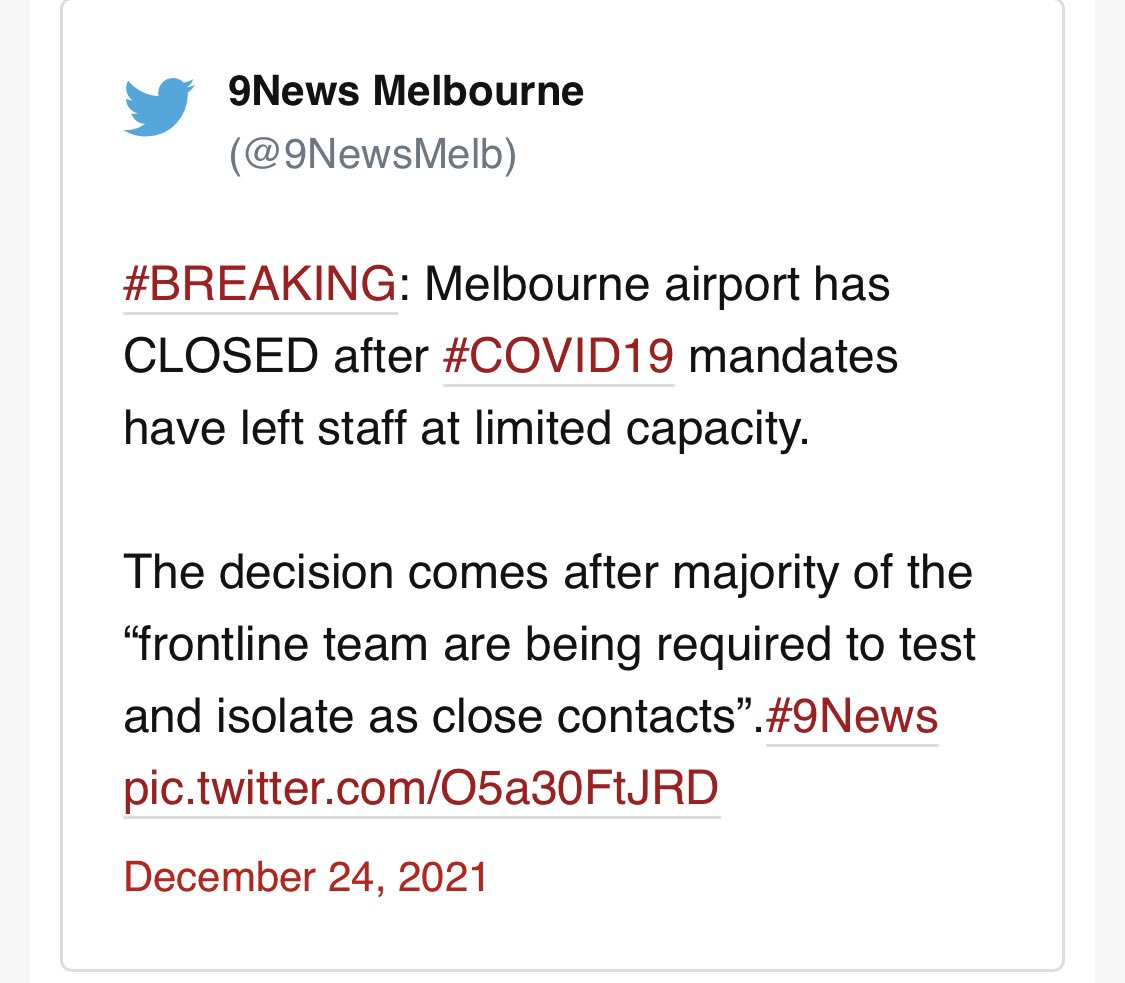 Then tries to act cool:
So Channel 9 just deleted their tweet about Melbourne Airport closing. Had assumed they verified before posting. https://t.co/YNTzoc2Wv2 pic.twitter.com/LRzAlCSgAj

— techAU (@techAU) December 24, 2021
We should probably assume everything Channel 9 publishes is garbage from now on. Melbourne airport has however experienced significant disruption over the last two days:
Victorians looking to spend Christmas interstate are facing uncertainty amid flight disruptions and continued pressure on Melbourne testing services.
You don't say.
Melbourne airport rapid PCR testing basically only place you can get results within a day in Melbourne right now and the line is maybe about 900 people long. Look at the line dawg I am missing Christmas pic.twitter.com/DftcQVGT3Z

— Drew Pavlou (@DrewPavlou) December 21, 2021
The queue at Melbourne airport's paid rapid PCR testing facility. pic.twitter.com/TVwkr6sAA4

— Antoun Issa (@antissa) December 23, 2021
A number of domestic flights departing Melbourne Airport were cancelled at short notice this morning due to crew members being caught up in COVID infections.
With most states requiring a negative PCR test from within 72 hours before arriving, travellers have also had to brave long delays at testing sites in Melbourne.
Adding to the mayhem, Histopath, a paid express COVID PCR testing facility at the Tullamarine airport — a last resort for those hoping to catch their flight — also stopped serving domestic passengers after "unprecedented demand".
The service is now only providing tests for international travellers on the day of departure, advising them to arrive at least four hours before their flight leaves the airport.
Qantas and Jetstar confirmed many of their frontline staff are in isolation, disrupting some Christmas Eve flight services.
As XYZ News has reported, if one degenerate Melburnian can force over 700 people to "self isolate", and the hopelessly inaccurate PCR tests are producing thousands of positive results from people who really really believed that two doses would protect them, then tens or even hundreds of thousands of people must be having their lives disrupted all over the country.
One passenger heading to Queensland from Melbourne said his travel plans were pushed back by a day because of delays getting tested.
"We've had our dramas getting here, especially getting a certificate for Queensland," he said.
"The pathology [took] nearly three days to receive which put us all back one day."
Testing sites continued to be inundated, with long queues forming hours before many facilities opened.
Several testing centres, including those at Albert Park, South Melbourne, Alfred Health, St Vincent's Hospital, Burwood, Keysborough and Dandenong reached capacity shortly after opening this morning.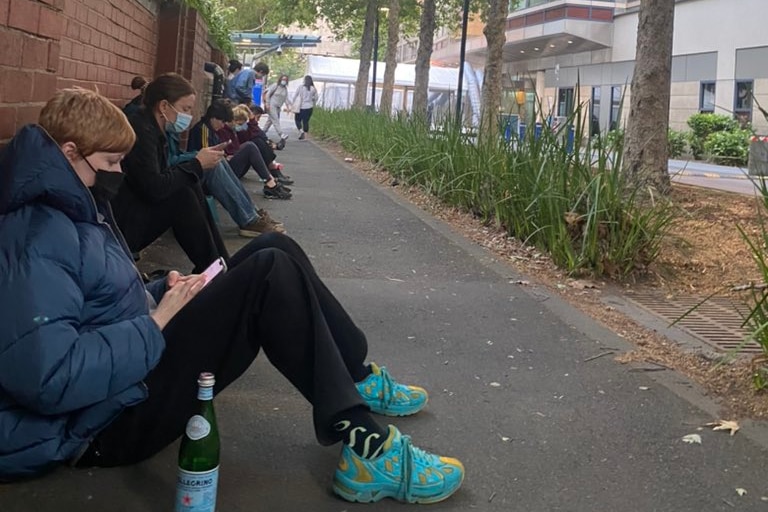 It's around about now that we can consider whether this has occurred due to sheer bureaucratic stupidity or by design. I always err on the side of; both, in equally good measure.
Victoria's testing capacity can probably deal with pretty significant Covid outbreaks (yeah I know, if it even exists). However, when half the friggin state wants to see cousins in Queensland at Christmas (despite many deciding to stay home fearing such disruptions) there was no way the infrastructure was ever going to be able to cope with the demand.
This is what happens when you require everybody who enters your state to have returned a negative Covid test. What did they think would happen?
Apparently this photo was snapped at an Australian airport in recent days.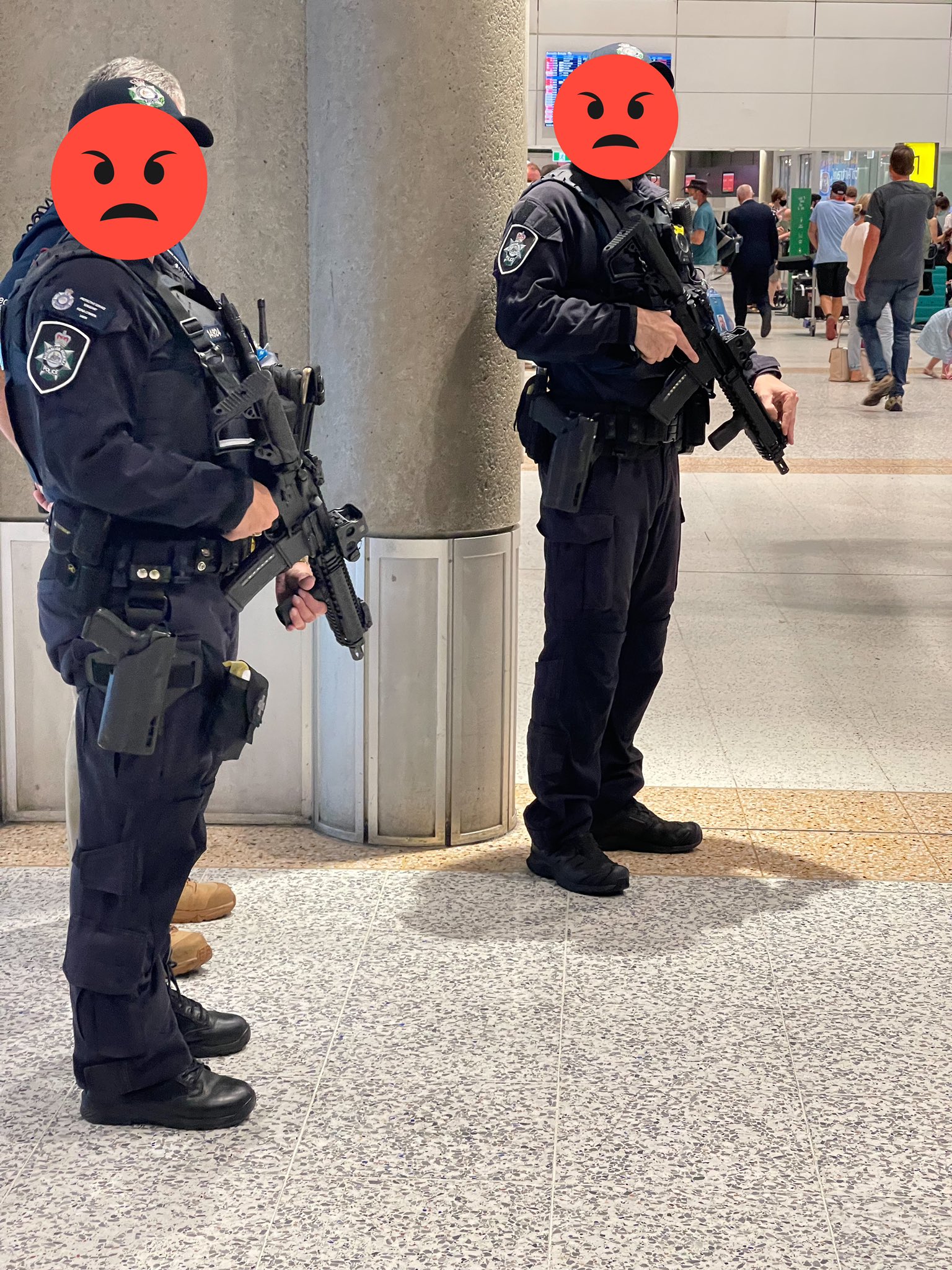 What are they going to do? Shoot the Covid?
I use this to highlight the fact that a sense of crisis has been completely manufactured out of thin air. Thousands of people are not dying of Covid every day. There hasn't even been a terrorist attack. There simply is no crisis.
Instead, a combination of deliberate bureaucratic bungling, a contrived outbreak at Christmas just as people are supposedly allowed to travel for the first time in two years, an emergency meeting of the National Cabinet, and some all too convenient fake news have combined to create the impression that the sky is falling.
Until now the globalists have been content to ease the pressure on one hemisphere of the globe while ramping it up in the other, essentially giving the captive populations of the West some yard time each summer. Now, they appear intent on maintaining a high level of Covid anxiety all year round, regardless of whether or not people are dying, being hospitalised or even getting sick.
It's as though they have seen all we have thrown at them with mass protests and sporadic violent outbursts from people who can't take it anymore, and figured that if that's the worst we've got, they can deal with it.
Subscribe to XYZ on Telegram, Bitchute, Patreon, Twitter and Gab.