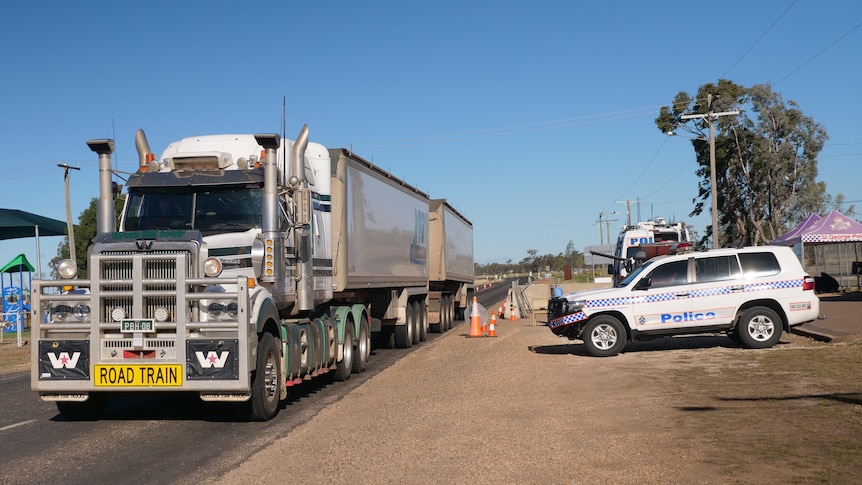 What the headline said:
Queensland's critical industries have been losing highly paid workers who refuse to receive a COVID-19 vaccine, with some warning their exit could add to a growing skills shortage.
Premier Annastacia Palaszczuk has repeatedly warned that Sunday is the deadline for Queenslanders to have their first dose of a COVID-19 if they are to be protected ahead of the state relaxing border restrictions in December.
"A cyclone is coming, it's coming to every corner of the state," she said this week.
"(COVID) is coming to places it's never been before and it's coming soon."
But employers and unions say they are grappling with workers in the regions who are choosing to leave their jobs, rather than have a vaccine.
A cyclone is very much on its way, bringing with it economic destruction.
The state's trucking industry says highly paid drivers are walking out of jobs, and owners are being forced to park their vehicles, as workers either refuse vaccinations, or take a break to recover from working through the pandemic.
The need for more trucks on the road means jobs that pay more than $140,000 per year can't be filled.
Queensland Trucking Association boss Gary Mahon said drivers going to and from Sydney could be tested for COVID 25 times in three weeks.
The policy now is that they must be fully or partly vaccinated and tested weekly.
Mr Mahon said about 5 per cent of truck drivers — about 870 — have either retired early, quit the industry or have restricted their travel to within the state.
"(Driver shortages) certainly made it difficult for our people to be able to deliver," he said.
"I can tell you it's very unusual to see trucks parked up because they don't have enough drivers.
I don't believe the high vaccination rates governments are crowing about. My reasoning is that by exaggerating vaccination rates, they put pressure on people holding out. If you think your state has reached a 90% vaccination rate you may think there is nothing you can do, and just give in, take the jab, eat the bugs.
However if I am wrong it is still a win. The impact of a mere 5% of truckies refusing to take the dangerous vaccines is heartening. If 1 in 20 people walk away from our jobs in retaliation for vaccine mandates we can cause big headaches for the Covid Regime. Big enough that they have to mention it:
Already facing staff shortages across the state, National Retailers Association chief Dominique Lamb said companies must now grapple with how to encourage staff to seek a vaccination, and what to do if they refuse.
"Acquiring Christmas casuals has been quite a feat for some of our brands this year," she said.
"In the regions, losing some tried and tested because they don't want to get vaccination — that's a very real thing to consider."
Naturally, they are trying to spin the narrative around to pin the blame on ordinary Aussies being blackmailed with the choice of get the jab or lose your job, but it's not working:
And if COVID rips through the regions that surround the mine sites, operations could grind to a halt.
"We're already in a skills shortage position," Mr Macfarlane said.
The Construction Forestry Mining and Energy Union's mining division held its lodge meetings this week, and district president Steve Smyth believes the BHP mandate has led to a backlash.
"The end result is that a majority of their employees — a lot of whom are vaccinated — are pushing back against the mandatory part of it," he said.
"We do support and encourage workers to get the vaccine, but it's got to be based on their own personal choice."
Queensland's school and health systems are also struggling:
The state's hospitals were already stretched before revelations this week that thousands of Queensland Health workers wanted exemptions to the mandatory vaccine policy, which comes into force on Monday:
…2300 staff were applying for exemptions to the mandate and would be locked out of their workplaces once the deadline passes.
Australian Medical Association Queensland director Maria Boulton said Queensland Health could not stand to lose staff in the lead-up to border rules relaxing.
"It's going to be very, very challenging — hospitals are already running at 105 per cent capacity," she said.
And the police:
This week, the QPS confirmed more than 140 officers and staff have been suspended after failing to receive a dose of the COVID-19 vaccine but could not say how many had resigned due to the mandate.
In a statement, it said 197 staff and officers have been granted exemptions "on either medical, religious or other grounds".
The Lying Press are reporting on this in order to push the case for mandatory vaccines (especially in Queensland), more draconian measure against those of us refusing to submit to medical tyranny, and for the mass immigration of more compliant foreigners who will jump at the opportunity to escape their third world shitholes if all they have to do is take the poison jab and work for less money than Aussies would accept.
In doing so it has inadvertently revealed our true power. We can put serious pressure on the unholy alliance of elites in big business and big government who are pushing Covid Tyranny, if we stand firm and refuse the jab. As I said, I believe they are exaggerating the figures because they are scared that if we really knew how many of us there are, then they would be in serious trouble.
Subscribe to XYZ on Telegram, Bitchute, Patreon, Twitter and Gab.