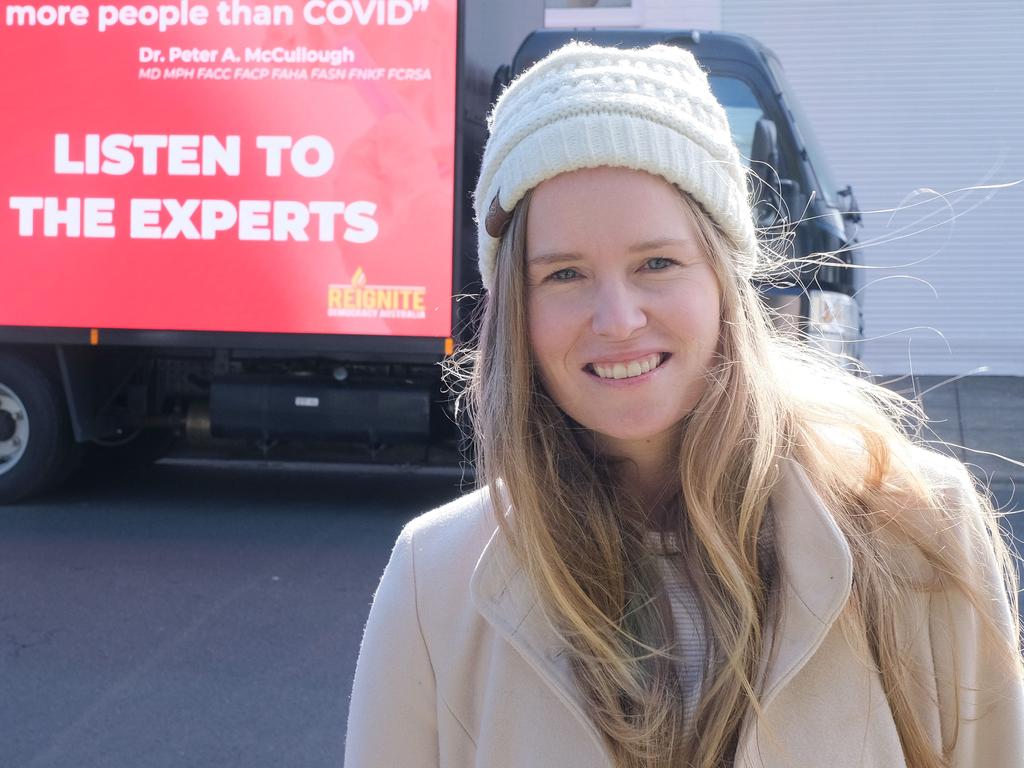 Brave anti-lockdown activist Monica Smit was successful in a bail application last week, after she was seemingly followed by Victoria Police in a coordinated swoop on influential figures during the August 31 protests.
Aussie Cossack in Sydney was raided apparantly looking for weapons. https://t.co/sdGTGjAt6s

— OCN 🇦🇺 (@ozcrimenews) August 31, 2021
In a spectacular twist she refused to sign an undertaking to follow the strict conditions set by magistrate Luisa Bazzani, which barred Miss Smit from publishing anything that could "incite" further breaches of the "health orders". Miss Smit was also ordered to follow a court-imposed curfew between 7pm and 6am and remove any material that incited opposition to the health officer's directions within 48 hours.
This would have silenced her and destroyed the organisation she has founded, Reignite Democracy, given its purpose is to coordinate opposition to the draconian lockdowns, impending forced vaccinations and vaccine passports.
The bail conditions imposed mirror those set on Neil Erikson, who chose a month in prison rather than to be silenced, and Jacob Hersant.
What shocking crime is Monica Smit currently serving time for? She is alleged to have encouraged people to attend illegal protests held in Melbourne on August 11 and August 21 during Victoria's sixth lockdown by authoring and transmitting posts on the encrypted Telegram app. These spurious charges mirror the treatment of Queensland man Simon Hickey.
Smit has been rewarded for her bravery. Shortly after Miss Smit refused to sign her release document, her partner Morgan Jonas – also an anti-lockdown activist and vocal critic of Victorian Premier Daniel Andrews – launched a crowd fundraiser for her legal defence.
It has currently raised over $270,000. You can donate to the fund here.
Reignite Democracy have been open and transparent about how the funds will be used:
Thank you for supporting Monica and taking a stand for democracy and human rights.
We are blessed and fortunate that our instructing solicitor and junior barrister are taking on Monica's case pro-bono, meaning, they will not be accepting legal fees. However, should we engage a QC we will require funding of their legal fees and also to accommodate for other associated costs such as court/filing fees, administration fees, consultation fees, and disbursements which can become costly.
Should there be funds remaining upon conclusion of this matter, those who have contributed will be contacted and have the option to;
Have their donation refunded.
Have their donation directed to an orphanage.
Have their donation directed to RDA for future campaigns and/or legal action.
From the team at RDA, we sincerely thank you so much from the bottom of our hearts for your outpouring of support and financial contributions to help Monica mount her legal defence and fight for all Australian's freedoms.
It is great to see someone who is prepared to sacrifice in order to challenge the power of the state, mirroring the courage of Thomas Sewell. Furthermore it is great to see people backing her financially. It is a signal that resistance is growing.
Subscribe to XYZ on Telegram, Bitchute, Twitter and Gab.