Hey, maybe if we're nice to black people and call our places nice things they will be nice to us. I am not even kidding. That is literally the thought process.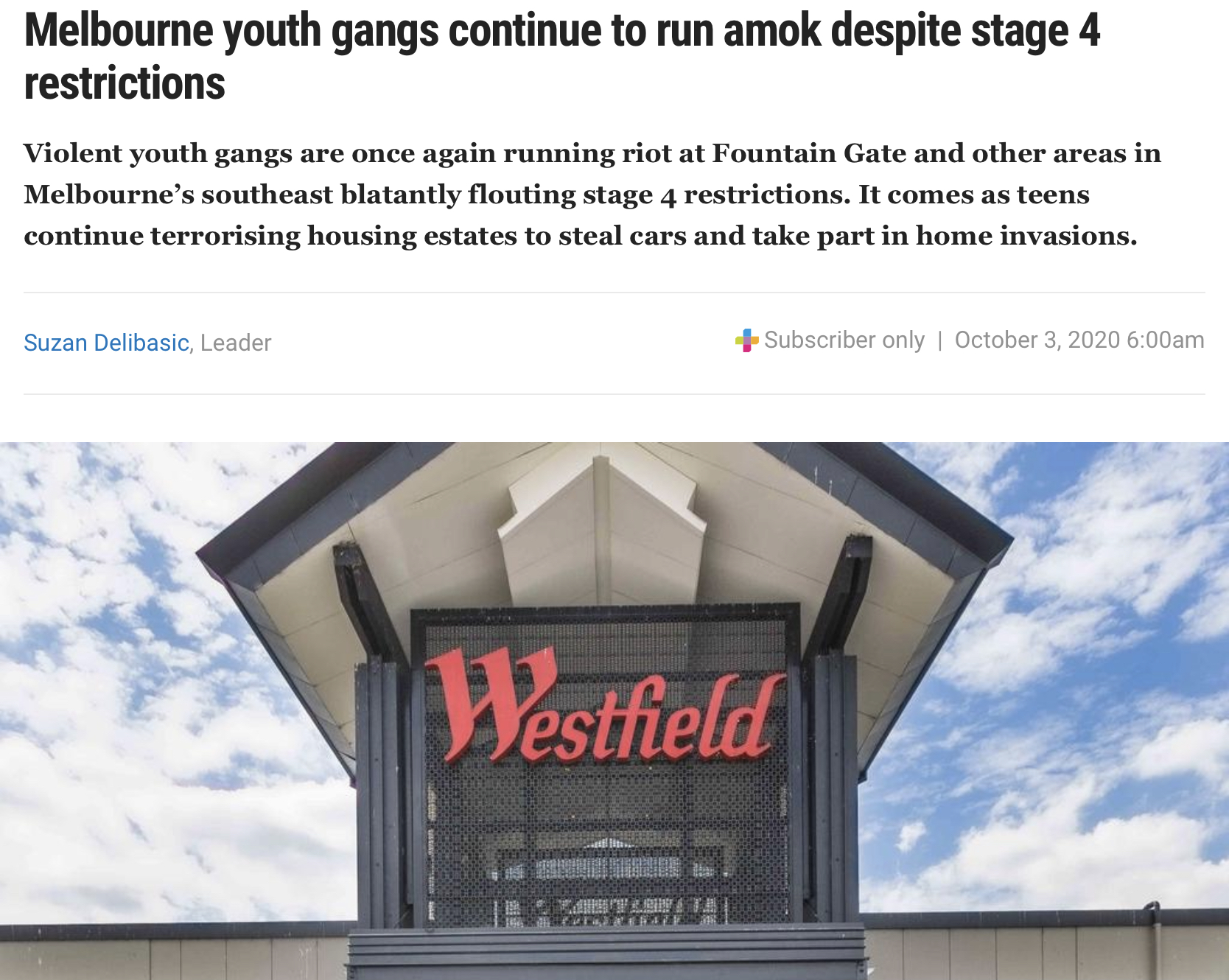 From the Herald Sun:
Youth gangs are once again running amok in Melbourne's southeast, with brawls and theft taking place at one of the state's most crime-riddled shopping centres.
The Leader can reveal shocking footage and images have emerged, believed to have been captured during stage 4 restrictions, of youth gangs brawling at Harmony Square in Dandenong and stealing phones at Westfield Fountain Gate.
It comes after Deputy Commissioner Rick Nugent said last month police were targeting 42 streets gangs, many of which have began committing crime sprees in regional Victoria.
In one brazen daylight theft, a teen is shown pointing his phone camera to two youths at the Fountain Gate bus stop on Snapchat, with the caption saying: "Went to go buy tuffies in Cranny, ended up at FG drilling three geezers."
The video then shows the youth holding one of the teen's phones, who was believed to be involved in the attack, with the caption saying: "Worth it mum's life", suggesting he has stolen it.
In another video, two youths are seen laying punches outside the Greater Dandenong Council building, with one of the youths falling to ground moments after he is punched in the head.
In other shocking images sent to Leader, a youth is seen posing with a knife, with the caption saying: "Where I'm from you play it safe and end up dead."
One source told Leader the youths were continuing to run amok in housing estates across Cranbourne, Clyde North and Pakenham.
"They don't care about restrictions, they are still out terrorising these estates including stealing cars and they're involved in home invasions," the source said….
In another image taken last week, another group of teens, also posing in front of a luxury car, are seen drinking alcohol and failing to wear masks.
These people aren't wearing masks? Don't they know the coronavirus will kill you? How on earth are we going to get criminals to obey stay-at-home rules?
The article in the purportedly racist far right Herald Sun studiously focuses on this fake outrage and studiously avoids mentioning race. But we all know it's African Gangs. Dandenong is one of the most "diverse" areas in Melbourne. Dandenong Council happily boasts about it: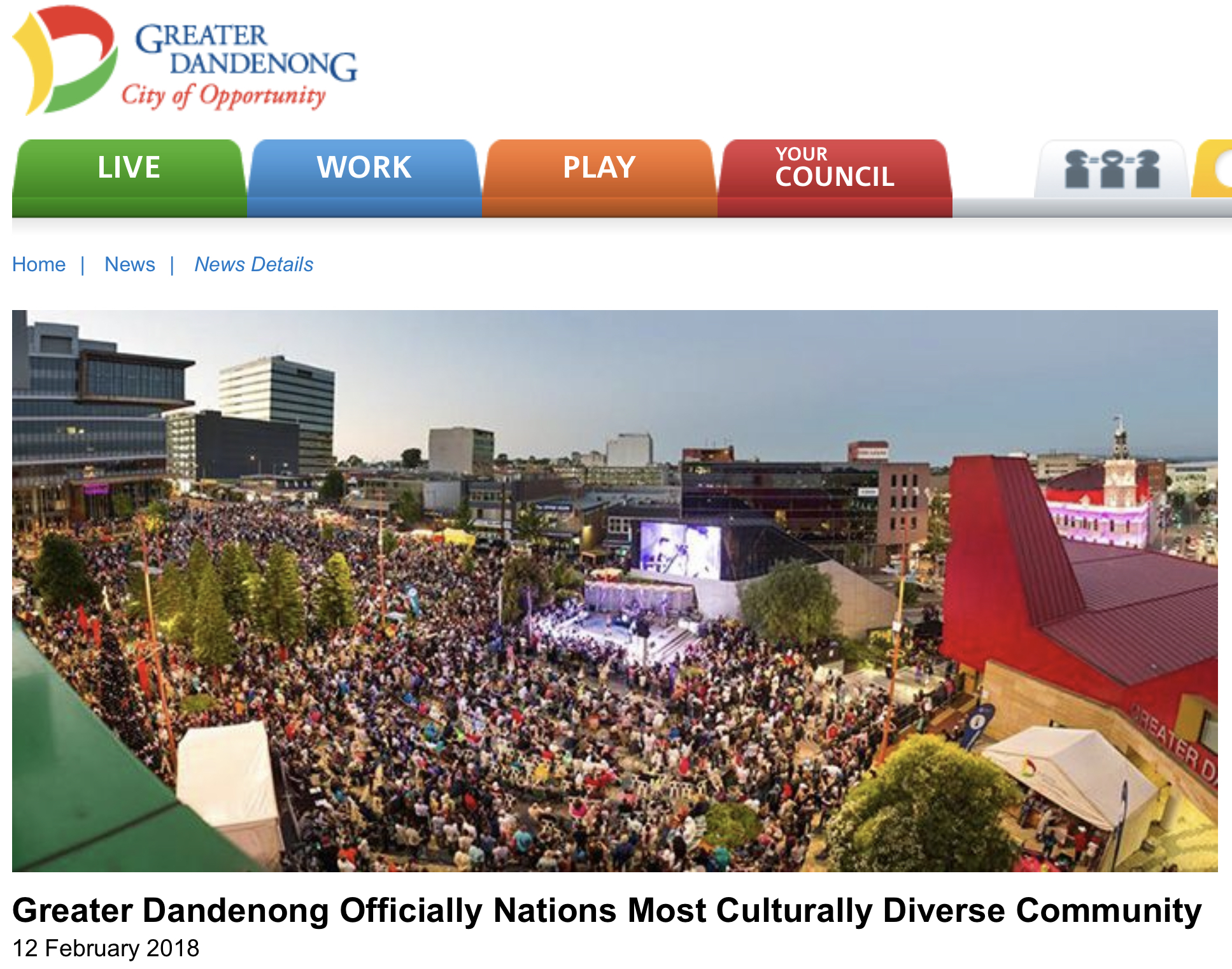 And the naming of "Harmony Square" is no accident:
As one of Australia's most culturally diverse communities, Greater Dandenong is gearing up to celebrate Cultural Diversity Week and Harmony Day next month.
Cultural Diversity Week runs from 12-20 March and Harmony Day is on 21 March. Both are an opportunity to promote community harmony, awareness, understanding and mutual respect for all people.
To celebrate these themes the main event of the week is Harmony Festival: Step into Our World, held in Harmony Square on Wednesday 16 March, from 4pm-8pm.
The festival is open to the public and will feature an international dress parade, a multicultural concert and community stalls with interactive cultural activities.
Mayor Heang Tak said events like this would give our city and residents a chance to showcase the rich range of cultures whose customs, histories, foods and faiths make Greater Dandenong such an interesting and vibrant place to be.
"Almost two-thirds of Greater Dandenong residents were born overseas, representing more than 150 different countries," Mayor Tak said.
"Our city is proud of the diversity we embody, and we love to celebrate, not only what makes us all different but all the wonderful things we have in common."
The Festival has been organised by Springvale Neighbourhood House in partnership with the City of Greater Dandenong, Monash Health, Victoria Police, Southern Migrant and Refugee Centre, South East Community Links and the Australian Government Department of Human Services.
Join us to celebrate Greater Dandenong's diversity.
Taxpayer funded cringe. It's like calling Poland "Harmony Field" during WW2.
Look, this is harmony.
This is not harmony.
And another video of Black on White hate crime attacks in the world! This one is from the #US of a mob assaulting and beating the crap out of white people.

Blacks commit more hate crimes and assaults to white people, then white people do to black people, that is just a fact… pic.twitter.com/CfACGEmVew

— Sotiri Dimpinoudis (@Sotiridi1) June 16, 2020
There will never be enough "harmony", "diversity", "multiculturalism" or whatever codeword the politically correct establishment use for white genocide."Harmony" is a weasel word used to pretend that mass immigration does not lead to mass crime. "Diversity" is a codeword for for less white people. "Multiculturalism" is a codeword for the replacement of indigenous Anglo Aussie people and our culture.
The people who push to make Australia multicultural, ie, empty of white people, are never going to stop. The only way to stop multiculturalism is to directly oppose the people pushing it and to reject the Marxism, the Liberalism, the Judaism from which it sprung.