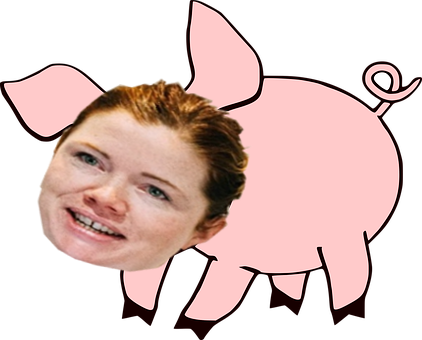 In news that surprised exactly nobody with a functioning brain, serial misandrist and attention seeking opinion columnist Clementine Ford resigned from her job at Nine newspapers in Australia with a well orchestrated public hissy fit that guarantees all of her bridges will be left in smouldering ruins behind her.
The reason for her catastrophic meltdown is because her bosses asked her to demonstrate some respect in her columns for the office of the prime minister of Australia. In other words they asked her to not refer to him as "a fucking disgrace."
Also, here's some tea and I can spill it now that I have resigned from Fairfax: in September, they threatened to fire me because I had called transphobic Scott Morrison a 'fucking disgrace' on Twitter and they said that new policy was we 'didn't disrespect the office of the PM'.

— Clementine Ford 🧟‍♀️ (@clementine_ford) January 30, 2019
In order to continue to fund her lavish lifestyle of lying around in bed all day as well as her strict daily chocolate lamington regimen, Ford has taken to her social media airwaves to hound her few remaining followers for funds.
"Are you a regularly accused of being a misandrist? Do you bathe in a pool of male tears each night before bed?" reads the overview on her page.
"This is an entirely voluntary pledge process. My writing will still be freely available and my Facebook page will remain open so that I can connect directly with people," Ford said.
"However if you value what I do and want to help support me to keep doing it, your patronage would be greatly appreciated."
Ford promises all donations will help her continue to produce "feminist content".
"All of your donations will help me to keep producing feminist content that challenges and explores the world we live in, while also providing me a platform to signal boost the work of other women and non binary voices,'' she says.
For as little a $1 a month, Ford will give a shout out to her donors on Twitter. For $5, donors will receive a personal email of thanks from her, and for $10 or more, Ford will "curse ten men in your honour".
Sounds like a bargain and a half! Can't you just picture Ford now, perched on the edge of her dirty and ill-kept bed, her 10 year old laptop resting on her pale and flabby legs as she desperately scours Patreon with increasingly fading hope for any updates that confirm that someone, anyone, has recently decided to part with the princely sum of a buck a month for the privilege of Ford's fat fingers typing out a tweet for them?
What's hilarious abut this is that the future extent of Ford's tweets will reveal just how many people are prepared to directly pay for her bile. I'm guessing not too many at all, as feminist nutjobs are not known for their capacity to have any spare cash lying around, let alone part with some of it.
And for anyone considering hiring Ford, she has a special message for you too:
Ford said while she expected to be labelled as "difficult" in the wake of her resignation, she urged her followers not to believe any potential rumours surrounding her work ethic.
"I was a loyal and committed contributor for 7 years and they benefited greatly from me being connected to the masthead," she wrote.
Well considering that the newspapers which were originally a family owned affair went broke while she was there and were bought out by a media conglomerate which was more an act of mercy than a sound business decision, I really fail to see how Clementine's weekly column of bile known as "male tears" helped her employers to stay the course.
As for myself I have only one message for Clementine Ford courtesy of Ace of Spades:
L
LE
LEA
LEAR
LEARN
LEARN T
LEARN TO
LEARN TO C
LEARN TO CO
LEARN TO COD
LEARN TO CODE
LEARN TO COD
LEARN TO CO
LEARN TO C
LEARN TO
LEARN T
LEARN
LEAR
LEA
LE
L
This article was originally published at https://pushingrubberdownhill.com/, where Adam Piggott publishes regularly and brilliantly. You can purchase Adam's books here.