What is the first thing you think of when you look at Greens Senator Sarah Hanson-Young?
You just don't want to know where that thing has been, right? A creature that awful must have done some horrible things to get where it got. Liberal Democrats Senator David Leyonhjelm thinks so too:
"Greens senator Sarah Hanson-Young has accused Senate colleague David Leyonhjelm of hurling a "sexist slur" across the chamber during a motion addressing violence against women.
Ms Hanson-Young claims he shouted "you should stop shagging men, Sarah" while a motion proposing pepper spray and tasers be legalised for the sake of women's safety was being debated….
"After the motion was complete, I walked over to the Senator and confronted him directly," Ms Hanson-Young informed the Senate later on Thursday.
"I asked whether I had heard him correctly. He confirmed that he had yelled 'you should stop shagging men, Sarah'.
"Shocked, I told him he was a creep, and he told me to 'f— off'."
Based. I believe there is a meme for that: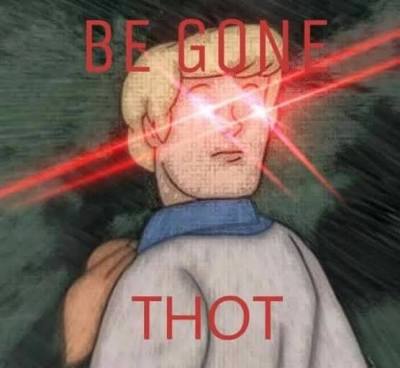 Senator Leyonhjelm also knows the Golden Rule. Never back down, and tell 'em to get stuffed:
"Mr Leyonhjlem did not return Fairfax Media's request for comment, but the ABC reports he did not deny her claim when contacted, and confirmed that he would not be withdrawing the comments.
"However, I am prepared to rephrase my comments. I strongly urge Senator Hanson-Young to continue shagging men as she pleases," he told the ABC."
This guys eats 12 Weetbix for breakfast.
Naturally, when we look at the facts of the matter, it turns out that Senator Leyonhjelm was actually going easy on Senator Two-Dads:
"Senator Leyonhjelm, who is also in favour of relaxing gun laws, voted in favour of the motion along with four other senators. It was defeated 46 votes to five…
A lot of woman haters in the Senate. Turns out Sarah is one of them:
Ms Hanson-Young recalls agreeing with Greens colleague Janet Rice, who at the time said the motion "puts the onus on women to go to extreme lengths to ensure our safety, where the priority must be to eradicate men's violence".
Her spokesman said she then made the comment "putting tasers on the street isn't going to protect women from men", which Mr Leyonhjelm appears to be loosely interpreting as suggesting all men are rapists.
"She would not say that. That is not her view," the spokesman said."
Whether Sarah the Slut was saying all men are rapists is six-half-a-dozen to me. The slanging match has provided for an outstanding XYZ headline, and it has helped draw attention to this fact:
Sarah Hanson-Young, and the cretins who voted against women being able to defend themselves with tasers and pepper spray against attackers, are prepared to let their Marxist, Radical Feminist ideology, which mandates that all white men must be neutered in the errant belief that this will make the world a safer place, prevent women from defending themselves against people for whom no amount of touchy-feely "education" will ever alter the darkness within.
Sarah Hanson Young, the blood of future male and female murder victims is on your hands.