Welcome back to the XYZ's second instalment of Foot to the Floor! For this issue we have gone from the industry-changing Tesla Model S to something more affordable and fun.
Audi is a big ol' German company who could easily be thought of as creating a businessman's boring car; or, if you're looking at the R8, the playboy kind of vehicle (see Iron Man films.)
Ten years ago I would have supported this statement and if I were reviewing the A3 I would also still align myself with this statement.
However, in struts the RS variant of their models and suddenly the boring bubble-looking car is given a soul.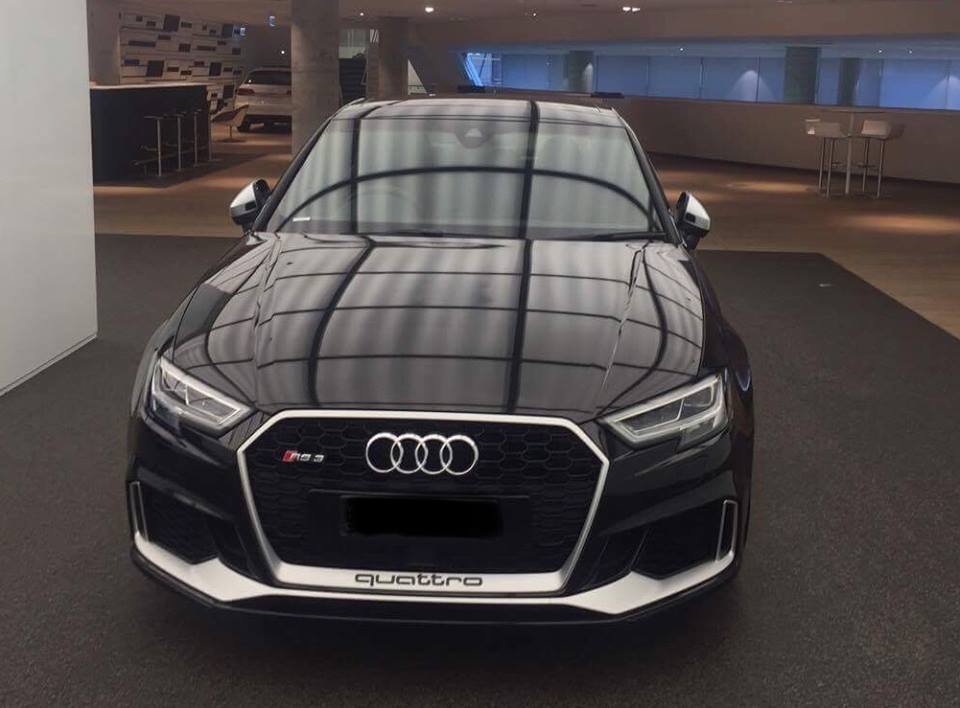 A quick rundown on the Audi range: base boring model is the A (A3, A4, A5 etc); then you get the S line, same engine just sporty looking and possibly quattro (Audi four wheel drive system.) Following this is the S (S3, S5 etc) and finally the RS. Now these last two are where the fun in a car comes in, because you're getting more powerful engines, better performance, and much nicer looks.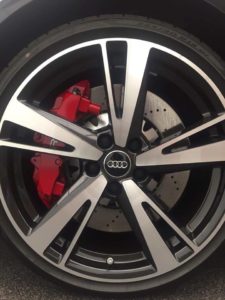 Speaking of looks… The RS3 looks mean, and I love angry looking cars crossed with a sleek design. The grill alone looks like it will eat a cyclist and spit out the spokes! The 5 arm "Blade" design of the 19" rims coupled with big red RS-badged callipers just adds to the vicious attraction in the shell design.
Journeying inside the cabin, where most of one's time is spent in a car, it is the little things that I enjoy and appreciate when behind the wheel, both aesthetically and visually. What took my eye at first glance in the cabin was the lovely red stitching that tastefully highlighted everything; including the seat belts! This was soon followed by the quirky "quattro" lighting on the ground from the open front doors, a nice gimmick.
Now to the driver's seat; the dash is awesome, to put it plainly. The system is completely digital with a very high resolution that can be customised to show you what you like. For the review I switched between having access to a G force reader and tyre pressure indicator but there is access to a large GPS map, older model style layout for taco, speedo, fuel etc. I wont go into every possible combination you can have there, just know it's a lot.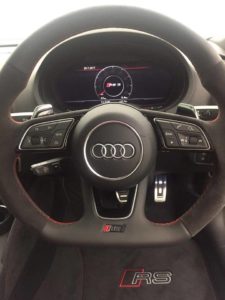 In tandem with your dash is the centre dash pop up screen. This can also have GPS, radio, and if you have an iPhone you can attach your phone in a way that the screen of your phone is on that centre dash display. The drawback is that the interface for working that screen takes time getting used to. So if you're a bit technologically challenged it could be frustrating to say the least, and you'd not have access to many of the features if one was to give up on enduring through the learning phase and mastered it.
The steering wheel is a sports design, flat at the base shaped for hands at 3 and 9 with leather at the top and base, and Alcantara for the grip. Personally I would have preferred the leather for the grip as it was a nicer texture to hold. The wheel was also very busy, with buttons, rollers, paddles and arms all over the place. Again like the centre dash control, it was easy enough to use once you got the hang of where everything was. Nothing got in the way of anything else. I did find the flappy paddle shifters a little too short, though.
The driver's seat itself was very comfortable and hugged me well enough when throwing the car around some nice turns, but they were all manual. Only the lumbar support was electric, while everything else was manual adjustment, as was the tilt and reach for the steering wheel. As a driver it felt like a little bit of laziness in the design process; so much effort has gone into the engine, shape, and instruments but falling down at old manual adjustments.
Storage in this car isn't the greatest, neither is back seat room. But the RS3 is not the type of car that you take your family of 4 camping in. Shallow boot space means it's fine for shopping and golf clubs, that's about it. The back seats, especially as it is a sedan, offer little legroom, and not much head room. So they're fine for journeys under twenty minutes.
Now the fun stuff! Driving!
This car is fast! For a small turbo 5 cylinder it flies, and unlike most small engine cars it can back up its acceleration with some seriously quick speeds.
Sitting on highways at 100 km/h felt slow in this vehicle. To overtake or just open it up it would jump to 140 km/h without any hesitation and that's when magic happened. The symphony of exhaust sounds mixed with the throw back in the chair, as well as firm responsive handling just made for a really enjoyable experience.
Having an all wheel drive system helps with acceleration and handling. Tight turns were more comfortable to hit at higher speeds and you really felt like the car was digging its fingers into the road and wasn't going to let go.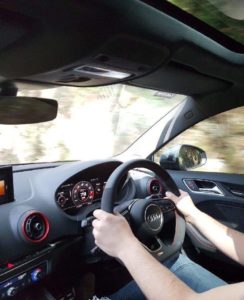 It also sat nicely on the highway and was comfortable in boring city driving. There are a couple of drive settings that you can choose as well; comfort and dynamic (with an individualisation option as well) softens the suspension and makes the steering sluggish. On a highway this is great for long journeys, however, I would probably use individual with firm steering and softer suspension, because who in their right mind wants sloppy steering?
The dynamic drive type is the fun zone, as you feel the road and the car in concert through your butt and hands and it's incredibly responsive.
Extra features that I discovered in this car to assist driving and help minimise driver fatigue:
Lane guidance: this is coming up more and more in modern cars; it's great to use on a highway and especially a long trip. This system was pulling more to the left of the lane than staying in the centre though.
Car spacing: when using cruise control this also has a function set up that can detect slower cars ahead and slow down to match them. Again a good feature, but it needs more fine tuning as it matched the slow car in the next lane instead of the clear lane ahead of me.
Auto hand brake: this is the one I liked the most, being able to stop in traffic and not have to keep my foot planted on the brake. It sounds like a nothing gimmick but when you're in a car as much as I am or frequently in heavy traffic, it really does make a huge difference.
There are other aspects like traction control, sport mode, engine cut-off etc., but these are in many cars and so I won't bore you with them.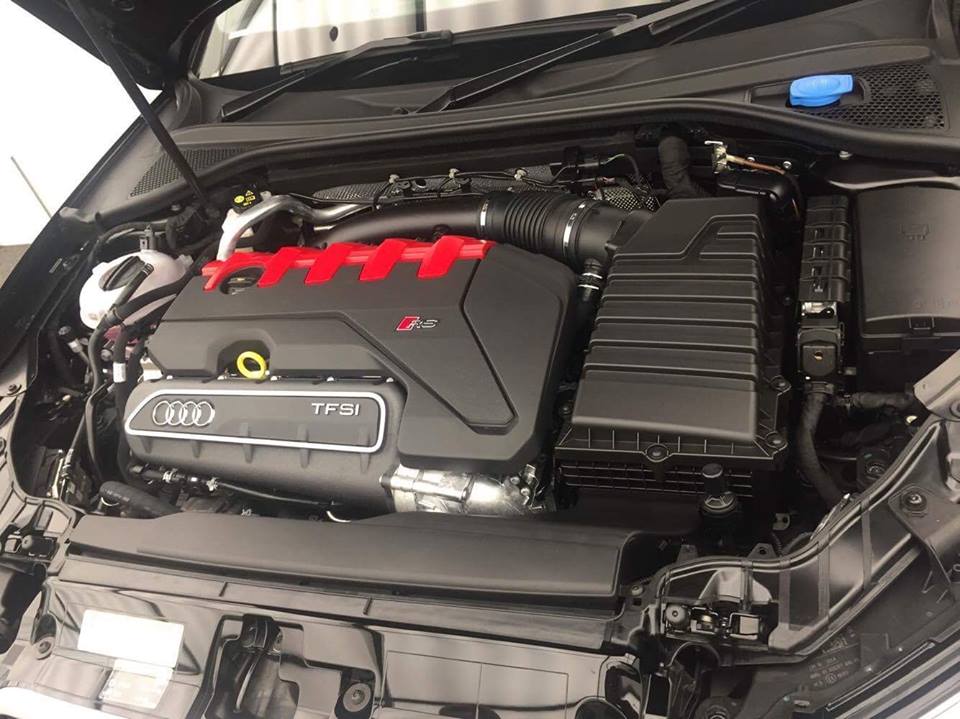 What I will rave about though is the Launch Control.
This is something you would only do in times when laughs are to be had. It increases the boost of the turbo in the car before launch so as to not get the turbo lag that cars normally face when getting off the line. You sit there, the engine revving rather high, then drop the brake pedal while the accelerator is floored and you hold on. The acceleration is fantastic!
I did the XYZ stopwatch test, which of course is, as always, flawed by the human factor, achieving 4.67 seconds from 0 to 100 using the launch control.
(Official line being 4.1 seconds, and with a proper timing device it is probably able to get below 4 seconds)
That's pretty cool for a 2.5L 5cyl turbo engine!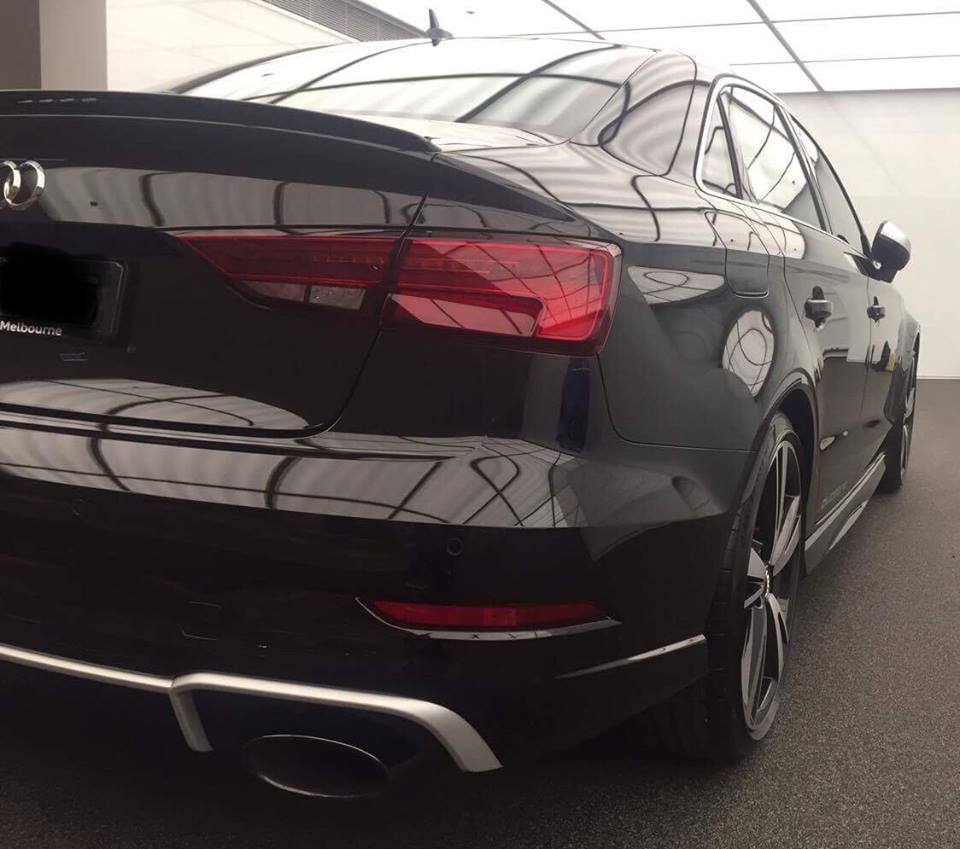 The damage.
Well as you would expect this isn't the cheapest of cars. It is also not as expensive as expected either for the top end of a model.
Depending on options you're looking between $90,000 and $120,000 including all those damn taxes!
So even if it is out of your price range go take one for a test drive and have some fun!
Is there are car you want us to do next?
If so email the XYZ at editors@xyz.net.au or leave a comment and we will get on it!