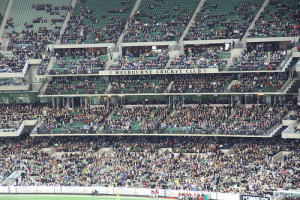 Yesterday's crowd of 80 000 at the MCG for the Big Bash League match between the Melbourne Renegades and the Melbourne Stars took everybody by surprise. In fact, the popularity of the entire competition has exceeded the expectations of practically the entire country, to just about everybody's delight. T20 has been one of the best things to happen for domestic cricket in Australia for years.
But approximately 24 000 fans missed the start of the match, delayed by the new security arrangements implemented at the MCG – a three metre high security fence has been erected around the MCG, in response to the credible threat of a terrorist attack, given what happened in Paris a couple of months ago when one of the attackers blew himself at an entrance to the Stade de France.
I have no problem with the intent behind the new security arrangements. We know, through tragic experience, that islamic terrorists' modus operandi is to target large gatherings of civilians, and sport venues are soft, high profile targets. And obviously yesterday's delays were teething problems – next time there will be more staff, at more entrances.
But this is the point. What occurred yesterday, with tens of thousands of people, tightly packed, waiting (im)patiently to get through a security point, would have been an easy target had a terrorist attack actually been planned. A measure designed to improve security, actually made security far, far worse, at least until people were inside the security fence.
The MCG already has numerous, large entrances which allow people to enter and leave, and disperse crowds, reasonably quickly. If the bottleneck problem cannot be solved, renewed vigilance at these entrances may be the best approach to protecting people.
Photo by tony_the_bald_eagle