From Macrobusiness.
Leith van Onselen
Hot on the heels of this week's dire dwelling approvals data, which collapsed to a 13-year low:
The Australian Bureau of Statistics on Friday released data on the number of loans issued for the purchase or construction of a new home: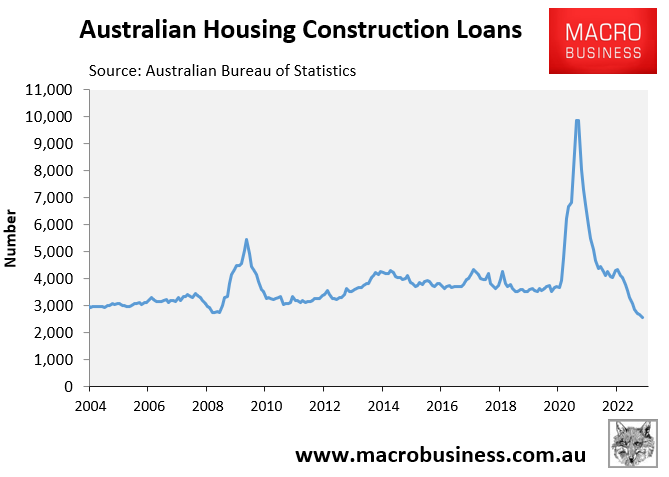 The total number of construction loans collapsed to just 2546 in April, which is the lowest reading on record and down 74% from the January 2021 peak.
Housing Industry Association Senior Economist, Tom Devitt, warned that "the supply of new homes is set to continue to decline under the weight of rising interest rates".
"The number of loans issued for the purchase or construction of a new home has fallen to a new low".
"The last time so few loans were issued for the purchase or construction of a new home was in September 2008, when the GFC caused a contraction in building".
"Lending for the purchase and construction of new homes in the three months to April 2023 was 31.5 per cent lower than at the same time last year".
"There are very long lags in this cycle and the full impact of the RBA's rate increases are still to fully hit the housing market, let alone the broader economy".
"These low lending numbers reflect a lack of new work entering the pipeline at the same time that population growth is surging", added Devitt.
This is an unmitigated disaster for the nation's renters given the May Federal Budget projected net overseas migration (NOM) to reach a record 400,000 in 2022-23 before slowing to 315,000 in 2023-24.
NOM will then moderate to an historically high 260,000, where it will remain thereafter:

The Federal Budget, therefore, expects a record 1.5 million net overseas migrants to land in Australia over the five years to 2026-27 – equivalent to an Adelaide's worth of people.
In turn, Australia's population will increase by a projected record 2.18 million people over the same five-year period, which is equivalent to adding five Canberra's or one Perth to Australia's current population: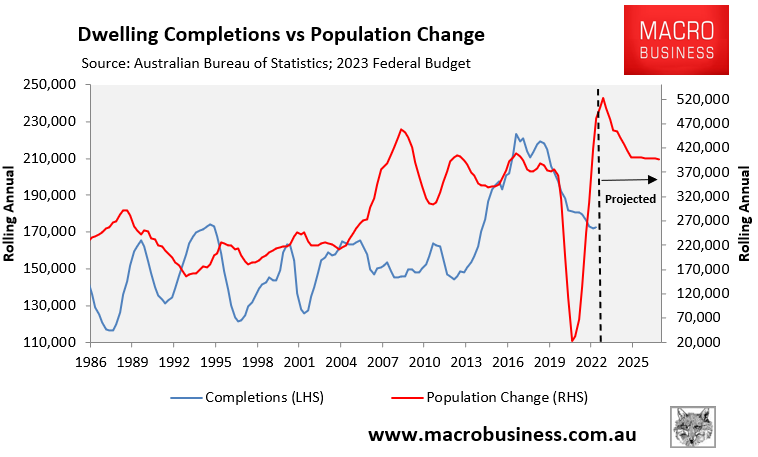 Where will these 1.5 million migrants live when there is already a dire shortage of housing across Australia and construction rates are plummeting?
Australia's housing crisis will inevitably worsen under Labor's extreme immigration settings, resulting in higher rents and increasing homelessness.
From Macrobusiness.