The evil scourge of White supremacy strikes again:
The walls of a well known Swaminarayan temple in Melbourne's northern suburbs were painted with "Hindustan Murdabad" meaning "down with India".
Wait, right from the get go, we have a problem. "Hindustan" is the Persian word for India. Extreme far right extremists refer to India as Poostan, so it's not White people who did this. More likely it is another subcontinental upset with the Indian government who has committed this graffiti attack.
I hope the rest of this Lying Press article reflects this obvious red flag:
Victoria Police confirmed that an incident of graffiti in Mill Park was reported on 12 January.
"Police have been told graffiti was written on the walls and fence of a building on Heaths Road in the early hours of the morning," the Victoria Police spokesperson told SBS Hindi.
"An investigation into the incident is ongoing," the spokesperson said, adding that acts of vandalism are an offence in the state.
In response to the incident, BAPS Swaminarayan Sanstha issued a statement calling out the perpetrators as 'anti-social elements'.
"We are deeply saddened by the anti-India graffiti at the gates of the BAPS Shri Swaminarayan Mandir in Mill Park, Melbourne, Australia by anti-social elements," the statement said.
"At this time, His Holiness Mahant Swami Maharaj, the spiritual leader of the BAPS Swaminarayan Sanstha, has prayed for peace and unity and has appealed to all devotees and well-wishers to maintain peace," it added.
The organisation further thanked the appropriate authorities, including Australian and Indian government and local community organisations.
There has been widespread condemnation of the incident from community organisations and Australian politicians.
In a Facebook post, Lily D'Ambrosio, Mill Park's Member of Parliament, expressed her concern over the incident.
"I have reached out to the Mill Park Mandir today to express my concern with the attack on the temple. The Mandir is a very important place of worship across broader Melbourne and is used to host many events that grow a better understanding amongst us all of the rich diversity of our community," Ms D'Ambrosio said.
Wait, why is she using the kind of language you would expect if a White guy did this?
"I have had the honour of visiting on many occasions and hope that the appropriate authorities can identify those responsible and bring them to account. There is no place in our community for such attacks," she wrote.
Blame Whitey.
The Liberal party's Jason Wood also condemned the attack and called it an 'outrageous racial attack on a peaceful religious place of worship'.
"Absolutely disgraceful and disgusting act by idiots to vandalise a place of worship. I strongly condemn this behaviour. The offenders should be put in prison, this hateful behaviour have no place in our society," he said in a Facebook post.
He's definitely carrying on as though a White guy did it.
Hindu Council of Australia's Makrand Bhagwat has called on the federal and state governments to take stern action against the perpetrators and ensure communal harmony in multicultural Australia.
Mr Bhagwat claimed that the graffiti represented clear vilification of the Hindu community.
"This behaviour incites or encourages hatred, serious contempt, reversion, or severe ridicule against the peaceful Hindu community," he said.
That's 18C language.
Vedic Global, another Hindu organisation, also sought stern action from the government.
"Such hate crimes by divisive anti-social extremists against the Sanatani Hindu community threaten to disrupt peace in our society.and raise questions about whether enough is being done by the respective governments to address the alarming rise in anti-Hindu attacks, vandalism and terrorist activities," it said.
Hang on. We cut and pasted this entire article from SBS. The link is here is you must read it. Their choice of header photo even tried to make it look like it might be an attack by an extreme anti-science extremist.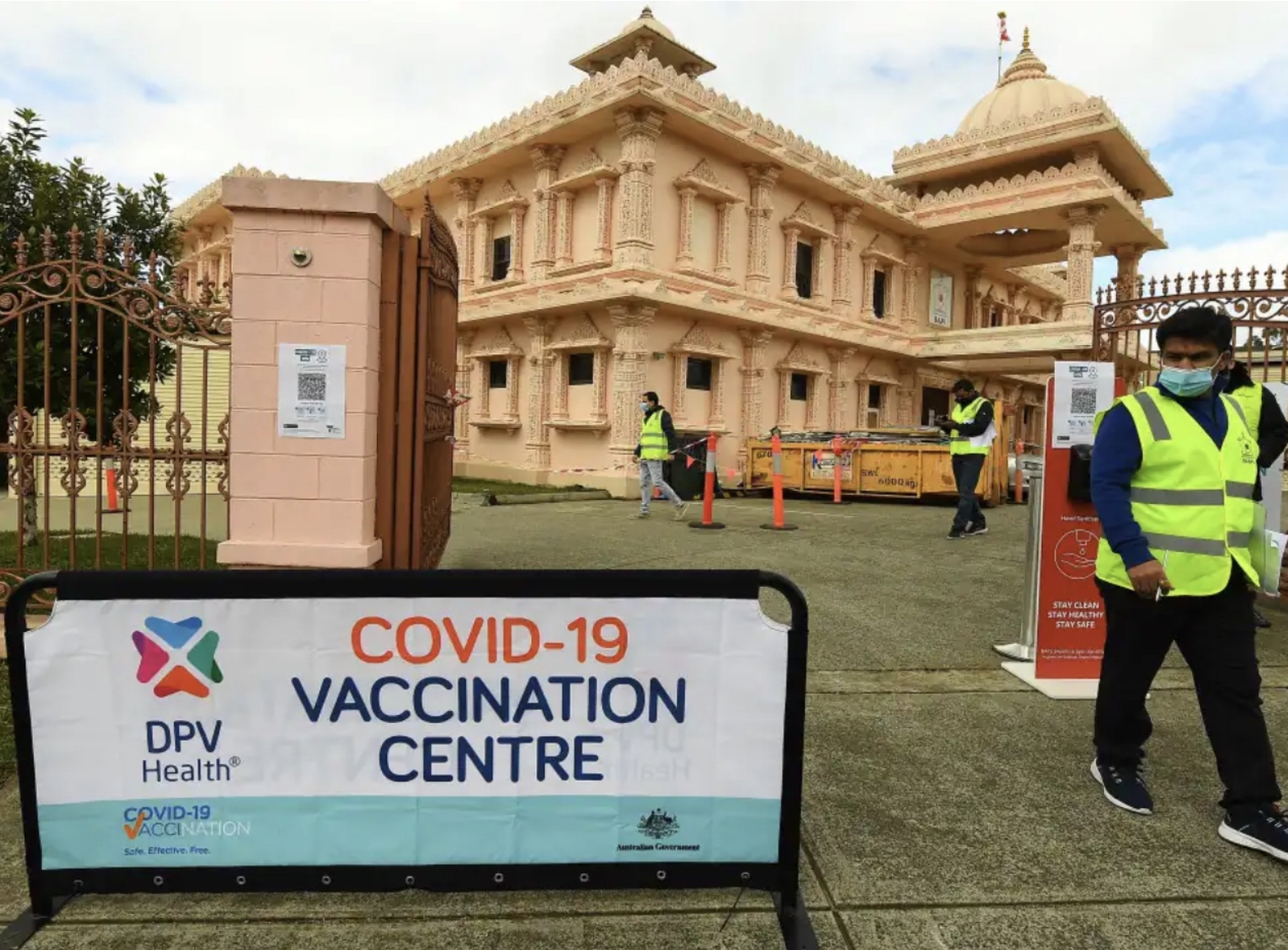 Why did SBS not inform us of the other slogans graffitied on the temple?
From Times of India:
On Thursday morning the anti-India graffiti was found sprayed on the gates of the stunning BAPS Shri Swaminarayan Mandir in Mill Park, Melbourne. The words "Hindustan Murdabad (Death to Hindustan)" were sprayed on two pillars at the entrance to the temple. Other slogans, such as "Modi = Hitler" and "Sant Bhindrawale is martyr (sic)" were also seen on temple walls in a video posted on Twitter by one of the supporters. Bhindranwale is the militant Sikh leader killed inside the Golden Temple in Amritsar during Operation Blue Star.
Anonymous Twitter accounts created in January this year with barely any followers spent Thursday posting and reposting videos of the graffiti and tagging the Indian high commission, Canberra and the consulate general of India in Melbourne. Several of these Twitter accounts disappeared and one was restricted "for unusual activity" as TOI was examining the video.
Just as during the brutal lockdowns of 2020-21, it is very telling that you can get more accurate information about what happens in Australia from overseas sources than you can from the local Lying Press.
This was clearly done by some other subcontinental who has a gripe with the Indian government. Yet the language used in response to it emphasises the importance of multiculturalism and how this undermines our "diversity", rather than condemning the importing of foreign domestic disputes into our country.
The whole point is that this attack would never have occurred without diversity in the first place. When you import hundreds of thousands of Indians, you import India's domestic fault lines.
Thus far from this graffiti attack being a threat to Melbourne's "diversity", it has arisen directly because of it.
Subscribe to XYZ on Telegram, Bitchute, Twitter and Gab.