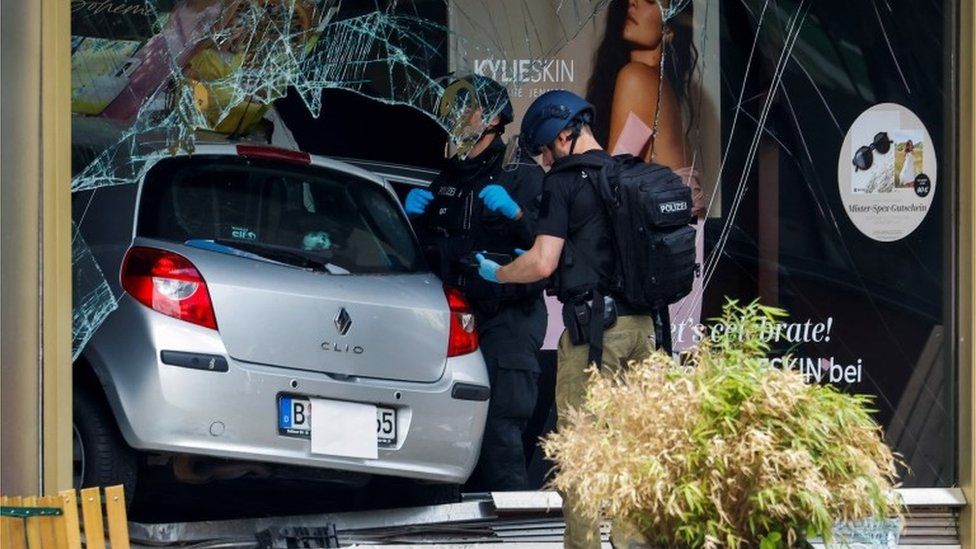 Part and parcel. Thoughts and prayers. Mentally illness. Lone wolf.  Diversity is our strength.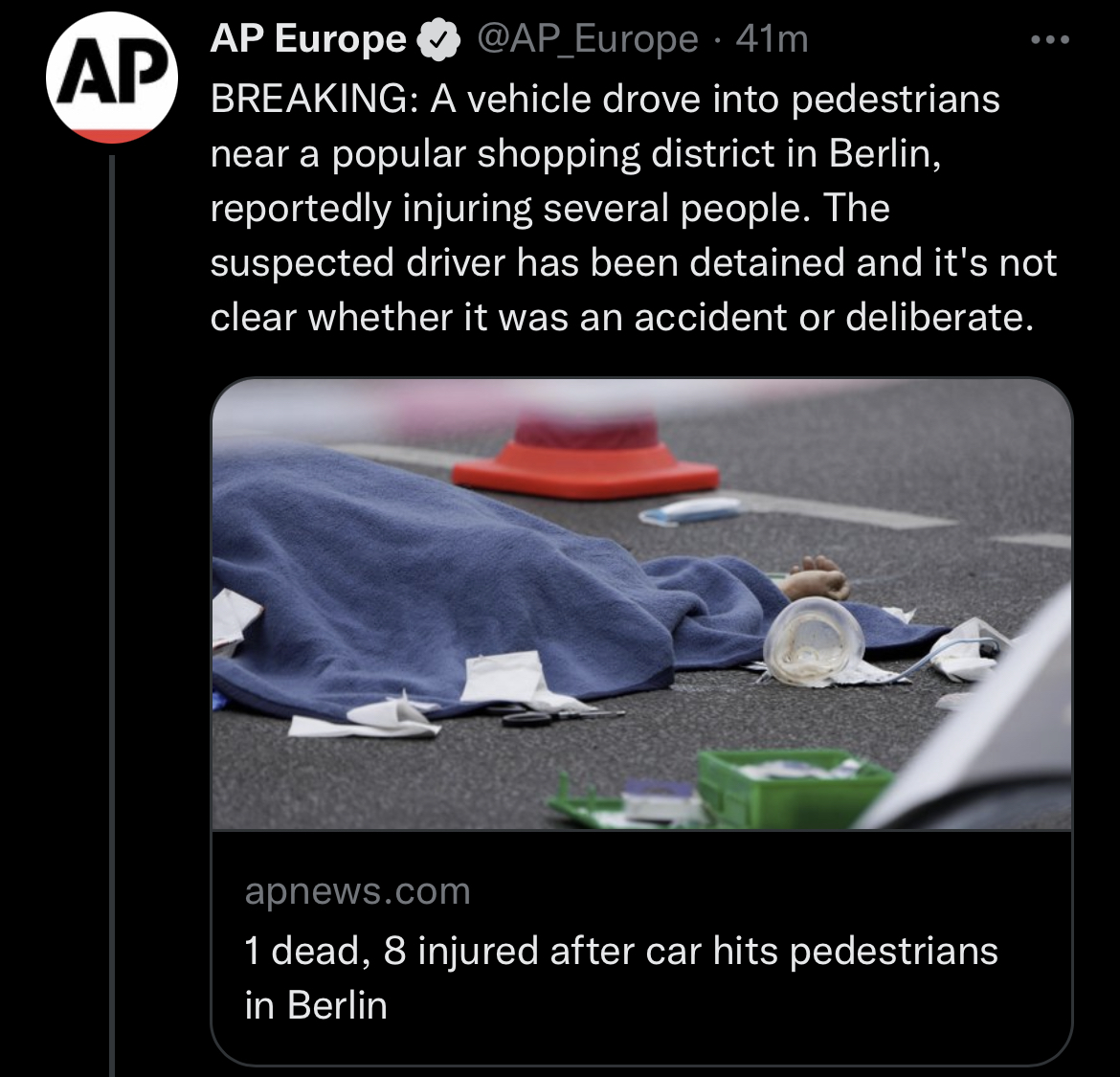 We need stronger vehicle control, now:
A man has been detained after driving his car into a crowd of people in western Berlin, killing a teacher and injuring 14 children who were on a school trip, police have said.
The man drove into people on a street corner before getting the car back on the road and crashing into a shop window further on.
Berlin police said the schoolchildren and their teacher were visiting the capital from the central German state of Hesse. "Their teacher died at the scene," Berlin police wrote on Twitter. "Their loved ones have been informed and are being cared for."
Authorities are trying to determine whether the man, identified as 29-year-old German-Armenian who lived in Berlin, deliberately drove into pedestrians or whether it was an accident, possibly caused by a medical emergency.
Berlin's top security official, Iris Spranger, said posters were found in the man's car "in which he expressed views about Turkey" but refuted an earlier report from the Bild tabloid that a letter of confession had been found in the car.
A criminal investigator was cited anonymously in Bild as saying the crash was "in no way an accident", but that the driver – named as Gor H – was "running amok, an ice-cold killer".
Six people have sustained life-threatening injuries and another three have serious injuries.
After steering his silver Renault Clio into a crowd of people on the pavement at about 10.30am, the man had returned to the road before again mounting the pavement and finally crashing into the shopfront window of a branch of the cosmetics chain Douglas.
………
A witness who would only be named as F Kacan said the driver had abandoned the car and had taken off running but "we were able to stop him", AFP news agency reports.
The actor John Barrowman tweeted that he had been nearby when the incident took place and in a video posted from the scene said the car had repeatedly mounted the footpath before crashing into the storefront.
Update from the horrible situation in Berlin…We are ok. Jb pic.twitter.com/BsMXWP7Us0

— John Barrowman MBE (@JohnBarrowman) June 8, 2022
Allow me to make some wild assumptions.
From what I have been told, West Berlin is more "diverse" than East Berlin because there are better services and infrastructure there. The witness, F Kacan, has a Turkish surname. The driver of the vehicle which caused the incident was a dual German-Armenian and reports suggest he had expressed views about Turkey.
The crypto-jewish faction known as the Young Turks were responsible for the genocide of one million Christian Armenians during World War One. More recently in late 2020, Armenia lost a war to its neighbour Azerbaijan. From what I read, Azerbaijan overwhelmed Armenian forces with swarms of drones supplied by Turkey and Israel.
It is entirely possible that the driver responsible for the latest Car of Peace attack in Berlin was an Armenian who wanted to kill Turks.
XYZ News understands that despite the horror of the scene, Daniel Andrews has assured Berlin residents that statistics demonstrate that crime rates are down, regardless of their subjective feelings on the matter.
It is at a time like this that we must remind our readers that diversity incidents such as this are part and parcel of living in a big city.
Subscribe to XYZ on Telegram, Bitchute, Patreon, Twitter and Gab.